Altria Group (NYSE:MO) has long been one of my go to dividend paying stocks. Not only does the company offer a solid 5% yield, but its has also delivered well above average dividend-growth. However, Altria's recent move higher now seems to have stretched its valuation.
Q1 2014 Overview
Overall, Altria's results came in inline with estimates. Adjusted EPS of $0.57 beat estimates by a penny, though it was still up 3 cents from last year's $0.54. In addition, revenues were slightly higher than expected, coming in above estimates at $5.52 billion, down less than 1% compared to last year.
Altria's results also included an updated guidance. For the full-year, Altria expects its diluted EPS guidance to be in a range of $2.53 to $2.60, up from the previous range of $2.51 to $2.58. However, adjusted EPS was reaffirmed to be around $2.52 to $2.59, up 6 to 9% from last year's $2.38.
Furthermore, Altria volumes seem to be holding steady, with a 2.5% decline in smokable volumes and a 6% increase in smokeless products. Interestingly, Altria is seeing market share gains with its core Marlboro brand even with lower volumes.
Has Altria gone up too far, too fast?
Altria's move higher has made the stock somewhat expensive compared to its historical valuation. However, this move has been seen with other stocks in the tobacco industry such as U.S.-based Lorillard (NYSE:LO) and Reynolds American (NYSE:RAI) and international focused Philip Morris (NYSE:PM). Below are a few examples:
On a TTM price to earnings ratio, or P/E, each of these stocks have moved higher. Reynolds and Lorillard have been the clear outperformers moving from multiplies in the 14 to 16x range to nearly 20x in a few short months. While lagging behind initially, Altria has now mostly caught up with its domestic peers. Meanwhile, Philip Morris continues to struggle and now trades at a discount compared to its typically premium valuation.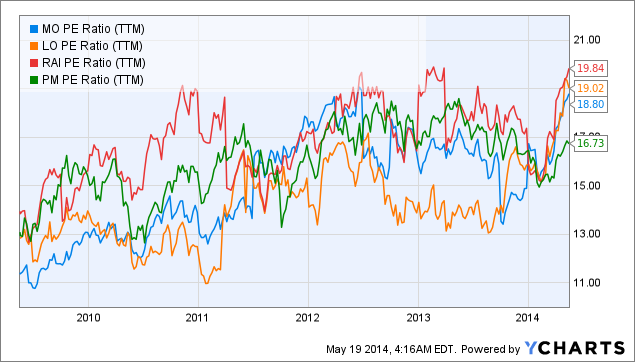 MO PE Ratio (TTM) data by YCharts
However, TTM PE is an extremely volatile metric and can be easily distorted via short-term spending such as share buybacks which boosts EPS. A much better metric for comparing industry valuations is via the enterprise multiple, or simply EV/EBITDA. Not only is EBITDA a less "noisy" number but this metric incorporates company debt.
As shown below Altria's enterprise multiple has surged to its highest level in more than 5 years. However, the same can be said for the others. These tobacco stocks are clearly being bid up by the market.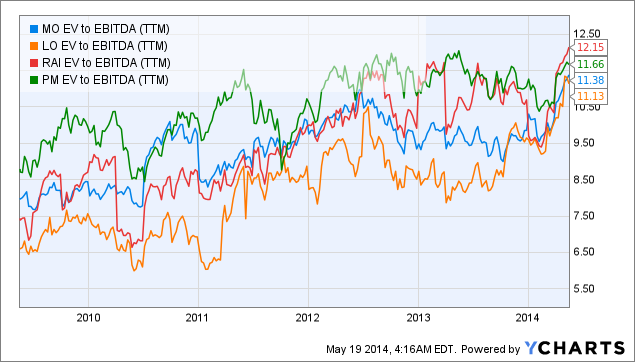 MO EV to EBITDA (TTM) data by YCharts
Why is Altria surging?
Industry Consolidation
I think it is unlikely for Altria to be bought out by a competitor due to its size ($81 billion market cap). However, Lorillard ($21 billion) and Reynolds ($31 billion) are small enough to spark outside interest.
The most viable rumor I have seen is that Reynolds could buy Lorillard for up to $80 per share. However, Reynolds itself is a buyout target due to the 42% stake held by British American Tobacco (NYSEMKT:BTI).
E-cigarette Potential
While Altria is currently a non-player in the fast growing e-cigarette market, thanks to the success of Lorillard's Blu, it is trying to build up some market share.
Earlier in the year the company bought Green Smoke, a well known internet based e-cigarette maker, for $110 million. The company is planning to expand its foot print to U.S. retail locations sometime this year.
However, the big news here is via the June 2014 nation-wide launch of the MarkTen brand of e-cigarettes. Nu Mark, an Altria subsidiary, noted that MarkTen has gained a remarkable retail market share where it has been made available. As an example, in Arizona, MarkTen reached a 50% retail share within 7 weeks.
Flight to safety
Lastly, let us not forget that Altria is the ultimate "safety" stock thanks to its 5% yield and long history of dividend growth. As soon as the market starting selling momentum names, Altria started its rally.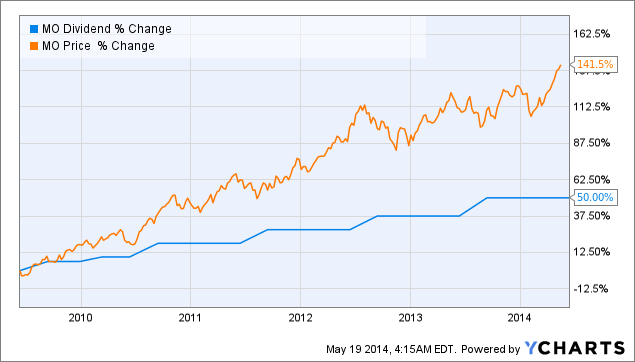 MO Dividend data by YCharts
Conclusion
Altria move higher has not been atypical. As is often the case, dividend stocks do well when the market is jittery. That being said, I am starting to get tempted into selling a portion of my holdings. While Altria is a great long-term holding, its valuation is stretched by most measures. However, it is very hard to "time the market" and be a successful dividend growth investor at the same time.
Disclaimer: The opinions in this article are for informational purposes only and should not be construed as a recommendation to buy or sell the stocks mentioned. Please do your own due diligence before making any investment decision.
Disclosure: I am long MO, PM. I wrote this article myself, and it expresses my own opinions. I am not receiving compensation for it (other than from Seeking Alpha). I have no business relationship with any company whose stock is mentioned in this article.