"One Of These Days Alice - Pow! Straight To The Moon!"
The title to this article is a take on the above famous sitcom one-liner from the hit television series the Honeymooners that ran from 1951 to 1955. If you have never heard this before, I don't want to hear about it because you are obviously younger than me. When I looked at the ConocoPhillips (NYSE:COP) chart, this phrase was the first thing that popped in my head. ConocoPhillips is the largest independent pure-play exploration and production company in the world. In the following section I will lay out my bull case for the stock.
ConocoPhillips stock has been on tear as of late
Shareholders in ConocoPhillips have been justly rewarded over the past quarter as the stock has rallied nearly 20% in the time.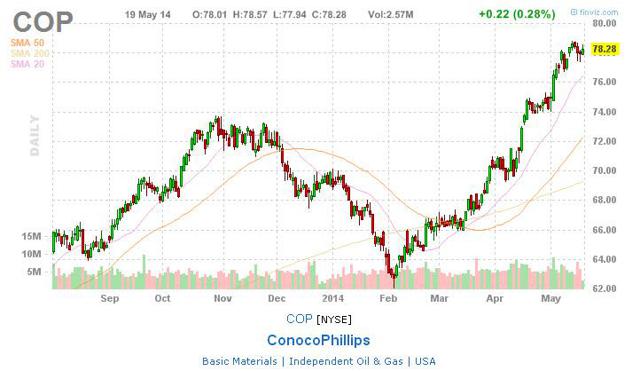 (Source: Finviz.com)
Earnings and revenue growth have been bolstered by the company's continued shift in focus to high-margin liquids production, the stock's striking valuation, solid free cash flow from operations, and fortress balance sheet.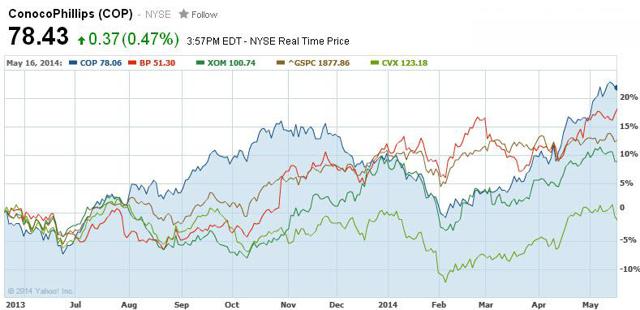 (Source: Yahoo.com)
This has spotlighted the stock for investors causing it to outperform the competition by a wide margin. But I surmise the show is nowhere near over with an array of positive fundamental developments.
Panoply of positive fundamental developments
Revenue growth of nearly 9% year-over-year outpaced the industry average by a wide margin.
Net operating cash flow rose nearly 34% year-over-year coming in at approximately $6.3 billion. This surpassed the industry average by more than 10%.
The company has done a bang up job of holding the purse strings tight as the current debt to equity ratio is a mere 0.40, well below the industry average.
Recently Argus reiterated its Buy rating and raised its price target to $90 from $80. The firm believes COP has successfully differentiated itself from the company's peers.
With the North American oil and gas revolution in full swing, ConocoPhillips is drastically ahead of the curve and uniquely well-positioned to benefit from increased production levels of LNG.
The company achieved a total shareholder return of 27% for 2013. This placed ConocoPhillips in the top quartile regarding total return when compared to its peers for the second year in a row.
The high-grading of the company's portfolio is on track with divestiture of non-core assets while simultaneously advancing major projects.
The company has maintained a compelling dividend yield of 3.5 even in the face of the recent stock performance with a five-year dividend growth rate of 7.5%.
The company saw continued successful development drilling programs in unconventional plays. The Eagle Ford and Bakken combined production growth rate was up 60% year-over-year.
Based on ConocoPhillips' size, expertise and financial wherewithal, I expect the company's fundamentals to continue to improve at a rapid pace.
The stock is undervalued based on the fundamentals
The stock is fundamentally undervalued with a forward P/E of less than ten, a price to book ratio of 0.70, and a PEG 0.80.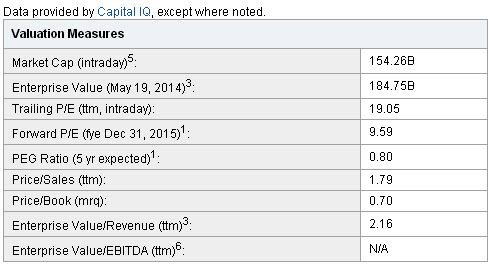 (Source: Yahoo.com)
Conclusion

ConocoPhillips is an excellent total return play for dividend investors based on the potential for both capital appreciation and income production. ConocoPhillips is a solid long-term growth story and pays a hefty dividend. These facts, coupled with the Fed's announcement that rates will remain at ultra-low levels for at least the foreseeable future leads me to believe the company is a better hedge against inflation than fixed income instruments such as bonds and CDs. Factor this in with the statistic that historically dividend-paying stocks have outperformed non-dividend-paying stocks, and you have a recipe for outstanding returns. Taking all these facts into consideration, I surmise the positives far outweigh the negatives presently. The risk/reward equation appears highly favorable. ConocoPhillips is a buy in my book. Nevertheless, if you choose to start a position in any stock, I suggest layering in a quarter at a time at a minimum to reduce risk.
Disclosure: I have no positions in any stocks mentioned, and no plans to initiate any positions within the next 72 hours. I wrote this article myself, and it expresses my own opinions. I am not receiving compensation for it (other than from Seeking Alpha). I have no business relationship with any company whose stock is mentioned in this article.