It's that time of year again as Apple Inc. (NASDAQ:AAPL) prepares to showcase its new iPod models before the end-of-the-year spending spree. The company announced yesterday that it would show off a new iPod Touch with dual cameras before the holiday season.
But everyone knows about Apple. And I'm sure most Wall Street firms even own shares of the company. I'm not too interested in Apple's sales - but I am interested in the effect of Apple's sales on the performance of a small company I've been following.
This micro-cap company has only two analysts following it, so most investors, including many big time Wall Street firms, are unlikely to know about it. And if you can get into micro-caps before major firms, you have the chance to beat the street.
More people are purchasing iPods and smart-phones these days as demand grows for mobile devices and their applications. When somebody purchases an iPod for $199 or an iPad for $499, they are making a relatively large investment. So these customers usually make another relatively small purchase to protect their investment.
Why? Because electronic devices can easily get scratched or damaged - so customers want a protective film covering, or a case. Think about it. If you're purchasing a new iPhone for $300, you'll probably buy a protective covering for just $20 more to prevent damage to the screen.
But this covering is no simple plastic. Originally, this film covering was designed to protect the blades of military helicopters. Later it was determined that it could also be used to protect everyday electronic devices - like those made by Apple.
There are just a few companies in this specialized industry, and most are privately held. But there is one micro-cap company in this space...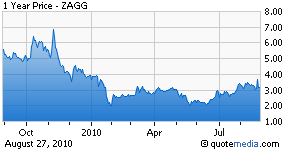 ZAGG Incorporated (Nasdaq: ZAGG) makes protective coverings for electronic devices including iPods, iPhones, iPads, and global positioning systems. The company is headquartered in Salt Lake City, Utah.
If the trend toward mobile devices continues, as I believe it will (and most research supports this position), soon the majority of people with mobile devices could be flocking to ZAGG's products to protect their investment. It could even be a takeover target, although at this point that is pure speculation.
I think there's tremendous growth potential for this little specialized industry, and ZAGG is posting pretty impressive numbers. The company showed signs of strong growth after reporting earnings for the second quarter of 2010.
ZAGG reported record revenue of $15.1 million, up 63 percent from $9.2 million from the second quarter of 2009. I love young companies that have strong revenue growth, especially one that has a market cap of just $71 million.
The company brought in 66 percent of its revenue from indirect wholesale channels, 23 percent from its website (this serves retail customers), and 8 percent from its mall cart and kiosk business. If the company can further diversify its revenue stream, it will be in an even stronger position down the road.
ZAGG expects to see strong demand from its existing partners including Best Buy Co. (NYSE: BBY) and RadioShack (NYSE: RSH). The company also added AT&T Inc. (NYSE: T) as its newest channel partner. Robert G. Pedersen II, President and CEO of ZAGG said this will be an "...important relationship in our future growth strategy". The company launched the new distribution agreement with AT&T in June in all corporate AT&T locations.
ZAGG's gross margin of over 50 percent should also pique investors' interest. If competition within the industry increases, the company has room to lower prices by decreasing its margins, which could thus increase demand for its products.
Although there are a few competitors in the industry - including two private companies, Power Support and SGP - I think demand for ZAGG's protective coverings will stay strong. What's more, ZAGG does not have any long-term debt, and has $6.4 million in cash on hand.
Although the story may be bright for the company, its stock has been very volatile over the last two years. Over the last year the stock moved significantly lower - but it seems to have found support around $2.00 and has been moving higher since early summer. The stock is up 43 percent since June 1.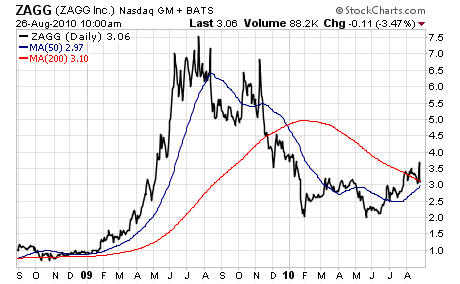 ZAGG is expected to grow earnings by 67 percent this year and 36 percent in 2011. Revenue is expected to average around 30 percent over the same period. This is a reasonably fast-growing company in a strong industry, and while it has significant exposure to discretionary spending, a potential weak spot in the economy, I believe demand for mobile devices will continue to support strong sales.
As always, I encourage you to do your own homework before entering any positions.
Disclosure: None