For a short time, 16 months or so, I was a hero. From July of 2012 through October of 2013 this writer managed to hit close to targets of $3 and then $4.25 for Sirius XM (NASDAQ:SIRI), coming from $1.80 per share all the way up to $4.18 in October of last year.
I've long been an advocate of 'leave some for Willy.' For those of you who have seen the 1980's movie The Goonies, you may remember the scene where the children are grabbing the pirates gold and filling their pockets. The main character, Mikey, stops one of the other children from taking a hand-full of gold off the scales in the middle of the table :
While others begin to fill their pockets with the riches on the ship, Mikey finds Willie's skeleton, and reverently acknowledges him as the "first Goonie", leaving part of the treasure with him as tribute. However, as the Goonies exit the hold, they are caught by the Fratellis, who take their treasure and force the kids to walk the plank. The Goonies are saved by the timely arrival of Chunk and Sloth, now close friends, who help the rest of the group to shore. With the children no longer a threat, the Fratellis ransack the rest of the ship, including the share of the treasure Mikey left for Willie. This sets off a final booby trap, causing the cave to begin collapsing.
The point here is leave the last percent or two for the next guy. If you need to exit, choose a point just below your target. Such is what happened in 2012 where a $3 target was a sell at $2.94 to $2.97 and such is what happened in 2013 where a $4.25 target was a sell at $4.11 to $4.18. I can't stress enough how important that lesson from a kid's movie back in 1985 has been in many aspects of my life.
Jim Cramer is fond of saying "Bears and Bulls make money, pigs get slaughtered." Same idea.
With all that being said, I may have fallen out of favor with some over the past several months. Obviously Sirius XM has retreated from its highs last October and is currently flopping around like a dead fish right where it was at this time last year. I can point to a bunch of unexpected reasons for this from the halting of the buyback program, the uncertainty introduced by Liberty Media's (NASDAQ:LMCA) offer for the rest of the company, the removal of that offer, the dynamic shift caused by the GM contract change, and certain one-time charges and issues contributing to what can best be described as a tepid Q1 report.
Hey, it is what it is. One of the first things you learn in investing is that there are many things which are completely beyond your control and not everything can be predicted. Certainly not a single soul out there was looking for the offer by Liberty Media earlier this year, and if anyone was, well, they didn't say anything about it.
So what's an investor to do? As the stock drags along right now it may seem rather lifeless and somewhat devoid of actual news. Some individuals have even taken to making things up to write about. I'd argue that when the well runs dry, it's better to wait for a bit of rain than it is to furiously pump the lever and spray dust everywhere.
A writer I have criticized in the past, Rick Munarriz over at The Motley Fool, recently penned a well written article as a rebuttal to a series of articles written by Wall Street Playbook here on Seeking Alpha.
Munarriz writes :
Everyone likes to play Cupid, and a Wall Street Playbook article on Seeking Alpha this morning argues that AT&T (NYSE:T) should pursue a match with Sirius XM Radio. Instead of spending $50 billion on widely reported plans to snap up DIRECTV (DTV) , why not spend just $25 billion for Sirius XM?

It's not going to happen.
Kudos to Rick for calling out the nonsense. It's not going to happen. Plain, simple, and to the point. I'd suggest investors not waste time daydreaming.
Instead, investors should focus on what matters. Keep it as simple as possible, and that means focus on Sirius XM, and Liberty Media. I've long argued that Liberty Media is all that matters here. It has controlled Sirius XM, like it or not, since 2009 when it saved, yes saved, the company from bankruptcy. Since that time Sirius XM has provided investors who stuck with the company, or the smart / lucky ones who piled in at those low prices, with exceptional returns from pennies to what is today $3.15 per share.
This is all well and good but moving forward is likely all any current and would-be new investors care about. Are current prices attractive, and what sort of returns can be expected over the next year or two?
The proper way to evaluate Sirius XM has been by using EV/EBITDA for a long time now. Forget P/E. That's a number spit out by people when it is convenient and ignored when it is not. Someone who understands this metric quite well is Spencer Osborne over at Siriusbuzz.
"2014 GUIDANCE
Net subscriber additions of approximately 1.25 million,
Revenue of over $4.0 billion,
Adjusted EBITDA of approximately $1.38 billion, and
Free cash flow approaching $1.1 billion."
To keep things simple, how does one figure the top end of potential valuation? Note the yearly EBITDA growth in the slide from Sirius XM's shareholder meeting today, May 19th.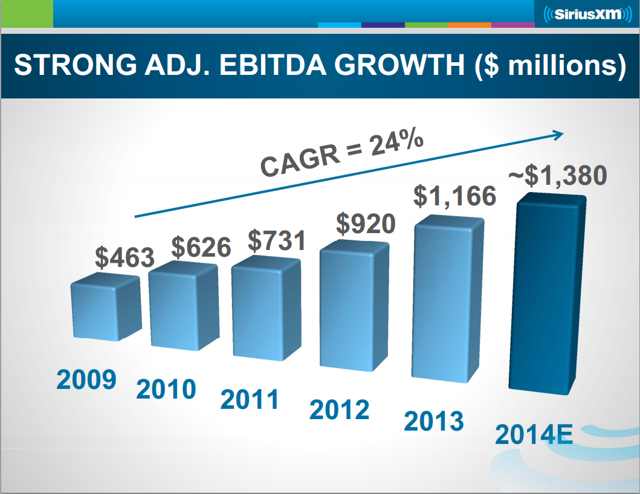 Plug my $4.25 target in for 2013 and divide by EBITDA of $1,166. Now multiply by expected 2014 year end EBITDA of $1,380. $5.03, my high end of valuation expectations for near the end of 2014 (I typically use next year's LEAP expiration in January for my targets.) Simplistic? Yes, very much so, but it should be understood that while there are many things which go into the EV portion of the ratio (which is market cap, plus debt, minus cash), in the very short term, these issues are somewhat neutral. It takes time for cash to roll in, and since new debt is being used to repurchase shares (thus driving market cap down assuming a stable share price), keeping it simple like this is a relatively painless way of projecting.
Using a similar method, historical low ends of valuation can be carried forward as well. For the lows, use the previous year's EBITDA and carry forward. For instance in 2011 Sirius XM hit the area of $1.50 (based on closing prices) while 2010 EBITDA was $626. Dividing $1.50 by $626 and then carrying forward to any year gives a fairly good picture of historical lows. This translates to a low area of $1.75 in 2012, $2.20 in 2013, and $2.80 in 2014. It should be noted that these are rough numbers due to the simplistic approach. Arguably as time goes on this low end should curve up since the company is profitable, adding cash, removing debt, retiring shares, etc.
Sometimes a chart helps show things in a way that some find less confusing.

This is a weekly 5 year chart of Sirius XM. Rough levels of resistance should be noted as the white line, and should correspond within 10% of Sirius XM's historical EV/EBITDA valuation. Rough levels of support should be noted as the yellow line, which happens to be the 100 week moving average and the historical low end of Sirius XM's EV/EBITDA valuation.
So what does all this mean? Is it a sure thing that Sirius XM will find support here at current pricing and will the market come to the realization that Sirius XM is undervalued? Nothing is a 'sure thing' but I am sure of my opinion, and that is that Sirius XM is undervalued here and should be considered a very strong buy.
Support should have returned recently in the form of a large scale buyer with the company itself having resumed its $4 billion total share repurchase program, and so long as the company continues to build out and grow EBITDA, the share price should eventually reflect the company's value.
New investors to Sirius XM like Seeking Alpha's Alexander Poulos are a welcome addition. His conservative price target of over $4 per share by the end of the year represents 25% upside over present share pricing, and I believe investors may find a happy middle ground in their own estimations between his $4 and my $5. Either way you look at it, Sirius XM presents exceptional value at present levels.
As Shark Tank's Kevin O'Leary is fond of saying, 'Stop the madness!' Ignore the noise of made up nonsense, focus on what matters, and buy Sirius XM.
Disclosure: I am long SIRI. I wrote this article myself, and it expresses my own opinions. I am not receiving compensation for it (other than from Seeking Alpha). I have no business relationship with any company whose stock is mentioned in this article.
Additional disclosure: I am long SIRI January 2015 calls from at $2.50 and $3. I am long the SIRI January 2015 $3.50 / $4 spread.