Last week, networking giant Cisco Systems (NASDAQ:CSCO) reported its fiscal third quarter results. The company beat on both the top and bottom line, and issued guidance that was better than expected. For Cisco, this wasn't just about one quarter. Cisco announced a huge warning a couple of quarters ago, which sent estimates plunging. This all-around strong report shows that Cisco's turnaround is coming sooner than most expect. Today, I'll detail the results, and show why investors should be more positive about Cisco currently.
Q3 results:
Cisco's results will shake off some negativity at least for a few months. Before the earnings report, I detailed why long-term investors might have wanted bad news from Cisco's earnings report. Another bad report could have brought some much needed change, including the departure of CEO John Chambers.
Well, Chambers has bought himself some much needed time with the latest round of results. For Q3, Cisco reported revenues of $11.545 billion, which was nicely ahead of analyst estimates for $11.38 billion. On the bottom line, non-GAAP earnings came in at $0.51 per share, beating analyst estimates by three cents.
For Cisco, Q3 product sales only fell by about 8%, less than the 11% decline seen in fiscal Q2. Gross margins also came in much higher than expectations, which helped fueled the EPS beat. Cisco bought back 90 million shares during the quarter at an average of $22.24. Cisco's cash flow statement shows nearly $8 billion in shares repurchased in the first nine months of the fiscal year, compared to just over $1.5 billion in the year ago period.
Q4 guidance:
While the Q3 beat was nice, this report needed more, and Cisco delivered with better than expected guidance. In terms of revenue guidance, Cisco guided to a 1% to 3% decline in Q4 revenues over the prior year period. Analysts were looking for a 5.2% decline, so this guidance was much better than expected. On the bottom line, EPS guidance was for non-GAAP EPS of $0.51 to $0.53. Analysts were looking for $0.51, so this guidance is decent as well. One negative part of the guidance was in terms of gross margins, where guidance called for a sequential decline.
A quicker turnaround:
As I mentioned above, Cisco's warning last November really sent estimates plunging. When it comes to large cap US tech, Cisco was really the only major name showing a fiscal year decline in revenues, which got investors very down on the name. Estimates have started to turn in recent months, as seen in the table below.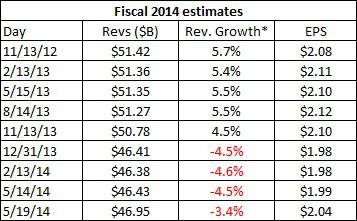 *Up to and including the 8/14/13 line, fiscal 2014 revenue growth was based on the then current estimate for fiscal 2013 revenues. Starting with the 11/13/13 line, the revenue growth number for fiscal 2014 is based on the actual fiscal 2013 number.
Estimates crept up slightly between the Q2 report in February and the Q3 report last week. Had Cisco's report and guidance only been in-line, current estimates probably wouldn't be much different than they were a week ago. But with a beat and improved guidance, estimates have been on the rise.
Since we are now in fiscal Q4, fiscal 2014 may not seem that important to investors anymore. For that group, it's about setting up fiscal 2015 for a revenue rebound. While a rebound has been expected by analysts, this recent report gives investors and analysts more confidence. Back in February 2014, estimates for fiscal 2015 were for $48.22 billion in revenues and $2.08 in non-GAAP EPS, respectively. Right now, those numbers stand at $49.00 billion and $2.15, respectively. If Cisco continues this positive momentum through Q4 and early fiscal 2015, maybe those estimates will get closer to $50 billion and $2.20.
Cisco is the second best capital return play:
When it comes to large cap US tech, Apple (NASDAQ:AAPL) is clearly the best capital return play, thanks to its $90 billion buyback to be executed by the end of 2015. Apple, Cisco, Microsoft (NASDAQ:MSFT), and Intel (NASDAQ:INTC) all have buybacks, but the power of those buybacks is very different from. More on the buybacks in a bit. Let me first show where Cisco's dividend yield stands against these other three names, as of Monday's close.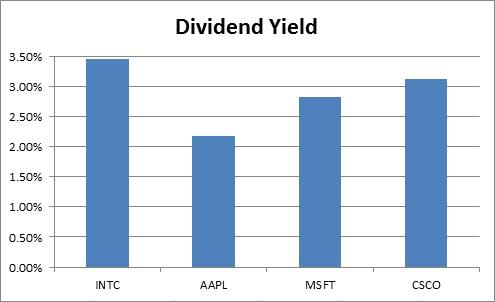 Cisco has the second highest yield currently, although Microsoft is expected to raise its yield later this year. A decent raise from Microsoft could push Cisco back into third place. This is what happens when you have names that raise dividends at different times of the year. One name can leapfrog early in the year, only to be passed later on. At the moment, Cisco is nearly yielding as much as a 30-year US Treasury Bond. Even though I don't expect Intel to raise its dividend this year, and Intel hasn't raised its in almost two years, Intel should remain the yield leader for now. With Apple focused on its buyback, Apple will remain in fourth place in the dividend yield race for at least another 1-2 years.
I mentioned back in February that the status quo had changed regarding Cisco. I meant this in terms of being a capital return giant. Cisco has really stepped up its capital returns in recent quarters, and investors have to appreciate that. Remember that just a few years ago in 2010, Cisco didn't even have a dividend in place! Today, investors are getting over 3% with a yield rivaling those that have paid dividends for many years. Lately, the buyback has been the more important item. In the table below, I've compared these four tech giants in terms of current growth estimates and valuation, along with their most recent quarterly buyback amount.

*EPS growth and P/E are non-GAAP.
While Cisco's revenue growth number is still the lowest of the four names, it is improving. Apple's revenue growth number rose after its latest quarterly beat. Microsoft's number has risen of late due to its recent acquisition. In terms of EPS growth, Apple leads the pack and the other three are well behind.
There are two important items to think about here. Let me first discuss the buyback. Cisco's buyback was the second highest of these four names in the most recent quarter, and Cisco has the lowest market cap! Even if Cisco cuts its buyback to $1 billion per quarter, Cisco's buyback would still be more powerful than Microsoft's and Intel's. Since Cisco also has the second highest dividend yield of these four, I would argue currently that Cisco has the second best capital return plan of these four names. Apple obviously has the best.
The second item that is important to investors is valuation. Cisco reports both GAAP and non-GAAP earnings, and analysts use non-GAAP for their estimates, which I provided above. If you convert Cisco's earnings to GAAP to be in line with the others, the valuation gets closer to that of Apple. This year, the gap between the two earnings numbers for Cisco was a bit wider thanks to a large one-time charge. Last year, the difference between GAAP and non-GAAP earnings for Cisco was about 9%. Even if you add a little more than that, Cisco's GAAP P/E for the fiscal year would in the low 13 area. Obviously, investors are a bit worried about Cisco's revenue growth so you might expect a lower valuation. I think the valuation is quite fair in the end considering Cisco's capital return plan.
What's a fair value for Cisco going forward? If the turnaround continues, I believe that Cisco's multiple could rise to about 12.25 times non-GAAP earnings. That's not a crazy valuation to ponder considering the stock was just under 12 times at Monday's close. The bet here is that Cisco's EPS rise to $2.15 (non-GAAP) next year from an expected $2.04 this year. At that multiple and level of earnings, Cisco would be worth $26.34, about $2 above where it is today. For Cisco to be worth more, it needs to ramp up the capital returns further, or prove that its results can be consistently better than expectations. A revenue number closer to $50 billion in the next fiscal year could certainly help with that.
Final thoughts:
Cisco reported a better than expected Q3 and provided better than expected guidance for Q4. For a name that is in the midst of a weak year, this is a relief, and it appears that the turnaround is coming sooner than expected. Right now, Cisco offers a decent capital return package to investors, one that is in second of the big four, only behind Apple. If Cisco can get results back on track, there is room for the multiple to expand and shares to rise a couple of bucks over the next year. With shares popping a bit since earnings, investors should look to buy on the next pullback.
Disclosure: I have no positions in any stocks mentioned, and no plans to initiate any positions within the next 72 hours. I wrote this article myself, and it expresses my own opinions. I am not receiving compensation for it (other than from Seeking Alpha). I have no business relationship with any company whose stock is mentioned in this article.
Additional disclosure: Investors are always reminded that before making any investment, you should do your own proper due diligence on any name directly or indirectly mentioned in this article. Investors should also consider seeking advice from a broker or financial adviser before making any investment decisions. Any material in this article should be considered general information, and not relied on as a formal investment recommendation.