In today's Oxen Group market recap, What's Next For The Market, we will be focusing our attention on Apple (NASDAQ:AAPL). We are going to update our model of Apple after earnings as well as recap from our last report. Apple was one of our favorite stocks the last time we looked at it, and we are going to investigate the stock further. In our last report, we had the stock valued at $750. We want to see if we want to move that level higher or lower after earnings. As always, we will also recap what happened in the market today and forecast for the coming days.
In Focus - Apple
The last time we looked at April was February. At that time, we placed our 2014 target for Apple at $750. Some people said this was way too aggressive, but after the latest earnings, the stock is nearly over $600. In that report, we highlighted our target price at $750 based on our cash flow analysis model. Our main thesis was that the company would have a big 2014 due to the release of the iPhone 6, new iPad, and the potential for Apple TV. Additionally, we looked at the potential for China Mobile to be a big winner as well as the iWatch.
Here are some of the highlights:
2014 should be a revolution for the iPhone. After several models advanced slowly, many are looking to the iPhone 6 to really push the envelope once again. The confirmed push is for bigger screens on the iPhone 6 that will push the overall size of the phone even further, but we would not expect a drastically "big" phone, as they'll try to make the screen push from side-to-side. Another likely development will be continued push on processors. The A7 64-bit chip was a major upgrade, and it is hard to expect much more from there. The areas where the company could make hay and where a lot of investors will be watching are the battery, iBeacons, facial recognition, camera advancements, and motion sensing.
Additionally, we wrote about China Mobile:
Getting in with China puts Apple in a much better condition to attack in emerging markets. CHL had 763M users in the latest figures. The company noted prior to the deal that there were 45M people using their phones - mostly acquired from foreign markets. That number accounted for about 60% of total iPhone users in China. The prospects from the deal are exciting. A lot of people have covered the deal, but we see the deal adding around 2.25 - 2.75 in EPS, as the company will make around 12-15M sales to CHL users in 2014. With an ASP of $630 (but potentially lower in China), should add a solid amount to EPS. We are going a bit more conservative in our model due to initial sales have been a bit weaker than were expected, and it may take some time to get the sales moving. Right now, Apple is only in 16 cities, but that could reach 340 by the end of the year.
Today, we want to update on some of the prospects as well as review the earnings for the company. In our last report, we highlighted that the iPhone 6 was a make or break product for the company this year and would be very important to their success (among other things). The latest news on the phone is that the phone will be even larger than the iPhone 5S and thinner as well, the power button will move to the side of the phone, and will have more rounded edges. The game changer is that the phone will be as large as its competitors with a 4.7-inch model and 5.5-inch model. The release date is expected to come in September, and could sell a blockbuster 66M units. Things are going according to plan here if not even better.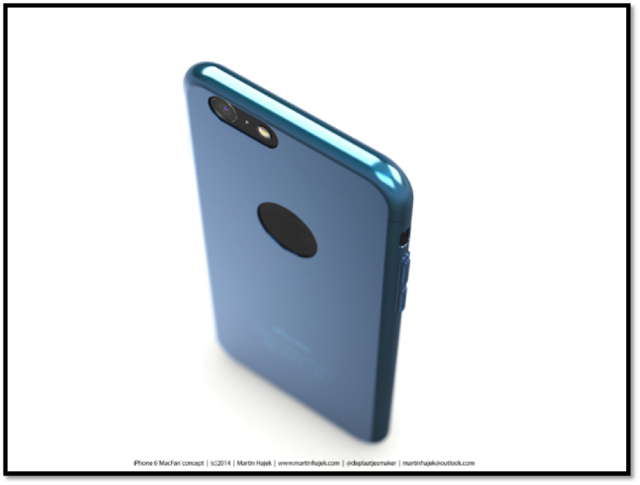 As for China Mobile, let's turn to the latest results. The company sold a whopping 43.7M total iPhones in Q1, and China was a direct reason for that. Luca Maestri, VP of Finance and Corporate Controller, noted "the addition of China Mobile coupled with great response to our more affordably priced iPhone 4S led to an all time quarterly record for iPhone sales in Greater China." Expectations were for sales to come in at 37.7M. Revenue rose 13% in the China region versus a total company-wide revenue rise less than 5%, showing the strength of China.
When we initially laid out our thoughts for 2014, we noted that we believed analysts were vastly underestimating China Mobile. Let's get into what our expectations for the company were and update them. Here is the breakdown of our five-year cash flow analysis.
In our previous report, we noted that in the best-case scenario we used a 20% CAGR growth rate (which is actually slightly lower than the past ten years growth rate). In the mid-case, we used a 10% growth rate, which we are keeping in check due to rising comps as well as the declining backlog.
In our previous report, we noted that we believed that the company could see a jump to 15-17% in mobile phones. Tablet market share will likely be flat as we expect better competition in 2014 especially from MSFT. How's that working out so far? Apple has moved up to 16% so far this year, up from around 13% in 2013. That jump is very key to the company.
We believe at these levels, we can see volume at 220M phones sold and 79M tablets sold. With an average sale price of roughly $620 per phone and $475 per tablet (which are likely low given the premium iPhone 6 and new iPad will likely reverse ASP back up), revenue from these products is likely to be $136B and $38B, putting revenue at $174B for these products alone. So far, the company has sold 95M iPhones, and we believe the back half will be much bigger due to the iPhone 6 release. We got 33M iPads so far, and it will also be back heavy with a new iPad release.
We have estimated around $215B in sales. When we made that call before 2014 started, the average estimates were much lower. Now, revenue estimates are at 182M, and the company has $103B so far. The $215B mark is definitely the strong case, but the $182M estimates are still much too low.
Further, we noted that we believed net margin would jump back to 22%. So far, the company is pacing at 23% above our expectations. If we use that number, and we take a net margin of 22%, we can see net income coming in at $48.4B, which translates to an EPS of 54.00. In this best-case scenario, we then take 54.00 x PE of 14, and we get share price at roughly $750. In a more conservative model, if we see AAPL lose market share in both phones and tablets and see net margin drop to 20%, we are looking at 200M phones and 65M tablets. In that scenario, revenue would be around $190B with net income at $38B and an EPS of 42.30. Multiplying that by current PE, we get share prices at $590 around current pricing.
These estimates, though, are just too low. The company is not going to see net margin decrease to 20% with new premium products out, and they are unlikely to lose that much market share. The only way that happens is if the company completely flops on these products, and that has not happened. We believe a push to $700 will happen in the second-half in 2014.
Market Insights
The market had a solid day on Monday with tech rebounding as well as small caps. The market has limited news this week, and it appears the market doing a bit of a rotation from some of the low yield equities back to some more high-yield equities. The market, though, was overall pretty thinly traded, as most Mondays in May are thin. Overall, there was not much bad news, and that was good enough for the market. Additionally, the AT&T (NYSE:T) and DirecTV (DTV) business deal was good for the market as it was the top story.
In foreign markets, news was very limited. We did, however, have two Fed speeches. San Francisco Fed President John Williams said that there would not be an interest rate rise in more than one year, pushing this past Yellen's previous comments. While Dallas Fed President threw the government under the bus, which the market loves as well.
At the close, the Dow Jones (NYSEARCA:DIA) was up 21 points. The S&P 500 (NYSEARCA:SPY) was up seven points, and the Nasdaq (NASDAQ:QQQ) was up 35 points.
Tuesday's Outlook
The market will be facing another light day without much news. Economic data is not going to be plentiful tomorrow with basically nothing on the docket for American markets. We get limited overseas data. We do get some inflation data from Great Britain, and that is not going to the market. The market may pay attention to the Fed with Plosser and Dudley to report tomorrow. Other than that, it really is not much of a major day in the lulls of May.
Disclosure: I have no positions in any stocks mentioned, and no plans to initiate any positions within the next 72 hours.
Business relationship disclosure: I have no business relationship with any company whose stock is mentioned in this article. The Oxen Group is a team of analysts. This article was written by David Ristau, one of our writers. We did not receive compensation for this article (other than from Seeking Alpha), and we have no business relationship with any company whose stock is mentioned in this article.