Facebook (NASDAQ:FB) rallied a couple percentage points following a media leak involving a deal worth $500 million with Publicis Groupe. This helps to erase some of the negative sentiment looming over the social media company as investors are able to better understand the overall trajectory of the business, and whether or not the digital advertising model, can also integrate closely with the agency advertising model.
The ad-agency model, how does it integrate with social networking?
The buy-side (companies who advertise) is able to work more closely with the sell-side (Facebook). The intermediary is the ad-agency, but because advertising companies have become so large, they're able to cross-sell multiple services, which allow for better integration of digital advertising with other services like creative, media management, public relations, analytics, and etc.
It's hard to fully quantify the benefits for Facebook, as the media component of an ad-agency tends to negotiate lower prices on bulk purchases of advertising space. To maximize the effectiveness of timeline, status and video ads will require the expertise of true ad-men. After all, marketing on the Facebook timeline requires marketing copy, catchy looking pictures, and video advertisements.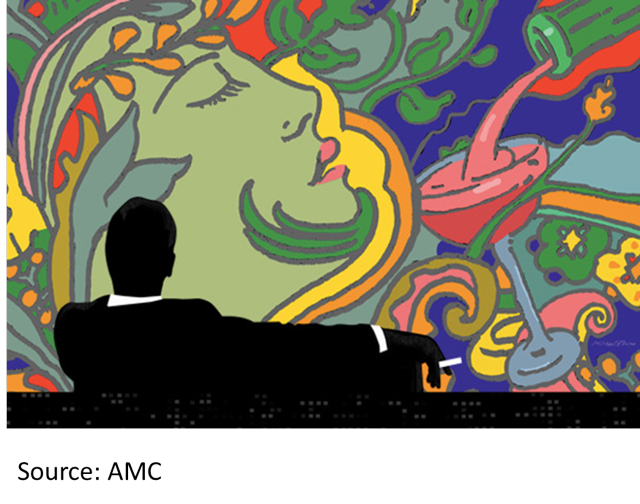 If you don't understand ad agencies a more entertaining way to get familiar with them is to watch the TV show Mad Men, which is an AMC Original series.
Now notice how I sneaked in Mad Men, and mentioned that you can learn more by interacting with a TV show?
Advertisers are starting to integrate advertising into blogging, and various other media formats, so the reader will learn about the brand, without realizing they just did. Digital advertising is definitely in its early growth stage, but the skillful implementation of it can lead to willing buyers. People tend to forget that Facebook timelines are a blog reel.
Facebook will bloom with more integration
I really wonder if the software guys from Menlo Park can integrate with "buttoned-up corporate ad-people." Either way, the potential synergies makes me optimistic on the deal, which I will try to explain in as cogent of a manner as possible:
Facebook will integrate some data (without infringing upon privacy laws) to create more advanced analytics that allow for better targeting of ads. Better targeting of ads will improve the return on investment from ad-campaigns benefiting the buy-side and boosting the overall appeal of digital ad formats.
Publicis Groupe's subsidiary MediaVest will integrate the Content@Scale ad platform, which will allow ads that are displayed on Facebook to be displayed on other applications, allowing for a winning ad campaign to work across an ecosystem of applications.
Publicis Groupe will have an inventory of advertising space on Instagram (the sister network). Publicis will develop creative content on behalf of other companies and will advertise that content on the Instagram picture feed. Initially Instagram users hated ads, but it seems through skillful PR, the negativity has died down.
Facebook is rolling out video ads, where Facebook users can watch the ad as they scroll through their newsfeed. As you can tell, Publicis Groupe through its various subsidiaries is able to develop creative ads for these video ads, and has also taken care of ad inventory, making them the best potential partner for Facebook.
Industry trends favor Facebook and Publicis Groupe
Publicis Groupe doesn't buy ad space cheap and sell it for more expensive. By looking over the revenue recognition criteria in the accounting notes, I believe the ad-agency model is built on rate-per-hour fees. So if anything, it looks like Publicis Groupe is hoping to cash in on a long list of services that Facebook would much rather not develop in-house.
According to Publicis Groupe:
For 2014, the ZenithOptimedia Media Forecasting Department anticipates the global advertising market (media) to grow by 5.3%, which would correspond to an estimated increase of 3.5% in the revenue of the agencies. The bulk of the growth in the last few years has been recorded by Digital (Internet, mobile, etc.). This trend is continuing and firming up with higher growth in Digital with a weaker trend in the Analog sector.

Source: Publicis Groupe
In North America digital advertising revenue grew by 13.1% whereas analog advertisements declined by 3.1%. Analog ads refer to TV ads. But basically, TV commercial are likely to decline in relevance as more companies continue to transition ads to display, search, or social ads.
Conclusion
Facebook's partnership with Publicis can be seen as a positive for Facebook. Ad people, can write more compelling advertising copy, and can develop better sounding/looking ads. The two should drive engagement, and will improve the click through rate per thousand (CPM). An improved click through rate directly yields into better monetization per user, which will contribute to Facebook's average revenue per user statistic.
If you're a Facebook shareholder, let's just say this Publicis deal puts you in good hands.
Disclosure: I have no positions in any stocks mentioned, and no plans to initiate any positions within the next 72 hours. I wrote this article myself, and it expresses my own opinions. I am not receiving compensation for it (other than from Seeking Alpha). I have no business relationship with any company whose stock is mentioned in this article.
Editor's Note: This article discusses one or more securities that do not trade on a major U.S. exchange. Please be aware of the risks associated with these stocks.