Qualcomm (NASDAQ:QCOM) has been one of the best performers in the sector - the stock has gained over 19% during the last twelve months when most of its peers have lost value. Over the same time period, Intel (NASDAQ:INTC) has gained just around 7.5% and Advanced Micro Devices (NYSE:AMD) and ARM Holdings (ARM) have lost around 1.35% and 11.7%, respectively. Qualcomm is very strong player in the sector and the stock can also be picked as a dividend investment - its dividend gives an opportunity to the investors to have income with considerable growth opportunities. In this article, we will gauge the dividend stability as well as the growth opportunities of the company.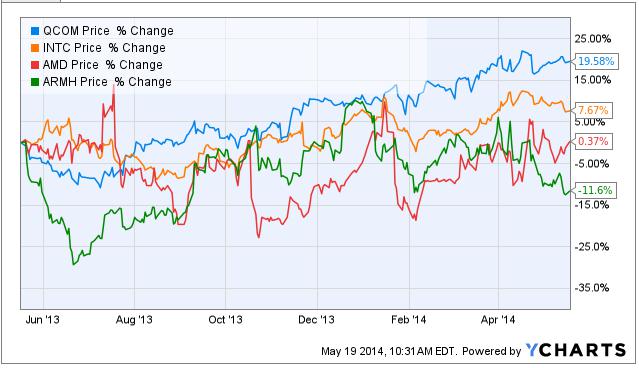 Dividend Performance
Qualcomm has a consistent history of increasing its dividends to its shareholders. The company has grown its quarterly dividends at an average annual growth rate of 18% since 2009. Currently, Qualcomm pays an annual dividend of $1.68 per share, yielding 1.8%, which is higher than the industry average of 1.7%. Over the last year, the company paid cash dividends of $2.1 billion. Besides dividends, the company also bought back shares worth $4.6 billion, which takes the total cash returned to shareholders to approximately $6.7 billion. At the same time, the company generated over $7.7 billion in free cash flows - the payout ratio of the company based on free cash flows is close to 27%. As a result, we believe the growth in dividends will continue for the company.
Qualcomm's ability to generate strong cash flows has allowed the company to distribute hefty cash dividends to its shareholders. Over the last year, the company reported an increase of 46% in its operating cash flows. Furthermore, the deployment of 3G networks enabled the company to increase its market penetration globally. According to Global mobile Suppliers Association [GSA], more than 220 wireless operators have deployed and more than 420 wireless operators are planning to deploy 4G wireless spectrum to gain additional capacity for data services, resulting in continued growth for Qualcomm in the long-run.
Segmented Performance
Qualcomm primarily operates through four segments: Qualcomm CDMA Technologies [QCT], Qualcomm Technology Licensing [QTL], Qualcomm Wireless & Internet [QWI] and Qualcomm Strategic Initiatives [QSI].
QCT is a leading developer and supplier of integrated circuits and system software based on CDMA technology to use in wireless devices. The increased adaptation of wireless technology in today's tech-savvy world presents an attractive growth opportunity for this segment. Further, QCT revenues represent a major portion of Qualcomm's total earnings with a share of 67% in the last year, up 4% compared to the previous year.
QTL grants licenses and provides rights to use portions of Qualcomm's intellectual property portfolio to the manufactures of wireless products. The licensing revenues consist of license fees as well as royalties based on usage of intellectual property products. Over the last year, QTL revenues represented 30% of the company's total earnings, down 3% compared to the previous year. This decrease is due to the banishment of feature phones from the market offering a major chunk of licensing fees of CDMA2000 and WCDMA-based products.
QWI generates revenues primarily through sales of products, services and software aimed at support and delivery of wireless applications. The segment reported revenues of 2% of the total revenues, down 1% compared to the last year. This decrease is due to the disposal of the North and Latin American operations of its Omnitracs segment to a US based private equity firm for $800 million in cash, thus representing a discontinued segment.
QSI makes strategic investments for the potential technologies that can bring long-term growth for the company. Till now, many of these strategic investments are in early-stage ventures.
Future Growth Prospects
Microsoft (NASDAQ:MSFT) recently revealed a new smaller version of its Surface Tablet that will use Qualcomm processors for the first time. Microsoft will unveil the new device at its upcoming event in New York. The company also expects to launch some other model variants of Surface that are powered by Intel processors. Microsoft is working hard to increase its tablet sales, which will allow the company to enhance revenues further if Qualcomm can become a regular partner for Surface tablets.
Qualcomm is planning to acquire of Israel based company, Wilocity. Wilocity is a fabless semiconductor company developing 60 GHz multi-gigabit wireless chipsets for both the mobile computing platform and peripheral markets. The proposed acquisition value is $300 million; however the two parties have yet to agree terms on all the provisions of the sale. Wilocity is developing the world's fastest internet chip with data rates of up to 7 Gigabits per second and provides users with the ability to download video and other heavy content with more speed. The company has already featured its chips in Dell computers, but the new generation is being designed to be smaller and more energy efficient, and to be used in mobile devices.
Conclusion
The growth prospects in both the mobile segment as well as the wireless segment are attractive for the company. Its investment in different ventures will also pay off as most of these ventures are in the related fields, and these ventures will further enhance the portfolio of the company. Qualcomm's ability to grow its cash flows will allow the company to follow its capital projects as well as distribute cash to its shareholders - its shareholders can enjoy growth along with the income in the shape of dividends. So, to answer the question in the title: yes, Qualcomm is a good long-term investment.
Disclosure: I have no positions in any stocks mentioned, and no plans to initiate any positions within the next 72 hours.
Business relationship disclosure: I have no positions in any stocks mentioned, and no plans to initiate any positions within the next 72 hours. IAEResearch is not a registered investment advisor or broker/dealer. This article was written by an analyst at IAEResearch and represents his/her personal opinion about the companies mentioned in the article. The article is for informational purposes only and it should not be taken as an investment advice. Investors are encouraged to conduct their own due diligence before making an investment decision. I am not receiving any compensation (other than from Seeking Alpha) for this article, and have no relationship with the companies mentioned in the article.