Investors are betting on Yahoo! (NASDAQ:YHOO) because of the upcoming Alibaba (ABABA) IPO. However, I'm now convinced that Yahoo's future lies in following the path of Facebook (NASDAQ:FB). A mobile-first approach should improve Yahoo's phlegmatic presence in digital advertising. The historical market chart below shows YHOO doing better than Facebook since Zuckerberg took Facebook public.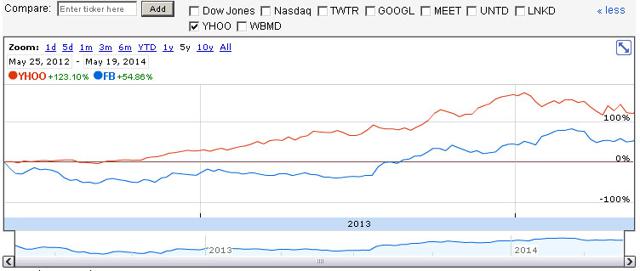 Source: Google Finance
In reality, Yahoo's market value is far lower than Facebook or Google (NASDAQ:GOOG). Yahoo is a still bench player in the lucrative digital advertising arena. Marissa Mayer, for all her intelligence and background in search in Google, has yet to make Yahoo a credible force in digital advertising. Mayer's beauty and charm failed to win Publicis or other traditional advertising firms.
Fortifying Yahoo's Advertising Muscle
Publicis just inked a $500 million partnership deal with Facebook. Google is buying Twitch for $1 billion to further fortify its leadership in video ads for desktop and mobile users. Yahoo's buyout of Blink secret messaging mobile service did not even help it move to $35. Yahoo is perceived to be irrelevant in mobile because of its pathetic mobile advertising performance.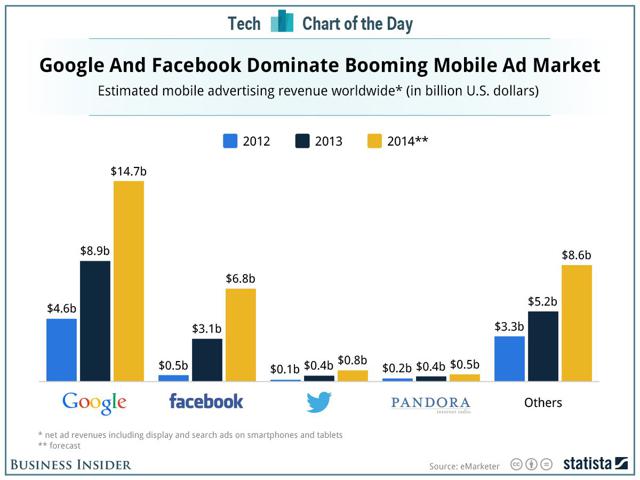 Google and Facebook are eating the biggest pies in mobile ads. Twitter (NYSE:TWTR) and Pandora (NYSE:P) are getting some action too but Yahoo is lumped in with the Others - scrambling for crumbs. Since she took over, Mayer has purchased 38 firms to supposedly make Yahoo a force on mobile and desktop advertising. The ad money chart above shows Yahoo is still a prodigal failure in mobile.
Yahoo's search engine usage is also still far smaller than Google. There's no near- or medium-term probability for Yahoo Search to deliver any significant increase in Yahoo's advertising revenue. According to comScore's March 2014 report, Microsoft (NASDAQ:MSFT) even enjoys a higher search engine presence than YHOO.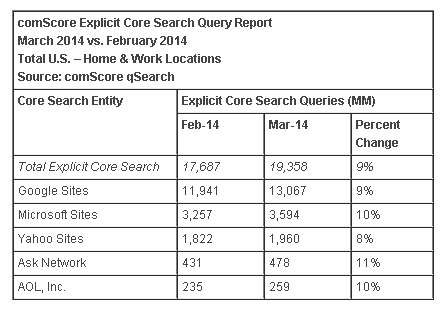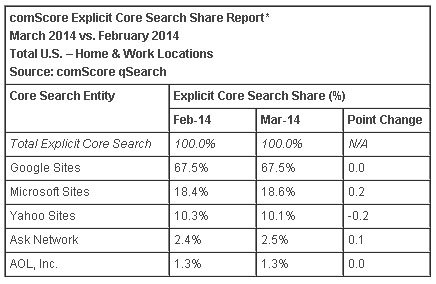 On a global scale Yahoo's search share on desktop and mobile devices are even more miniscule compared to Google's.
Desktop:

Mobile Gadgets: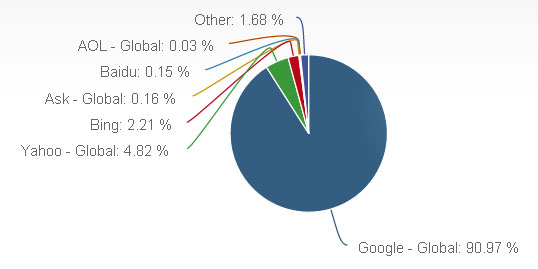 Charts from Netmarketshare.com
Yahoo's poor situation in search is the reason why Mayer wants to develop contextual search in a desperate move to take some share away from Google. Unfortunately, Mayer's former Google bosses already rolled out its own contextual search algorithm, Hummingbird, last year. Being always a step behind is really painful.
Yahoo's U.S. digital advertising business is now smaller than Facebook's. Zuckerberg must be laughing a lot now - he rejected Yahoo s $1 billion buyout offer when Facebook was just two years old. Marissa Mayer can retaliate by copycatting Zuckerberg's mobile ad business.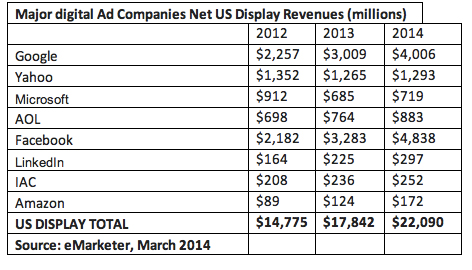 Source: adexchanger.com
Yahoo Can Flourish By Imitating Facebook
The money from the Alibaba IPO can be utilized to improve Yahoo's mobile advertising platform. Like Facebook, Yahoo can better monetize its current mobile apps users. Yahoo's share of the digital ad money in the U.S. is in decline.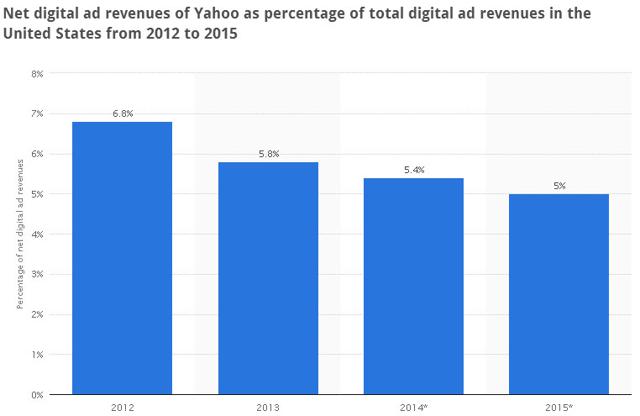 Source: Statista
However, Yahoo Finance and Yahoo Weather are still popular among American mobile users. According to comScore Mobile Metrix Yahoo Stocks app has 30.5% penetration score and the Yahoo Weather Widget has 27.6% score. These two apps have higher penetration scores than Twitter and Facebook Messenger.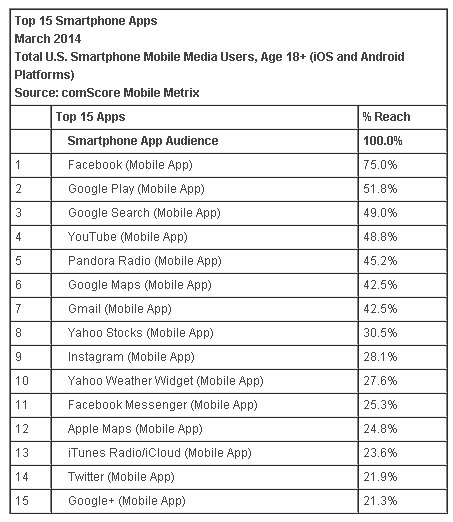 I hope that Mayer can better monetize Yahoo Finance and Yahoo Weather apps to make up for the company's declining display ads. Since it is playing catch-up to Facebook and Google, a mobile-first assault on digital advertising requires Yahoo to have a working mobile advertising platform with existing client base like Millennial Media (NYSE:MM).
Millennial Media, despite its current trouble, still enjoys being one of the biggest mobile advertising companies in the world. Yahoo, despite having 350 million of global monthly mobile users, is not one of the main players in worldwide mobile advertising. The $31.5 billion in mobile ad spending for 2014 is a boat where Yahoo should be on board.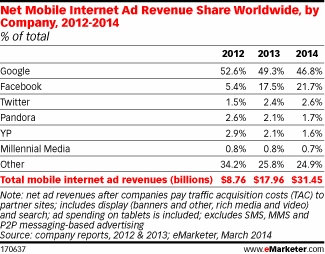 Source: eMarketer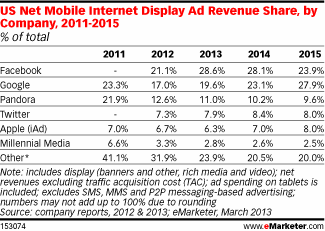 Millennial Media's 2.6% share in U.S. mobile ad spending is small but its clients include 90 of the 100 top Ad Age advertisers. Facebook recently launched its Audience Network. Yahoo can just buy Millennial Media and build its new mobile-first strategy around Millennial's proven MYDAS mobile advertising technology and assets. The patents of Millennial Media are also worth looking into.
Customizable hyper-local targeted ads for mobile devices was pioneered by Millennial's self-service mMedia solution. The Audience Network of Facebook and its native in-app advertising is also possible with mMedia.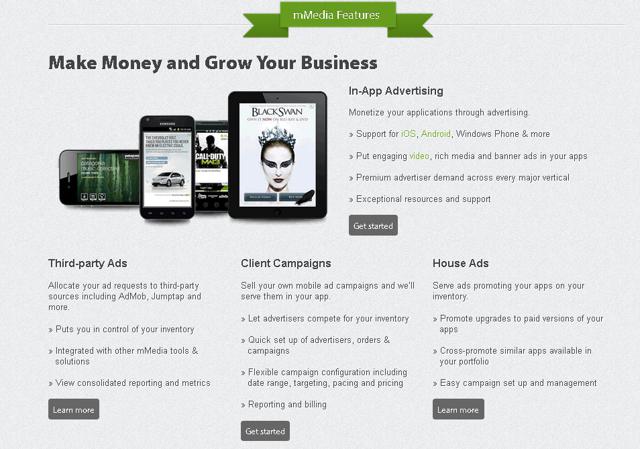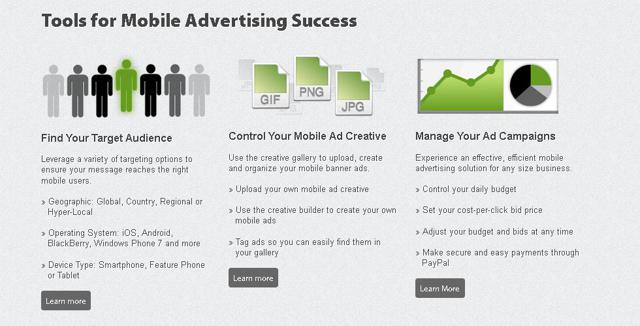 Source: mMedia.com
Of course, Yahoo can buy other independent mobile advertising firms. However, Millennial Media already has an established client list and third-party data partners.
Source: Millennial Media Press Kit 2014
It also helps that MM's current CEO, Michael Barrett, is Yahoo's former Chief Revenue Officer. Barrett led a group of insider buying of MM shares this month. These Millennial Media insiders would not be buying MM on the dip if they don't think the company won't be receiving a buyout offer soon. Yahoo is likely to be the top suitor for Millennial Media. In this age of intense competition, consolidation is always best.
Conclusion
Yahoo's poor advertising performance is the reason why it's not enjoying the same valuation that the market gives Facebook. Mayer imitating Zuckerberg's mobile-first approach might help YHOO ride a little higher as we all wait for the Alibaba IPO.
I would like to believe that the Blink purchase will be integrated inside Yahoo's best social networking and mobile asset, Tumblr. Perhaps Yahoo will release a Blinkr mobile self-destructing app that will rival SnapChat and Facebook's upcoming Slingshot. The $1.1 billion price tag for acquiring the mini-blogging site last year is helping Yahoo steal ad money from Facbeook. Tumblr has 230 million users as of January 2014.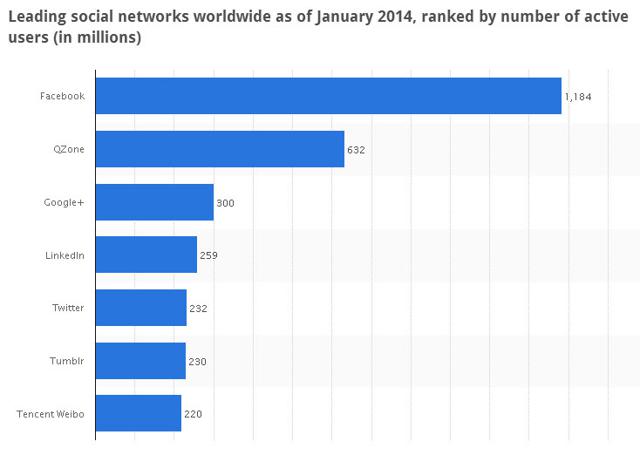 Source: Statista
Tumblr was number 2 ($1.10), behind Facebook ($1.22), in terms of revenue per visitor (RPV) during Q4 2013.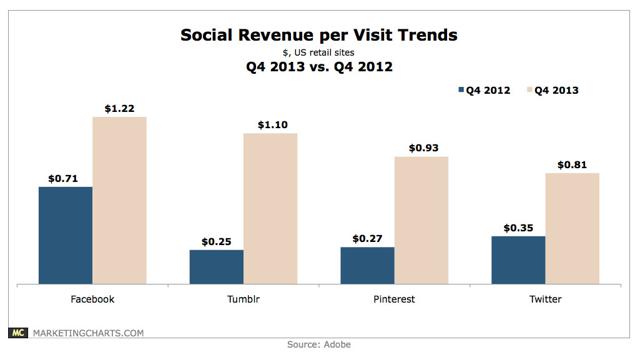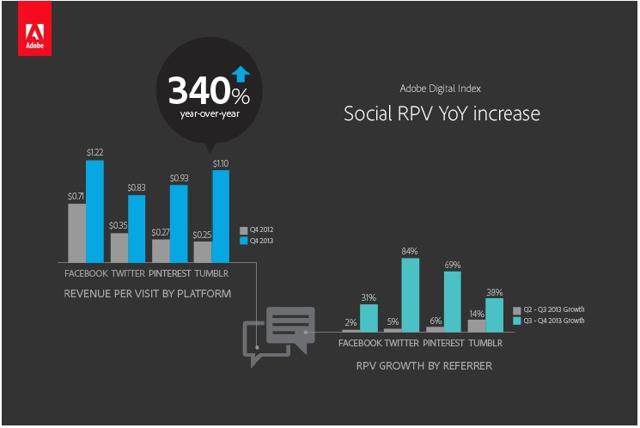 Source: Adobe
The Tumblr mobile app is also very popular among Android device and Apple gadget owners. I hope that Tumblr's success in desktop and mobile devices will boost Yahoo's mobile-first advertising strategy in the future. Marissa Mayer's legacy will only be immortalized if she can really make old dog Yahoo! learn the trick of how to roll and jump in to the mobile advertising bandwagon.
Yahoo is a BUY. Finviz's chart below shows YHOO's median target price among analysts is $42.22. The $27.60% Profit margin of Yahoo is very impressive.

My buy rating is in line with 9 analysts from markets.ft.com. The median 12-month price target from 27 analysts surveyed by FT.com is $43. Their high estimate PT is $50.

Disclosure: I am long YHOO, FB, MM. I wrote this article myself, and it expresses my own opinions. I am not receiving compensation for it (other than from Seeking Alpha). I have no business relationship with any company whose stock is mentioned in this article.