BlackBerry's (NASDAQ:BBRY) hardware business is and will stay the wild card of the turnaround. The previous management team was overconfident on an early BlackBerry 10 success, which lead to the current disaster. John Chen needs to deal with previous management mistakes, which inevitably slow down his turnaround strategy. But there is a lot of room for improvements in the future.
In this article, I focus on previous adjusted gross margins to estimate Q1 2015 gross margin. The analysis of gross margin segments (hardware, service and software) points out important information to assess next quarter metrics. The launch of the new phones will have a positive impact on BlackBerry's future.
Solving the Gross Margin equation
BlackBerry does not provide gross margin details for business segments, which makes it difficult to assess gross margins. However, BlackBerry provides a separate item for cost of sales related to hardware/other and service/software in its annual report 2014. As a result, I calculate gross margins related to service/software and I find a gross margin of 83.87% for the year 2014 and 86.11% for the year 2013.

To determine BlackBerry's gross margin accurately, I use other inputs such quarterly gross margins and sales breakdown for hardware, service and software. With these data and the annual service gross margin, I can fairly estimate gross margin segments on a quarterly basis. And then, I can forecast next quarter gross margin segments.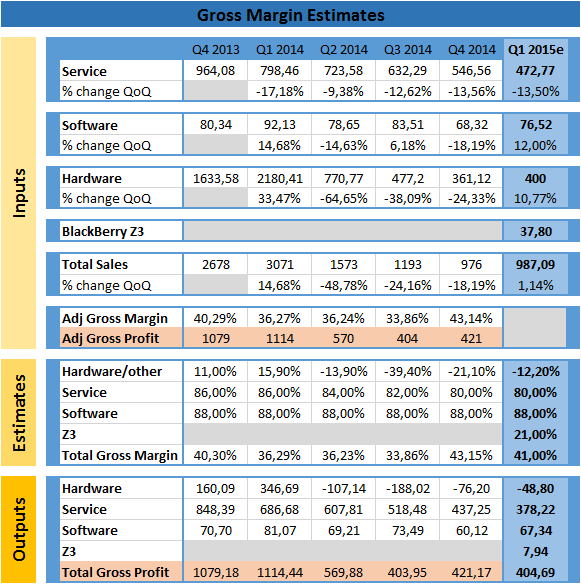 Service Gross Margin
As a first step, I start with the service gross margin (86% for Q4 2013, in line with annual service gross margin of 86.11%). For Q1 2014, I assume a flat gross margin of 86%. Afterwards, I assume a gross margin having decreased from 84% in Q2 2014 to 80% in Q4 2014, which is line with annual gross margin of 83.87% for the year 2014. I take this assumption to reflect increasing competition in the MDM field. Moreover, BlackBerry was affected by the failed sale of the company, which increases its negative public perception.
Now, the story is different. New management teams focus on enterprise customers and reassures its existing base. The company implemented the EZ Pass program to upgrade to the BES10 for free. It is already a huge success with 800,000 licenses delivered in less than two months.
Software Gross Margin
As a second step, I assume a software gross margin of 88%, based on IBM gross margin related to software products of 87.5%. I assume a flat gross margin quarter over quarter, to point out the unique position of QNX in the industry. Moreover, I assume QNX is not affected by BlackBerry downward spiral.
Hardware Gross Margin
As a final step, I estimate the hardware gross margin, which has to match my adjusted gross margin (previously calculated in Scrutinized Part 2) and the gross margin based on my two previous assumptions (for service and software). As a result, I find a gross margin of 11% in Q4 2013, 15,9% in Q1 2014, -13,9% in Q2 2014, -39,4% in Q3 2014 and -21,1% in Q4 2014.
Hardware currently slows down the turnaround due to the negative margins, which decreased the total gross margin. However, the future appears different for the hardware business. John Chen said it will make money on hardware.
I do believe BlackBerry can effectively make money on hardware. The deal with Foxconn was one step in the right direction. Moreover, John Chen said the company should sell 10 million phones a year to breakeven on the hardware. Last quarter, BlackBerry sold through to end users 3.4 million devices.
Regarding the newly launched Z3 in Indonesia, I assume a gross margin of 21%. I'm going to explain this topic later in the article.
Q1 2015 estimates
For Q1 2015, I assume a total gross margin of 41%, having decreased by 2% from previous quarter. There are two reasons:
John Chen said the service business will decrease by 13.5% in line with previous quarter decrease. As a result, service gross margin will represent a smaller part of total gross margin, which will negatively impact the total gross margin.
I expect further improvements from the hardware side thanks to the recovery of inventory in the previous quarter. It is a positive sign and it reflects the over pessimism of last quarter regarding BB10 devices. Moreover, I expect the company to sell more devices than previous quarter, as I explained in Scrutinized Part 1.
I estimate a service gross margin of 80% to take into account the new strategy implemented by the company to focus on enterprise customers. As a result, I expect the company to stop the bleeding of gross margin related to service business. I assume a flat gross margin of 88% related to software. Finally, I find a gross margin of -12.2% for the hardware business based on the previous assumptions.
New Phones for 2014
BlackBerry will launch new phones this year. The company launched the Z3 in Indonesia and the BlackBerry CEO plans to release the BlackBerry Classic in November. He said:
After BlackBerry Jakarta, now we are again working on the latest BlackBerry with either 3 to 4 [new devices planned]. Yes, there is the keyboard, and one of them is [all-touch] not a keyboard.
The BlackBerry CEO plans to launch the Classic (Q20), the Windermere (Q30) and an all touch device (Z50). The new phones will have a positive gross margin. I assume a gross margin of 21%. I point out two reasons:
While Apple (NASDAQ:AAPL) benefits from high gross margins of approximately 40% for iPhones (or even more), HTC (OTC:HTCKF) deals with a gross margin of 21% (for last quarter results). Even if the Canadian company is currently in better financial position than HTC, BlackBerry and HTC currently face the same difficulties in the smartphone market. As a result, I assume the same gross margin.
John Chen said he will share the margins with Foxconn (OTC:FXCOF) for the new devices because Foxconn will take the risk associated with the inventory. As a result, BlackBerry will have smaller gross margin in comparison with Apple. Furthermore, Apple has a lot more power than BlackBerry to negotiate a deal with Foxconn, which leads to higher margins.
As a footnote, John Chen also thinks to launch a new BB7 device with Wistron. He said that he won't sell it at a loss.
Conclusion
BlackBerry's hardware gross margin affects negatively the turnaround strategy due to negative gross margins. This situation is due to previous management mistakes, which puts too much faith in a big BB10 success.
However, the situation improves from previous quarter and, I expect further improvements in the future. Moreover, new devices will be released with a positive gross margin, which will increase BlackBerry's chances to breakeven.
The bottom line is the decrease in service business, which brings high gross margin to the company. The service business should bottom as soon as possible to stabilize the business. I expect it will bottom in Q3 2015, which corresponds to the launch of BES12.
Disclosure: I am long BBRY. I wrote this article myself, and it expresses my own opinions. I am not receiving compensation for it (other than from Seeking Alpha). I have no business relationship with any company whose stock is mentioned in this article.
Editor's Note: This article discusses one or more securities that do not trade on a major U.S. exchange. Please be aware of the risks associated with these stocks.