Chesapeake Energy (NYSE:CHK) is heading toward an interesting corporate event which could be instrumental in providing a boost to Chesapeake Energy's valuation as well as the valuation of its oilfield services business. The spin-off, Chesapeake Oilfield Operating, L.L.C., is somewhat hidden in the Chesapeake Energy's corporate structure. Chesapeake Oilfield Operating provides contract drilling services and hydraulic fracturing services to clients in the exploration business, but mainly Chesapeake Energy. After announcing in February that the company intends to pursue strategic alternatives for its oilfield services business, Chesapeake Energy released a corporate statement on May 16, 2014 detailing its intentions to indeed pursue a spin-off. From Chesapeake Energy's website:
Chesapeake previously announced on February 24, 2014, that it is pursuing strategic alternatives for its oilfield services business, which is currently conducted through its wholly owned subsidiary Chesapeake Oilfield Operating, L.L.C. Chesapeake announced today, after completing its review of strategic alternatives, that it intends to proceed with a spin-off of COO to Chesapeake's shareholders. COO has filed a Registration Statement on Form 10 with the SEC and expects to update it in the coming weeks. Chesapeake intends for the potential spin-off to be tax-free to its shareholders for U.S. federal income tax purposes and, to that end, has obtained a private letter ruling from the Internal Revenue Service.

Upon completion of the spin-off, and an expected recapitalization, approximately $1.1 billion of consolidated COO debt will be eliminated from Chesapeake's balance sheet and Chesapeake will receive an approximate $400 million dividend that will be applied to pay off intercompany debt from the oilfield services business. COO will also convert into a corporation and change its name to Seventy Seven Energy. Chesapeake anticipates that the spin-off and recapitalization transactions will be completed by June 30, 2014.
Reasons why I like the spin-off
As said in the introduction, Chesapeake Energy's Oil Services Business remains largely unnoticed in Chesapeake Energy's business mix and a spin-off to shareholders will certainly help to reduce the complexity of the company's business model, lead to higher transparency, and probably a higher market valuation of Seventy Seven Energy as an independent business. In addition, Chesapeake will be able to reduce its capital spending by approximately $30 million annually and get rid of a good chunk of debt.
The latest 10-Q filed with the SEC highlights that Chesapeake Oilfield Operating, L.L.C had total assets of approximately $2.0 billion, revenues of $510 million of which 85% originate from Chesapeake Energy, and a net loss of $19 million in the first quarter. Operating cash flows came in at $55 million and free cash flows at ($64) million.
With $529 million in owner's equity, Seventy Seven has a current debt to equity ratio of 2.9. Furthermore, as indicated by the SEC registration filing, Chesapeake Energy will be able to offload $1.1 billion in debt and receive a $400 million dividend from Seventy Seven Energy. Bottom line: Seventy Seven Energy will likely be a highly leveraged, possibly free cash flow negative oilfield service business that is unlikely to find the fancy of investors.
And that's exactly where the value is: Investors probably would not want to keep shares of Seventy Seven Energy. A spin-off, after all, is an inefficient allocation mechanism because many investors mainly want exposure to the parent company, Chesapeake Energy, which has transformed itself to becoming one of the most promising unconventional oil and natural gas players in America.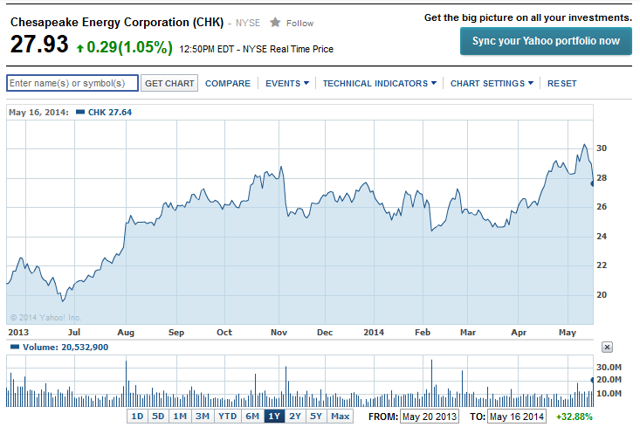 (Source: Yahoo Finance)
Final assessment
Many investors would not want to own a highly leveraged company with negative free cash flows and high capital expenditures. I think Seventy Seven Energy, which is supposed to trade under the ticker SSE, could fetch a market capitalization of $2 billion after the spin-off. Indiscriminate selling by institutional investors who don't want to gain exposure to Seventy Seven Energy could quickly lead to distressed security prices and attractive entry prices for longer-term oriented investors. Long-term Buy.
Disclosure: I am long CHK. I wrote this article myself, and it expresses my own opinions. I am not receiving compensation for it (other than from Seeking Alpha). I have no business relationship with any company whose stock is mentioned in this article.