SanDisk Corp. (SNDK), the leading designer, developer, and manufacturer of data storage solutions such as flash memory, proprietary controller and firmware technologies, was recently upgraded by Raymond James to strong buy from outperform. The firm raised its price target to $115 from $90 while the stock is currently trading at around $90.93. ISI Group has also upgraded SanDisk from neutral to strong buy. Analyst C.J. Muse has also boosted his price target on SanDisk from $87 to $110. Therefore, in this article I will analyze SanDisk as an investment opportunity and discuss some of the factors that are likely to drive the stock higher.
Growing SSD Demand and Improvement in Bottom Line
SanDisk received a sign of approbation from some analysts following its annual analyst day meeting at the beginning of May 2014. During the meeting the company was able to convince analysts regarding its expectations to serve in the leading position with respect to capitalizing on the growing Solid State Drive "SSD" market. SanDisk projects the Total Addressable Market "TAM" for NAND Flash will grow at a CAGR of around 8% from 2013 to 2016 (see graph below).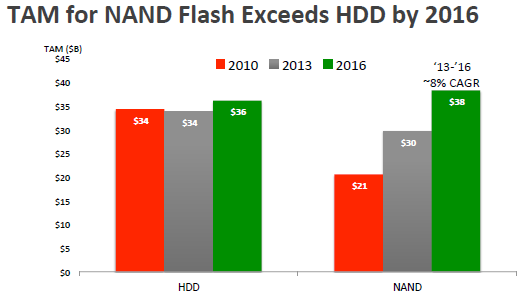 Source: SNDK Raymond James 35th Annual Conference Presentation
According to David West, vice president of semiconductor marketing and engineering for Arrow Electronics Inc. (NYSE:ARW), users from all fields ranging from transportation, healthcare, mobile devices to other commercial markets are distinguishing the noteworthy performance, reliability, and cost-saving benefits of flash storage.
Raymond James also anticipates that the trend for solid-state drives is impressive enough and will continue growing in the coming periods. The firm noted that the 3D NAND industry cycle will be lengthier than historical patterns and SanDisk has a longer-term mix shift on the road to higher value enterprise SSDs and 2D NAND cost advantages.
According to IHS, SSDs are expected to grasp over one-third of the PC storage solutions market by 2017. The total global shipments of SSDs in PCs are predicted to grow by a factor of seven rising from 31 million units in 2012 to 227 million units by 2017. This growth will be made as SSDs become more significant to PC makers and other buyers due to lower cost as SSDs have the NAND flash memory present at the core of the storage devices. ISI Group also acknowledged the fact that the enterprise storage demand is picking up. This will drive growth in the date to be stored but at a lower cost. The analyst also expects that SanDisk has an evident path to cost improvements on planar NAND as the supply and demand for NAND is anticipated to remain in balance till 2015. The design of NAND flash memory chips connected in a series bear a resemblance to a NAND gate. This allows the series connection to use less space than a corresponding connection, reducing the cost of NAND flash drives.
Additionally, as SanDisk purchases all of its NAND flash supply from the company's venture relationships with Toshiba Corporation (OTCPK:TOSBF) the company's gross profit margins are susceptible to USD/JPY exchange rate. The weakening of JPY against USD favorably impacts the company's gross margins. According to Scotiabank's report on foreign exchange outlook issued recently in May 2014, the bank forecast JPY to depreciate against USD in 2014 and 2015. The bank expects the Bank of Japan to ultimately turn towards further stimulus that will drive USD/JPY to 109 by the end of 2014.
Marketing Expansion
SanDisk and Arrow Electronics, Inc. has recently agreed to jointly market commercial flash storage solutions around the globe. Arrow Electronics is a leading global technology distributor. It has agreed to expand its distribution agreement to embrace new regions and a broader portfolio of SanDisk solutions for the mobile and industrial sectors. This expanded partnership is aimed to address the growing demand for flash storage around the globe. Arrow Electronics will offer a wide-ranging variety of SanDisk commercial flash storage solutions to its more than 100,000 wide-reaching customers.
This new global partnership will facilitate SanDisk's leveraging of Arrow Electronics' global distribution model and engineering resources. This will support an ease for system architects and design engineers to alter their systems with SanDisk flash technology. According to Henri Richard, senior vice president of Worldwide Commercial Sales and Support at SanDisk, Arrow Electronics' strong distribution network and customer-centric services will be in tandem with SanDisk's commitment of providing trusted, next-generation flash storage solutions to the mobile and industrial sectors around the globe.
As a result of this agreement, Arrow Electronics will become part of the fast-growing SanDisk Commercial Business Channel. This channel will offer clients and enterprise-grade SSDs and embedded flash computing products via channel partners around the globe and is likely to record more growth in the coming years.
Dividend Hike, Q1 FY 2014 Results and Final Take
Confident in the future prospects of its business, SanDisk has recently publicized that its board of directors has approved a 33% increase in the company's quarterly dividend payment to $0.30 per share ($1.20 per share on an annual basis). This scheduled increase will be applied for dividends declared the beginning in Q3 FY 2014 one year after the dividend program was instigated.
SanDisk reported its Q1 FY 2014 results in the previous month. The company disclosed that its Q1 EPS of $1.44 beat the analysts' estimate of $1.25 by $0.19. The company's revenue for Q1 FY 2014 came in at $1.51 billion also beating the consensus estimate of $1.49 billion. The 61% growth in the company's SSD revenue and strong retail performance drove the growth in the company's top and bottom lines. In Q1 FY 2013, the company reported an EPS of $0.84 on revenues of $1.34 billion.
The company appears to be well-positioned to take advantage of the growing SSD market. The SSD market with NAND flash memory will continue experiencing growth in the coming years due to the increase in data needed to be stored at lower costs. Moreover, the company is putting efforts into expanding its distribution channels to capitalize on the growth prospects from the far-reaching international markets. In addition to availing cost benefits from the use of less expensive NAND flash memory, SanDisk's bottom line will also benefit from the weak JPY in the coming periods. The company purchases NAND technology mainly from a supplier based in Japan. These factors point toward the upcoming growth in the company's top and bottom lines. The analysts are also optimistic for the future prospects of the company. Combining the upcoming improvement in the company's performance and position with an increase in cash returns to be made by the company to its shareholders this stock is a good buy with a handsome upside potential.
Disclosure: I have no positions in any stocks mentioned, and no plans to initiate any positions within the next 72 hours.
Business relationship disclosure: The article has been written by a Gemstone Equity Research research analyst. Gemstone Equity Research is not receiving compensation for it (other than from Seeking Alpha). Gemstone Equity Research has no business relationship with any company whose stock is mentioned in this article.
Editor's Note: This article discusses one or more securities that do not trade on a major U.S. exchange. Please be aware of the risks associated with these stocks.