AT&T Inc. (NYSE:T) has been in the news after it was rumored to acquire DirecTV (DTV). Those familiar with the matter have told Bloomberg the deal would probably be finalized in a week or two. AT&T has the resources and capability to finance this deal but the question is whether or not it should go ahead with this deal and why. Through this article, I will assess the potential benefits AT&T can obtain from this acquisition and whether these benefits justify the suggested price of the acquisition.
AT&T Resources for The deal
AT&T is reported to be in advance talks to buy DirecTV at a price that may range from $95 to $100 per share. As a result AT&T may be offering a premium of 15% for DirecTV based on the stock's current price at Monday's close. DirecTV reported $7.8 billion in revenues for the first quarter of 2014 and has seen its stock price rally due to the potential deal. AT&T is paying an expensive price for the deal that is at least 17 times DirecTV's 2015 estimated EPS.
AT&T has the resources to enter such an expensive deal as it ended its first quarter of FY 2014 with a free cash flow of $3 billion while cash flows from its operations stood at $8.8 billion. At the end of the latest quarter AT&T had $3.6 billion in the form of cash and cash equivalents. For 2014 AT&T has projected it would generate free cash flows of $11 billion which is even more impressive. With such enormous cash flow generation, AT&T can easily raise funds for the cash portion of the payment of the purchase. The rest can be settled in the form of shares because AT&T has an equity capital on its balance sheet of more than $91 billion. The company carries a credit rating of A3 by Moody's Investors Services and A- at Standard & Poor's. It is 4 levels above junk and can raise serious debt without compromising its credit rating.
DirecTV Business - An Overlap or Expansion
However some analysts argued that AT&T should not be acquiring DirecTV because it potentially overlaps its own business being operated under the banner of U-Verse. But this deal should be looked at as an effort to consolidate and it would result in the expansion of AT&T's TV business in remote areas. Approaching those areas on its own would have certainly proved to be costly and time-consuming. DirecTV has a subscriber base of 20 million which is 4 times greater than the subscriber base of AT&T.
Apart from U-Verse, the DirecTV acquisition will conflict with AT&T's 8% stake in America Movil SAB (AMXL) because DirecTV has a minority stake in one of America Movil's biggest rivals, Sky Mexico.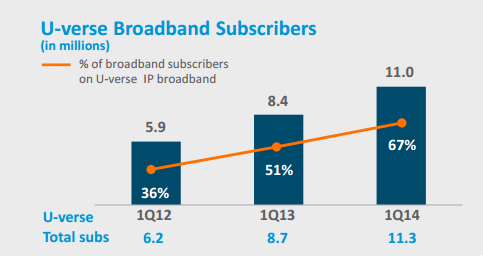 Source: AT&T Presentation
However, AT&T's U-Verse business has shown phenomenal signs of potential and has seen net additions of more than 200,000 customers in the first quarter of 2014. However, to organically attain the subscriber base of around 20 million will take much more time than directly acquiring a company that can instantly provide additional customers. Nowadays consumers have a wide variety of options for online video streaming services therefore in order to remain competitive in such a mature market retention and growth of the subscriber base is essential. Thus AT&T can potentially use the enormous subscriber base of DirecTV to expand its Pay TV business. This deal will allow AT&T to enjoy enormous cost savings and synergies that will really act as a catalyst for boosting the company's margins. DirecTV reported a 4.3% increase in its average revenue per user (ARPU) reaching $100.16 during the first quarter of 2014. Keeping its subscriber base constant at 20.27 million and ARPU at $100 we can project that this acquisition can add $2.027 billion to AT&T's top line. This addition alone will reflect an increase of 6% in AT&T's top line. After the proposed acquisition is approved by the Competition Commission, AT&T will see its EPS carry the effect of EPS generated by DirecTV as well that stood at $1.10 per share in the latest quarter.
Competitive Position
AT&T has already performed well in the competitive wireless business arena in the presence of two robust competitors, T-Mobile (NASDAQ:TMUS) and Sprint (NYSE:S). Where T-Mobile has opted for competitive pricing for market penetration and Sprint is enjoying the support of Softbank (OTCPK:SFTBY), the wireless industry has become more competitive than it was years ago. Now the market player with the greater spectrum can attract more customers and subscriber growth can bring future growth for the company. In such a scenario AT&T has chosen DirecTV; a company with no wireless spectrum for potential acquisition rather than Dish (NASDAQ:DISH) that has the spectrum to offer. While it doesn't make sense when we look at this aspect, the potential reasons that justify the acquisition of DirecTV may include its Latin America business and its subscriber growth that outpaces the Dish. Subscriber additions are declining throughout the industry because of the mature TV market but even in this case DirecTV has more subscribers than Dish.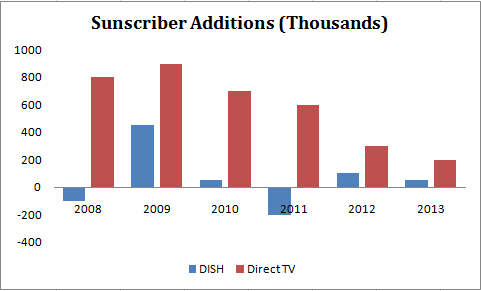 Source: Bloomberg
Moreover, this deal can place AT&T in a better competitive position in front of FiOS because currently U-Verse uses a combination of fiber and copper wire and it can't compete in terms of reach and quality with FiOS. Acquiring the satellite TV provider will allow AT&T to deliver its Live TV in a more efficient way compared to using its own traditional wired network. Hence through this acquisition AT&T would be better integrated into broadband and TV services.
Final Remarks
In short we can assume that this proposed acquisition will hopefully prove fruitful for AT&T Inc. providing it with a ready made subscriber base in the TV business. Through this acquisition the company's margins may remain intact despite the fact that the company's wireline business is getting out of demand and its wireless business is amid stiff pricing competition.
Apart from this deal, AT&T has been a decent performer that has offered its investors a robust dividend yield year over year.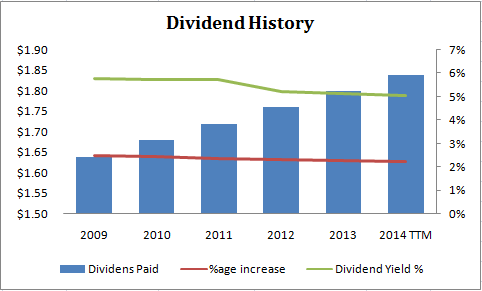 Source: 1stock1.com & Y-charts
Therefore, I do not believe investors should sell their holdings in AT&T rather they should hold on to the stock unless the proposed acquisition starts adversely affecting the company.
Disclosure: I have no positions in any stocks mentioned, and no plans to initiate any positions within the next 72 hours.
Business relationship disclosure: The article has been written by a Gemstone Equity Research research analyst. Gemstone Equity Research is not receiving compensation for it (other than from Seeking Alpha). Gemstone Equity Research has no business relationship with any company whose stock is mentioned in this article.
Editor's Note: This article discusses one or more securities that do not trade on a major U.S. exchange. Please be aware of the risks associated with these stocks.