After reporting revenue and earnings per share in line with consensus, Applied Materials, Inc. (NASDAQ:AMAT) stock surged 8.13% on May 16, the day after the announcement. Moreover, AMAT stock has outperformed the market this year and in 2013. Since the beginning of the year, AMAT stock has gained 13.8%, while the S&P 500 index has risen 2.0% and the Nasdaq Composite Index has declined 1.2%, and since the beginning of 2013 AMAT stock has recorded an impressive gain of 75.9%, while the S&P 500 index has risen 32.2% and the Nasdaq Composite Index has risen 36.6%. Nevertheless, AMAT stock is a good combination of a good value and strong growth dividend stock, and in this article, I will explain why, in my opinion, Applied stock is still a promising long-term investment.
The Company
Applied Materials is the global leader in manufacturing solutions for the semiconductor, display and solar industries. Incorporated in 1967, Applied, a Delaware corporation, provides manufacturing equipment, services and software to the global semiconductor, flat panel display, solar photovoltaic and related industries. Applied's customers include manufacturers of semiconductor wafers and chips, flat panel liquid crystal and other displays, solar PV cells and modules, and other electronic devices.
Segments
Applied operates in four reportable segments: Silicon Systems Group, Applied Global Services, Display, and Energy and Environmental Solutions.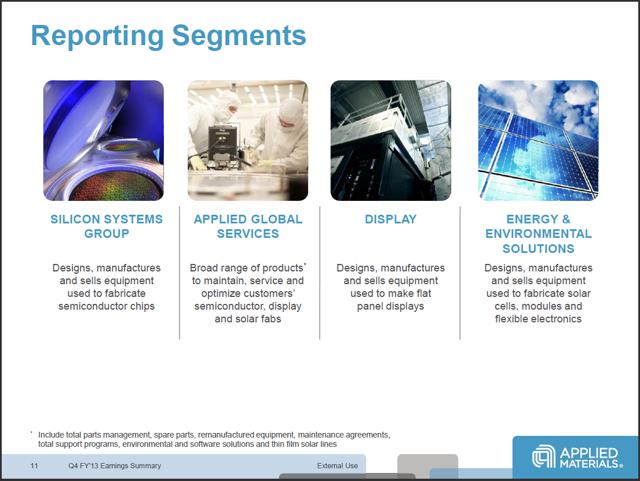 Click to enlarge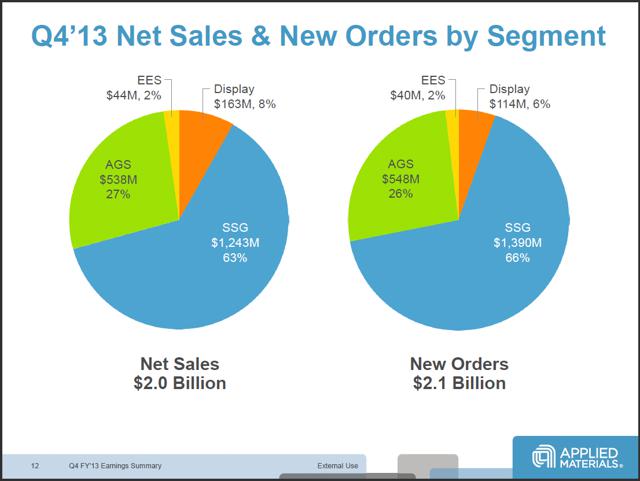 Click to enlarge
Source: Q4 2013 Quarterly Earnings Presentation
The Industry
Semiconductor and semiconductor equipment manufacturers have historically been highly cyclical, with periods of strong growth and high margins, which have caused companies to raise capital investment, and in effect, have caused excess supply followed by periods of weakness. The economic data and companies' comments are all saying essentially the same thing, which is that the semiconductor equipment industry has already passed through the bottom of the current cycle. New internet applications will extend the compute environment to everyday devices like smart television, wearable, cars, light bulbs and more. This development will increase the demand for semiconductor test equipment.
Book-to-Bill Ratio
One very important parameter when analyzing a semiconductor company is the book-to-bill ratio, which is the ratio between new orders to actual sells. A ratio of above one implies that more orders were received than filled, indicating strong demand, while a ratio below one implies weaker demand. On April 21, 2014, SEMI.ORG announced that the North American semiconductor equipment industry posted March 2014 book-to-bill ratio of 1.06. On that occasion, Denny McGuirk, president and CEO of SEMI said:
Bookings levels for North American semiconductor equipment have remained consistent over the last few reports. We look to the months ahead for signs of any inflection.
The table below presents the North American semiconductor equipment industry's billings, bookings and the book-to-bill ratio since the beginning of 2012.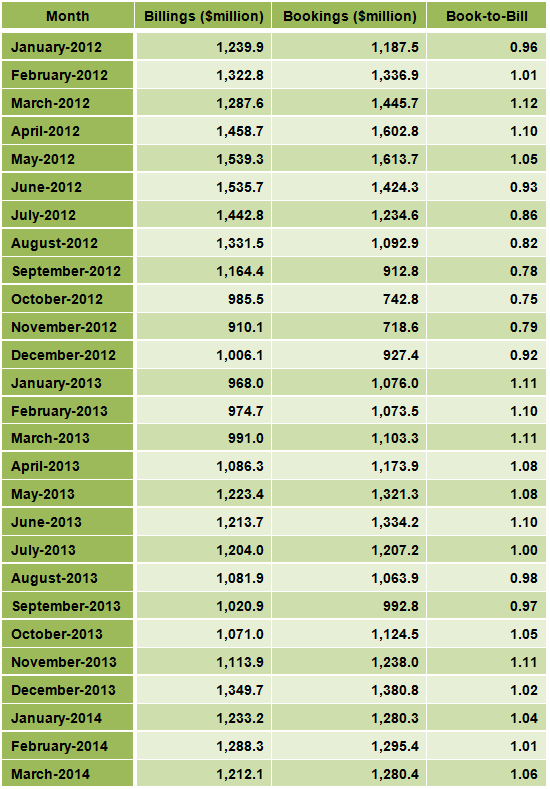 Source: SEMI.ORG
The charts below present the North American semiconductor equipment industry's billings, bookings and the book-to-bill ratio since 1991.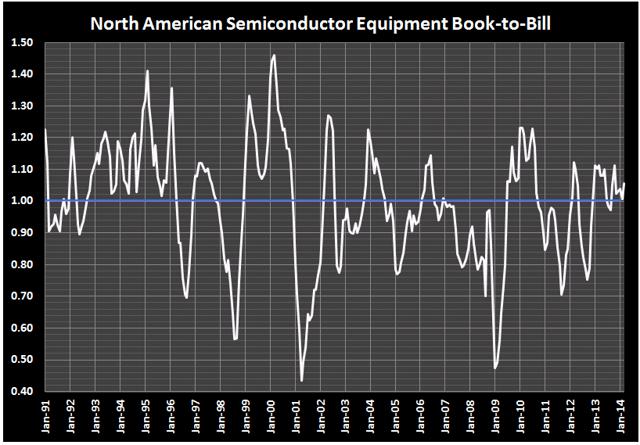 Click to enlarge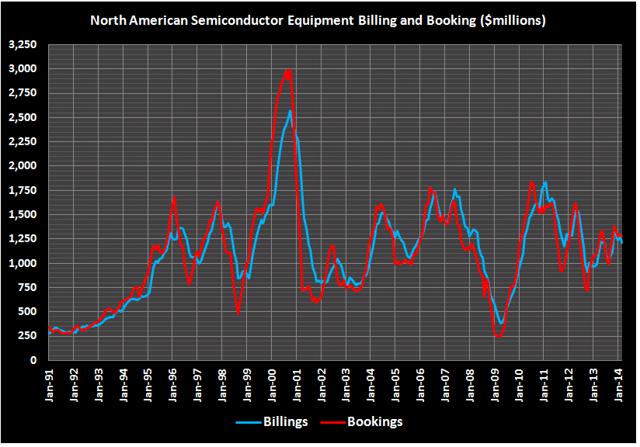 Click to enlarge
Valuation Metrics
The table below presents the valuation metrics of Applied Materials; the data were taken from Yahoo Finance and finviz.com.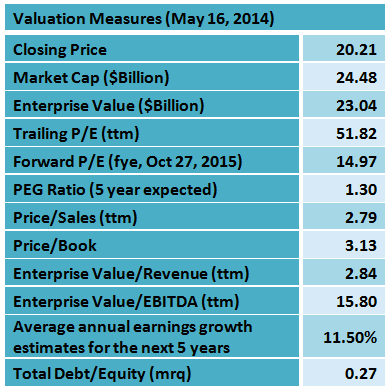 Applied's valuation metrics are pretty decent; the total debt-to-equity is low at 0.27, and the Enterprise Value/EBITDA ratio is low at 15.80. According to Yahoo Finance, AMAT's next financial year forward P/E is at 14.97, and the average annual earnings growth estimate for the next 5 years is high at 11.50%; these give a low PEG ratio of 1.30.
Latest Quarter Results
On May 15, 2014, Applied Materials reported its second-quarter fiscal 2014 financial results, where the EPS and revenues met analysts' expectations.
Highlights for the Second Quarter Fiscal 2014
Orders of $2.63 billion, up 16 percent year-over-year.
Net sales of $2.35 billion, up 19 percent year-over-year led by growth in the Silicon Systems Group.
Non-GAAP adjusted operating income of $482 million, up 69 percent year-over-year. GAAP operating income of $387 million.
Non-GAAP adjusted diluted EPS of $0.28, up 75 percent year-over-year. GAAP diluted EPS of $0.21.
In the report, Gary Dickerson, president and CEO, said:
Applied gained 1.4 points of wafer fab equipment market share in 2013 as we enabled major technology inflections for our customers with our unique capabilities in precision materials engineering. We are also delivering significant improvements in our financial performance and have expanded our operating margins to their highest level in nearly three years.
Competitors and Group Comparison
A comparison of key fundamental data between Applied Materials and its main competitors is shown in the table below.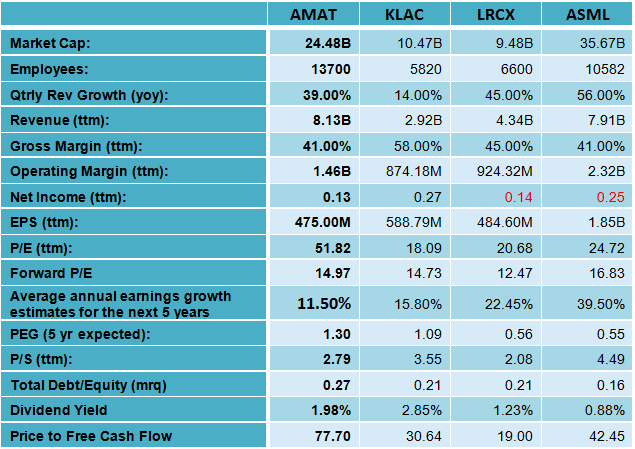 Source: Yahoo Finance, finviz.com
Applied Materials has lower earnings growth prospects than its competitors, and its PEG ratio is the highest.
Dividend
Applied has been paying uninterrupted dividends since 2007. The forward annual dividend yield is at 1.98%, and the payout ratio is at 56%. The annual rate of dividend growth over the past three years was quite high at 13.0%, and over the past five years, was also high at 10.2%. I consider that besides dividend yield, the consistency and the rate of raising dividend payments are the most crucial factors for dividend-seeking investors, and AMAT's performance has been very satisfactory in this respect.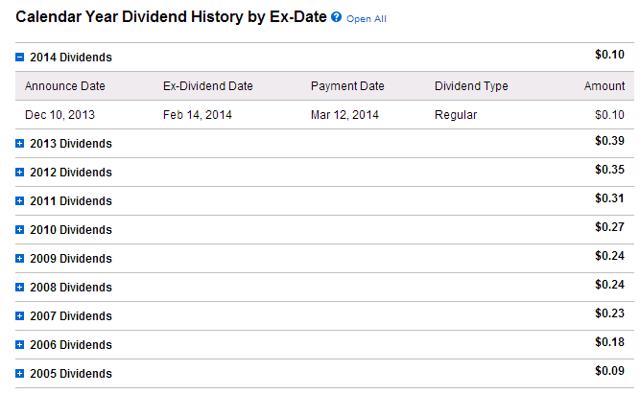 Click to enlarge
Source: Charles Schwab
Technical Analysis
The charts below give some technical analysis information.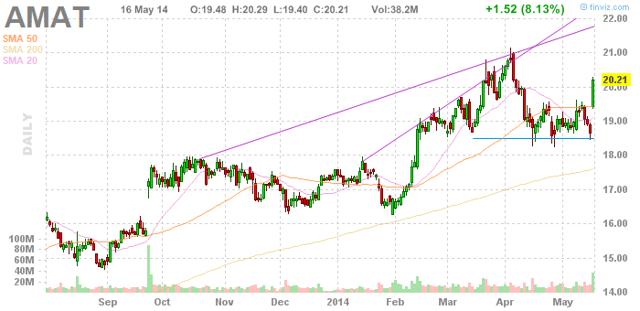 Click to enlarge
Chart: finviz.com
The AMAT stock price is 6.08% above its 20-day simple moving average, 3.98% above its 50-day simple moving average and 14.88% above its 200-day simple moving average. That indicates a short-term, a mid-term and a long-term uptrend.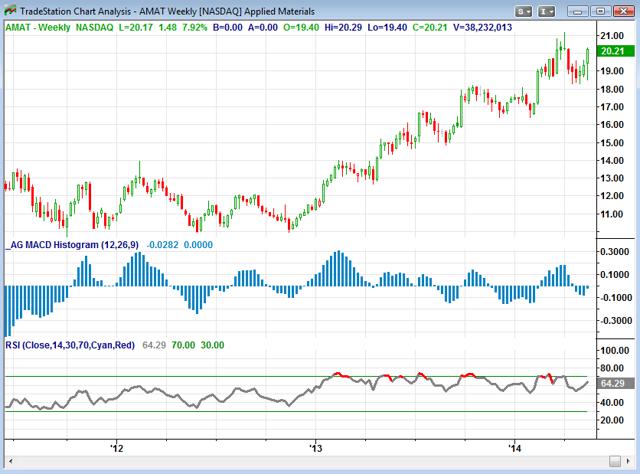 Click to enlarge
Chart: TradeStation Group, Inc.
The weekly MACD histogram, a particularly valuable indicator by technicians, is negative at -0.0282 and ascending, which is a strong bullish signal (a rising MACD histogram and crossing the zero line from below is considered an extremely bullish signal). The RSI oscillator is at 64.29, which does not indicate oversold or overbought conditions.
Analyst Opinion
Analysts' opinion is divided. Among the twenty one analysts covering the stock, five rate it as a strong buy, six rate it as a buy, eight rate it as a hold, and two analysts rate it as an underperform.
Major Development
According to Gartner, worldwide semiconductor capital equipment spending is projected to total $37.5 billion in 2014, an increase of 12.2 percent from 2013 spending of $33.5 billion, capital spending will increase 5.5 percent in 2014 as the industry begins to recover from the recent economic downturn, and total spending will follow a generally increasing pattern in all sectors through 2018. Since Applied's sales represent nearly one-quarter of the world's total semi equipment sales, it should be the first to benefit from the strong growth in semi equipment purchases.
On September 24, 2013, Applied Materials announced its intent to acquire the world third-largest semiconductor and flat panel display equipment manufacturer, Tokyo Electron, in an all-stock transaction. Tokyo Electron shareholders will receive 3.25 shares of the new company for every Tokyo Electron share held. Applied shareholders will receive one share of the new company for every Applied Materials share held. After the close, Applied Materials shareholders will own 68% of the new company and Tokyo Electron shareholders 32%. The Applied Materials-Tokyo Electron deal is expected to close in 2H14, which will strengthen Applied's dominance of the industry even more.
Applied Materials has already shown strong orders and sales growth in its last four quarters, as shown in the chart below.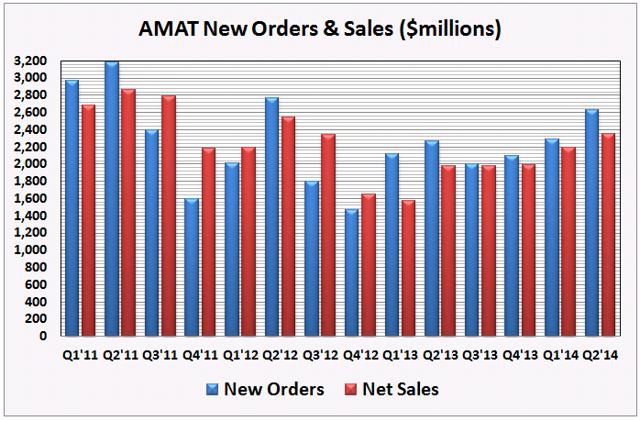 Click to enlarge
Source: Applied's Quarterly Reports
The chart below shows Applied's book-to-bill ratio for each quarter since 2011.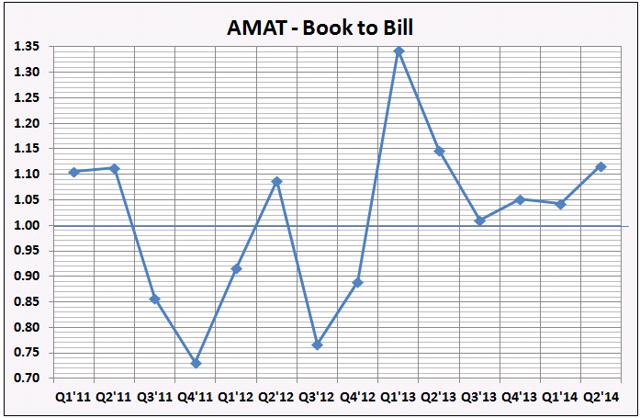 Click to enlarge
Source: Applied's Quarterly Reports
Applied's book-to-bill was 1.12 in the April quarter, and in the last six quarters, has been higher than one; this indicates growing demand for Applied's products. Furthermore, Applied's book-to-bill has been higher than that of the North American semiconductor equipment industry in the last two quarters.
Risk
According to Applied, the global semiconductor, flat panel display and solar industries historically have been cyclical due to sudden changes in customers' requirements for new manufacturing capacity and advanced technology, which depend in part on customers' capacity utilization, production volumes, access to affordable capital, end-use demand, consumer buying patterns and inventory levels relative to demand, as well as the rate of technology transitions and general economic conditions. These changes have affected the timing and amounts of customers' purchases and investments in technology, and continue to affect Applied's orders, net sales, operating expenses and net income.
There is a possibility that the Applied Materials-Tokyo Electron deal might raise antitrust concerns in multiple jurisdictions, due to the size of the combined company. In case that the deal is not approved by regulators, it might cause a temporary decline in Applied's stock price.
Conclusion
As the leading global supplier of semiconductor equipment, Applied will benefit from the rebound in semiconductor manufacturing equipment spending in 2014, and from the ongoing migration to mobile devices as well as the need for next-generation tools. Applied has a very strong product line, and management has stepped up investments in preparation for the ongoing transitions to larger wafer sizes and smaller process nodes. Applied management expects significant share gains through 2014. In addition, the Applied Materials-Tokyo Electron deal will provide the company a competitive advantage. Applied has a strong balance sheet, good valuation metrics and strong growth prospects. Furthermore, the rich dividend represents a nice income. All these factors bring me to the conclusion that AMAT stock is a smart long-term investment.
Disclosure: I am long AMAT, KLAC, LRCX. I wrote this article myself, and it expresses my own opinions. I am not receiving compensation for it (other than from Seeking Alpha). I have no business relationship with any company whose stock is mentioned in this article.