Do you see the similarity [in growth between WhatsApp and mobile wallets?] Do you notice something between them - namely, they're both poised to explode with growth? It's likely this isn't a coincidence that these have been Zuckerberg's last couple of big moves.

As long as Zuckerberg continues to innovate and continues to keep swinging, I think Facebook has room to support its lofty valuation and share price.

It's going to be this type of aggressiveness that could propel the stock towards $100.

-QTR on Facebook, 5/5/14
There's no doubt that we're going through a bit of a correction in social media and high momentum stocks. The last few weeks have been littered with people unamused by high multiples, moving money from stocks like Amazon (NASDAQ:AMZN), Tesla (NASDAQ:TSLA) and Netflix (NASDAQ:NFLX) into more conservative, lower multiple names.
Heck, I even mentioned it in an article I penned yesterday morning about some steps that you could take to prepare for some coming market bearishness. The first suggestion I made, actually, was to take some profits in your high multiple names.
Having said that, I continue to remain long Facebook (NASDAQ:FB) through a call position that I established last month for earnings. Like a couple of other high momentum names, Facebook beat its earnings expectations on both lines, but was met with a muted response from the market.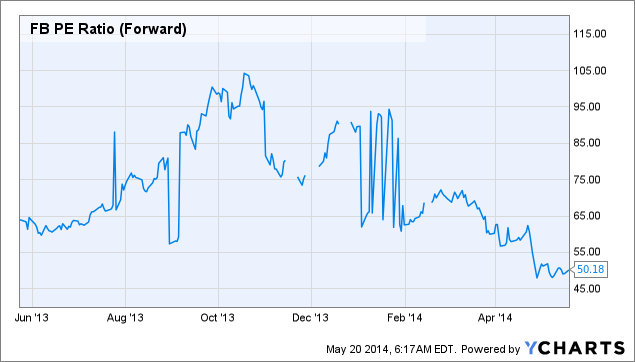 FB PE Ratio (Forward) data by YCharts
My thesis behind investing in Facebook is that Zuckerberg has done what he's needed to do in order to keep the company in "hyper aggressive" mode. Complacency would definitely be the enemy in a company like Facebook, or any company that carries such a high multiple.
While others scoffed at the price tag behind the WhatsApp deal, I simply saw it as a needed piece to continue hyper aggressive growth. While others have questioned whether or not Facebook should bother with a foray into mobile wallets, I continued to see it as another piece to the hyper aggressive expansion model.
Simply put, Zuckerberg doesn't seem to be afraid to get out there and keep swinging on behalf of his baby. And why should he - he's valued at many billions of dollars.
Facebook stock, after running to highs of over $70, has consolidated in the trading range between $57.50 and $62.50 for the last two months. The next resistance level is around $61.58, where the 50DMA sits. Support for the company seems to be plentiful around $57.50. Facebook looks to be set to retest this level sometime relatively soon. Technically, the company continues to be in the midst of a long-term uptrend, as you can see from the 6 month chart below.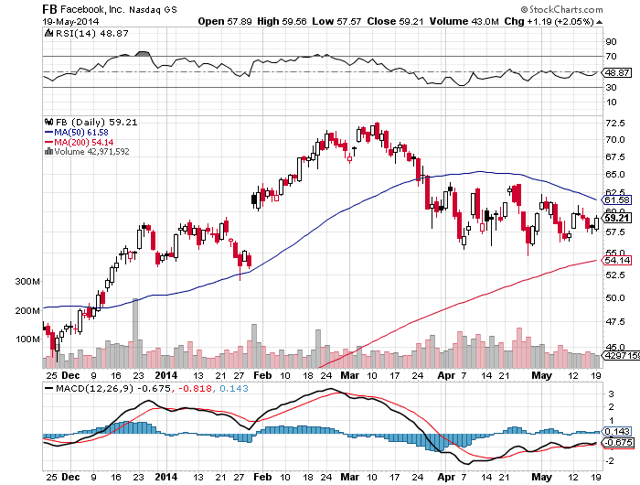 So, in keeping with the hyper aggressive growth story, it was reported yesterday that Facebook had struck a $500 million advertising deal with Publicis (OTCQX:PUBGY). Seeking Alpha reported:
Publicis, the world's #3 ad holding company, has struck a multi-year deal with Facebook (+2.1%) that involves a "co-creation of [ad] product around data, video and images, including core Facebook and Instagram."
AdAge reports the deal is worth $500M, and notes it's "easily the largest yet between an agency holding company and a tech company." Publicis' clients (through its holding companies) include major brands such as Coca-Cola (NYSE:KO), P&G (NYSE:PG), and Verizon (NYSE:VZ).
Facebook Ad VP Carolyn Everson states the deal is "the first time we have all of the different elements that will allow clients to reach a significant scale of 100 million people a day in the U.S. and [specific] audiences within the 100 million." It was only two weeks ago that Facebook rolled out advanced audience data tools for advertisers.
Instagram announced its first major ad agency deal in March - a $100M tie-up with former Publicis merger partner Omnicom.
Again, Publicis is one of the biggest advertising companies in the world. As stated in the news, they were supposed to merge with Omnicom, but that fell through earlier this month. It would have been a $35 billion merger, but it failed due to regulatory questions and a C level power struggle.
This does a couple of things for Facebook.
It validates Facebook's mobile advertising platform as sought out and offers a monetary and credibility based growth for Facebook. There is no doubt that Facebook is executing mobile ads efficiently and is clearly the best in the world at monetizing mobile right now. Publicis went with Facebook (as opposed to elsewhere) likely for that reason alone.
We can clearly see that Twitter (NYSE:TWTR) is the follower, Facebook is the leader. As I pointed out in a previous article:
You know they're doing something right - have you noticed that the new Twitter (TWTR) is starting to look suspiciously like Facebook? What if I want to check in on what heinous million-dollar sports bet Floyd Mayweather has made this week? At first glance, his Twitter and his Facebook look exactly the same.
I used my archaic knowledge of MS Paint to try and point out exactly how similar they are by using extremely scientific colored boxes: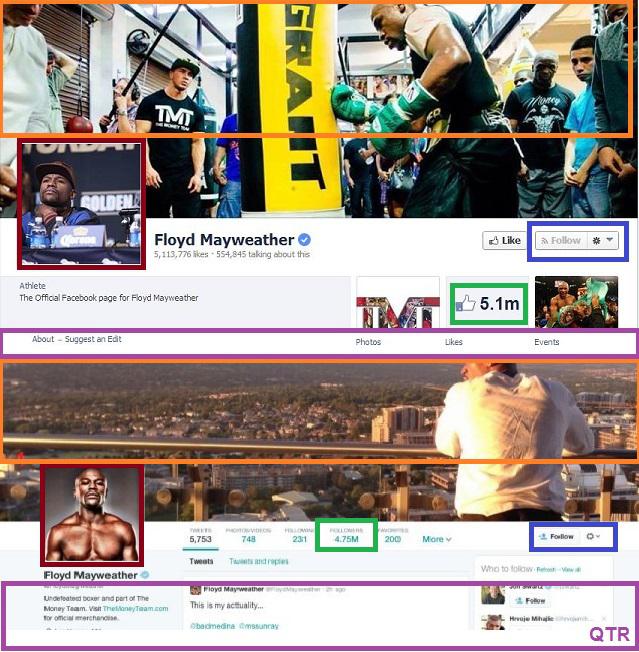 They both have a cover picture, and both have a profile picture. They both harbor "Follow" buttons, pictures, and they both display how many followers they have. This change means that Facebook has the winning formula - or at least Twitter would think so. Now, Publicis seems to think so also.
Back to why Facebook acquired WhatsApp.
When the WhatsApp deal took place, I wrote:
Again, this is a good idea by Facebook because it's going to help it expand and grow its customer base exponentially. WhatsApp is growing much faster across the world than Facebook, Twitter (TWTR), Gmail or Skype. Additionally, the users that WhatsApp has are engaged - 7 out of 10 use WhatsApp every single day. This is compared to 62% for Facebook.
What I was referring to is exactly what we've seen from Publicis. Zuckerberg was continuing to set the company up for massive international growth. And now, it seems that the numbers have become so impressive internationally that the French based Publicis can no longer look away. WhatsApp has covered far more ground than Facebook internationally - the places that Facebook is trying to move into.
Between WhatsApp, Facebook, and Instagram, Facebook continues to grow in "beast mode".
(click to enlarge - source Business Insider)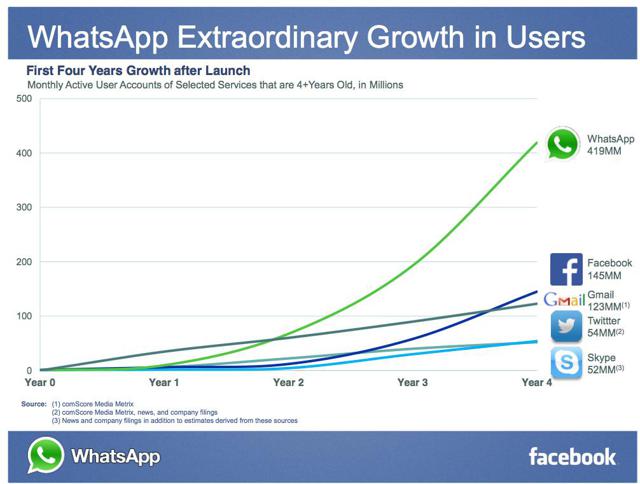 The benefits of these two companies inking this type of a deal are huge. Aside from the fact that it's demonstrably backhanded validation for Facebook's approach to mobile advertising (which we already knew was outstanding), the two companies are going to be able to work seriously on the way that they integrate ads within the mobile user interface.
In other words, this is more than just a deal for ad space - it's a deal to deliver an advertising experience. As long as Facebook's DAU and MAU numbers continue to trend the way they have been, there is a massive opportunity for these two companies to essentially revolutionize the way that we currently experience mobile advertising.
So, I'm excited by the monetary prospects, but also excited for the potential for innovation.
And, as I've said innovation is what is going to drive a company that needs to support a forward P/E of over 50. Facebook seems to have quite a long ways to go, and I'm happily remaining long Facebook here.
Best of luck to all investors.
Disclosure: I am long FB. I wrote this article myself, and it expresses my own opinions. I am not receiving compensation for it (other than from Seeking Alpha). I have no business relationship with any company whose stock is mentioned in this article.
Editor's Note: This article discusses one or more securities that do not trade on a major U.S. exchange. Please be aware of the risks associated with these stocks.