This is an update to the latest rankings for the 26 BDCs that I cover and a follow up to "BDC Rankings: April 2014" taking into account the latest reported financial results as well as updated pricing and valuations, revised analyst EPS estimates and recommendations as well as the new analyses from my most recent BDC reports.
I believe that some BDCs have reached a bottom with signs of support including insider purchases as discussed in "BDC Pricing and the Russell Indices: Part 3" and this could be a buying opportunity. BDCs react to market conditions quicker than most stocks and investors may have already priced in some or most of the changes from the Russell reconstitution but there will continue to be volatility through the end of June with more dips along the way.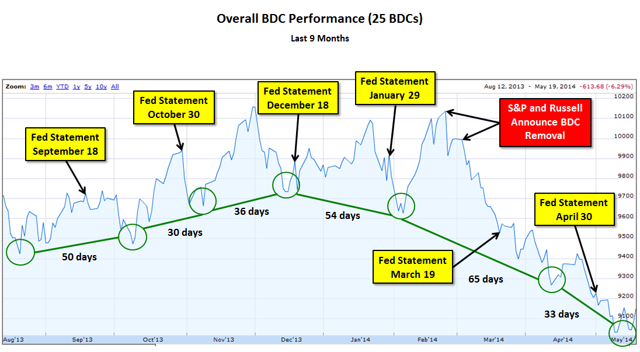 These are the five general criteria I use to evaluate BDCs:
Profitability (dividend coverage, expense efficiency, EPS and NAV growth)
Risk (portfolio quality and vintage, repayment exposure, rate sensitivity, diversification, volatility)
Return (risk adjusted, regular/special dividends, sustainable and growing, NAV growth)
Analyst Opinions (outlook, recommendations, price targets)
Valuation (NAV, P/E, growth rates, total return)
Changes since the April 2014 rankings:
Net Asset Values
Net asset value ("NAV") per share growth is a key indicator for identifying BDC profitability and credit quality of the portfolio. If a company does not cover its dividend with net investment income ("NII") or portfolio gains its NAV per share will usually decline. There are many other things that impact NAV such as accretive share offerings but over the longer term this is an indication of BDC quality. The table below shows the updated NAV growth with the exception of Apollo Investment (NASDAQ:AINV) that is reporting later today. Some of the key highlights are Gladstone Capital (NASDAQ:GLAD) and Triangle Capital (NYSE:TCAP) with recent declines. GLAD had an underappreciated portfolio so it was just catching up but TCAP has long track record of NAV gains. PennantPark Investment (NASDAQ:PNNT) reported strong results and beat EPS projections, covered dividends and grew its NAV per share more than any other BDC for the quarter which is why it is a component in my 'Higher Total Return' portfolio and was recently added to the 'High-Yield' and 'Value and Growth' portfolios as well. MCG Capital (NASDAQ:MCGC) has been at or near the bottom of my rankings for over a year and continues to have problems. As usual Main Street Capital (NYSE:MAIN) and Hercules Technology Growth Capital (NASDAQ:HTGC) consistently rank high in NAV growth and are higher quality internally operated BDCs.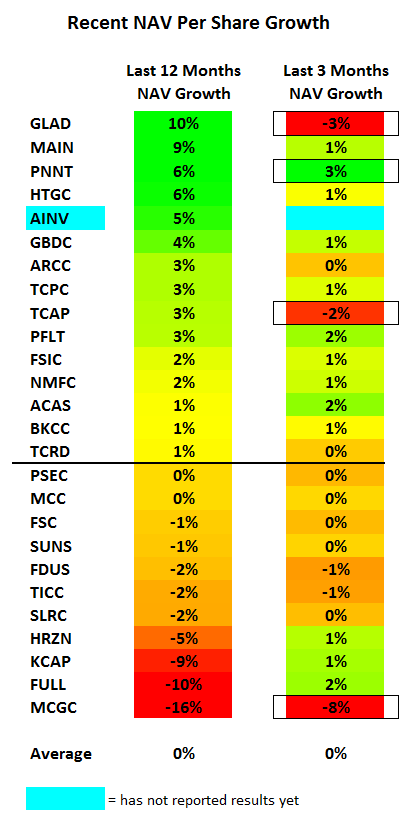 Profitability
In a continuing series I have been tracking the "Profit Rankings" of BDCs for dividend sustainability and the potential for dividend growth or reductions. Some of the positive changes in the profit rankings were PNNT and HTGC mostly for beating analysts and/or my projected EPS. BlackRock Kelso Capital (NASDAQ:BKCC), Full Circle Capital (FULL) and MCGC recently cut dividends but only BKCC is expected to cover its reduced dividend in the coming quarters so its profit rank improved. Some of the negative changes were MCGC, FULL, American Capital (NASDAQ:ACAS), Fidus Investment (NASDAQ:FDUS), Horizon Technology Finance (NASDAQ:HRZN) and PennantPark Floating Rate Capital (NASDAQ:PFLT). All of these companies missed projected EPS and/or did not cover dividends in the most recent quarter. I have not updated Prospect Capital (NASDAQ:PSEC) to take into account the potential for slightly reduced profitability discussed in "Prospect Capital: What Comes Next?" but I will update after the results from Part 2, coming out later this week. Below is an updated table with the detail behind my profit rankings.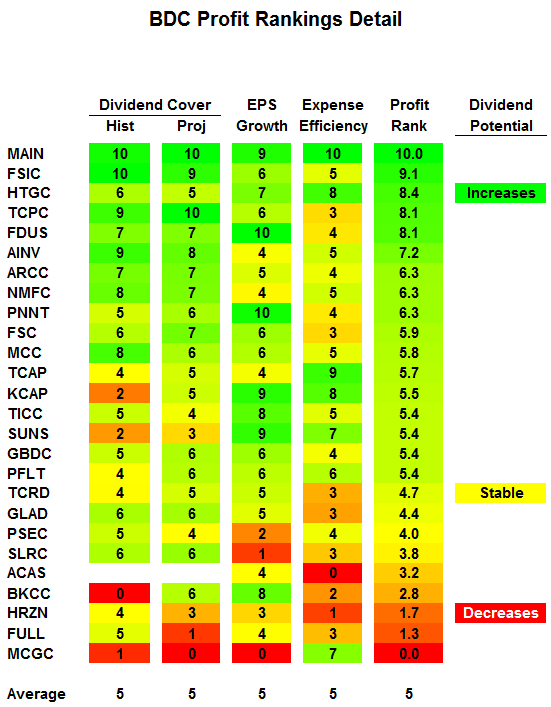 Analyst Opinions
Various analysts have been revising their outlooks for BDCs given the recent volatility and earnings results. Below are some of the major changes as reported by StarMine that provides a consolidated view of the ratings from a number of independent research providers. This is only one of many sources I use for these rankings but still shows recent trends in various opinions. HTGC and PNNT have recently been upgraded while PSEC, TICC Capital (NASDAQ:TICC) and THL Credit (NASDAQ:TCRD) have been downgraded.





Since February 24, 2014, BDCs are down an average of 9.6% due to concerns related to being excluded from certain indices. The following table shows the stock price declines for each BDC. Some of the companies that had larger declines prior to the announcements by S & P and Russell have performed better than the average including Fifth Street Finance (NYSE:FSC) and KCAP Financial (NASDAQ:KCAP).

Revised Rankings
The following table shows the overall rankings but uses the same weighting for each category. Risk averse investors should weight the risk category higher and less on the return. Personally I do not use the analysts category and I discount the return category because that is not my focus when investing in BDCs. The most important indicators for myself are related to risk and profitability (dividend coverage and growth) and then I use the valuation category to indicate timing of investments and allocation levels within my BDC portfolio.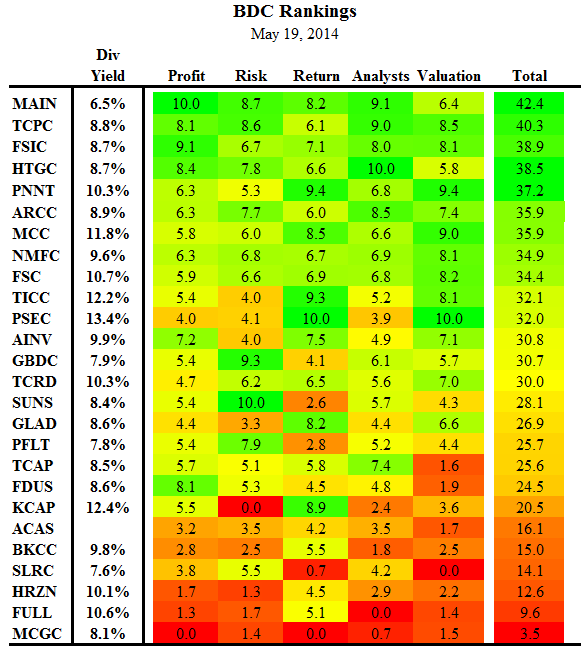 Suggested Portfolio Changes
I have discontinued the 'General' portfolio for various reasons but mostly because it needed to be updated. FS Investment Corp (NYSE:FSIC) has been added to both of the total return portfolios and the value and growth portfolio. PNNT has been added to the high-yield portfolio and replaced Ares Capital (NASDAQ:ARCC) in the value and growth portfolio. Golub Capital BDC (NASDAQ:GBDC) has been added to the risk averse portfolio. TCAP was removed from the total return portfolio.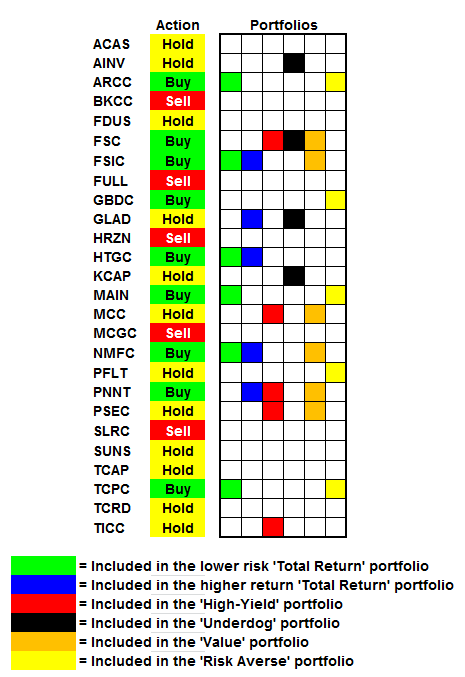 Investors should only use this information as a starting point for due diligence. See the following for more information:
Disclosure: I am long FSIC, HTGC, MAIN, TCPC, ARCC, NMFC. I wrote this article myself, and it expresses my own opinions. I am not receiving compensation for it (other than from Seeking Alpha). I have no business relationship with any company whose stock is mentioned in this article.
Editor's Note: This article covers one or more stocks trading at less than $1 per share and/or with less than a $100 million market cap. Please be aware of the risks associated with these stocks.