Most investors today have only known the incredible bull market in bonds. Mostly, bond prices have been falling from 1981 to the present. Bond prices have largely been going up, up and away as yields fall. As you likely know, bond prices are inversely correlated to the yields available for your bond. If you hold a 10-year bond that pays a 4% annual yield, and the following week there's a comparable or exact 10-year bond that pays 5%, your 4% bond is not as attractive. If you want to sell that bond, you'll have to offer that bond at a price discount. And that math on the price hit is quite simple. The duration of bond is multiplied by the yield difference. The above bond would take a 10% price hit - 1 x 10. So obviously, longer-duration bonds hold a greater price risk.
That said, if one is buying individual bonds and holding to maturity, that price hit is a non-event. And the price, of course, will return closer to par as we approach that maturity date. The bond's time to maturity is reduced.
And as the resident "bond guy" at Tangerine Investments, and as I put in a recent presentation to the team, there's two sides to the bond coin. When one is laddering bonds or holding a bond fund, new bonds coming into the fund are paying a higher yield. On one side, we have falling prices, on the other side of the coin, we have a bond portfolio offering a higher yield. Bond total returns are a battle between those falling prices and higher yields.
And at this stage, we should separate the accumulation period and the spending stage of portfolio management. If one is in the spending or retirement (or semi-retirement) phase, those rising bond yields should be a very welcome bonus. Who doesn't want more and rising income? If an investor is able to create a portfolio that generates their total spending requirements, or near those spending requirements, that can make any portfolio volatility a moot point (that is, if you can emotionally handle some portfolio value price drops). And as always, we can hope for and at most times count on, a balanced mix of stocks and bonds to reduce the portfolio volatility.
Would it not be a near-perfect world if an investor had rising income from the dividend-paying stocks and rising income from their bond portfolio? With rising rates, one could create an a very secure income stream with allocations to cash for very short-term spending needs, some laddered CDs, a bond ladder and a dividend income stream.
In the accumulation phase, things are a little different but much simpler. And we should make no mistake, over most periods, stocks are the best-performing asset class.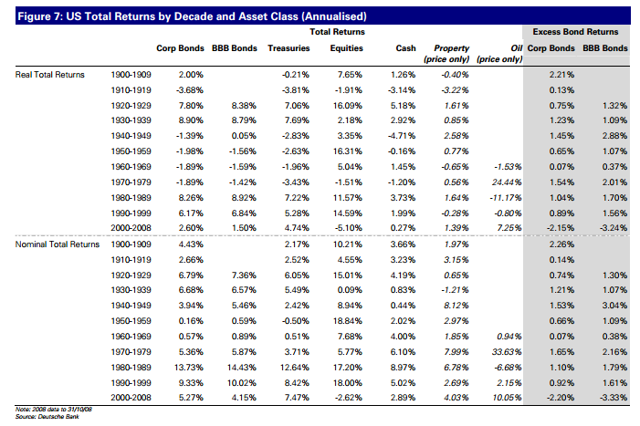 Depending on time horizon and objective, investors should take on all of the stocks (and accompanying volatility) that they can handle. It's logical that owning great companies over the longer period should be more profitable than lending money to companies and various government bodies. But as always, it should be remembered that adding bonds (those shock absorbers) is the tried and true way to reduce the risk or portfolio volatility. Even Benjamin Graham suggested investors hold 25% more in bonds at all times. The most important factors that determine investor success is consistency, patience and staying the course. Investors must create a portfolio that matches their risk tolerance level. Most monies are lost or left on the table because investors typically take on too much risk and they cannot handle the severe stock price declines of 30% 40%, 50%, or more. For more on risk and portfolio construction, please read "How Long Can You Afford to be Under Water" here and "Asset Allocation is Alive and Well" here.
So back to the question at hand, how bad could it get for bonds? Here's THE long-term chart for rates, it certainly demonstrates that yields can follow very pronounced long-term trends and they can change in a hurry.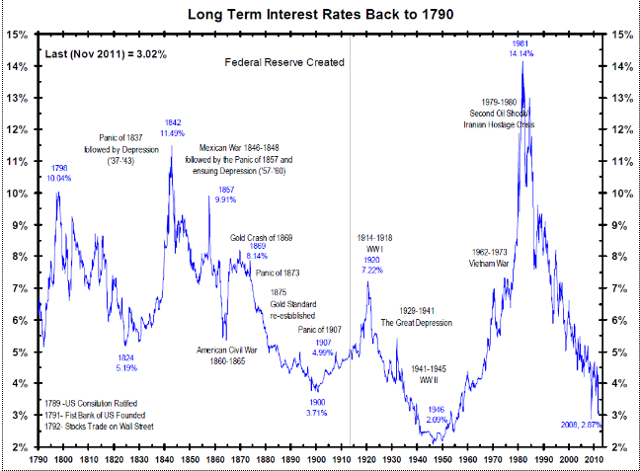 There may appear to be those obvious trends when we look at that long-term chart, but the bond market is perhaps less predictable than the stock markets. In the early-to-mid 1930s, investors might have thought that with yields at or near all-time lows, there was "nowhere for rates to go but up". What happened is that rates did a head fake with a modest spike to two, and then headed lower, finding a bottom some 15 years later. Long-term rates did not return to that 4% area until mid 60s.
From the area of rising rates from that bottom in 1940 to 1964, 10-year high-grade corporate bonds would have delivered very little by way of returns, but in a balanced portfolio, there would still have been very generous returns due to the roaring stock market.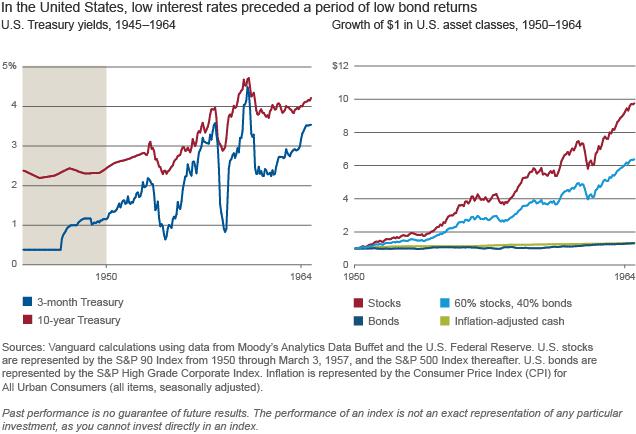 That's certainly a period of diminished returns on the bond front in a period of modestly rising rates over a 15-year period. The most likely scenario is those weak returns.
Pimco estimates the total return potential during scenarios of very quick rate increase of up to 200 basis points over a 3-year period, using a broad-based bond index with an average or effective duration of 5.3 years and a yield of 2.4%.

In that environment of a quick, aggressive increase over a short duration, longer-term bonds would have been hit quite hard. 10-year bonds would suffer a 20% price hit, aided by their yield over that period. 20-year Treasuries would see stock market-like price hits (aided by modest yields, currently in the area of 3.15%).
Here's the rate history of 10-Year Treasuries.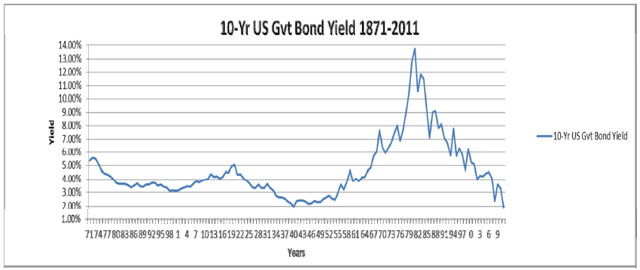 As we can see, a 200-basis point increase over 3 years is an aggressive move for the bond markets, but yield increases have the potential to spike violently, though that is on the lower end of the probability scale. From the early-to-mid 1970s to 1981, yields went from the area of 7-8% to the 13%-plus range at the peak in 1981, in the last effort of rate hikes to put inflation to bed.
Here's how bad history says it could get
Thanks to the interactive chart at Crestmont Research, I was able to pull the data for all Treasuries. Here's a look at the 5-, 10- and 20-year Treasuries in the most violent rate hike scenario we've seen, the period of 1971 to 1981.
The last violent spike.
| | | | |
| --- | --- | --- | --- |
| Year | Treasury 5-year | Treasury 10-year | Treasury 20-year |
| 1971 | 5.07 | 6.09 | 5.94 |
| 1972 | 5.67 | 6.34 | 6.38 |
| 1973 | 6.64 | 6.71 | 7.12 |
| 1974 | 6.78 | 6.97 | 7.51 |
| 1975 | 6.42 | 7.19 | 7.75 |
| 1976 | 6.33 | 7.39 | 7.77 |
| 1977 | 6.93 | 7.65 | 7.89 |
| 1978 | 8.55 | 8.41 | 8.47 |
| 1979 | 10.69 | 10.02 | 9.98 |
| 1980 | 12.57 | 11.18 | 11.76 |
| 1981 | 13.74 | 13.42 | 13.29 |
| 1982 | 11.93 | 12.47 | 12.63 |
The biggest crushing on the 10-year was from 1980 to 1981, with a 2.24% hike that would have delivered a 22.4% price hit, offset by an 11.18% yield for a one-year loss of 11.2%. That said, today we do not have that juicy 11.18% yield to offset the price hit. Today's 10-year yield is 2.35%. If we take that 22% price hit, that would be a (on paper) total return loss of 17.65% for the year. If rates then stabilized, it would take several years to turn that into a profitable venture. In reality, from 1981 to 1986, the yield fell to 8.1%, delivering a 30%-plus price increase plus the 11.18% annual yield that could have been reinvested.
Here are the price gains or losses over that same period for 10-year Treasuries, not including income.
| | | | |
| --- | --- | --- | --- |
| Year | Treasury 5-year | Treasury 10-year | Treasury 20-year |
| 1971 | 5.07 | 6.09 | 5.94 |
| 1972 | 5.67 | 6.34 (-4.1%) | 6.38 |
| 1973 | 6.64 | 6.71 (5.8%) | 7.12 |
| 1974 | 6.78 | 6.97 (-3.8%) | 7.51 |
| 1975 | 6.42 | 7.19 (-3.1%) | 7.75 |
| 1976 | 6.33 | 7.39 (-2.7%) | 7.77 |
| 1977 | 6.93 | 7.65 (-3.5%) | 7.89 |
| 1978 | 8.55 | 8.41 (-9.9%) | 8.47 |
| 1979 | 10.69 | 10.02 (-19.0%) | 9.98 |
| 1980 | 12.57 | 11.18 (-11.6%) | 11.76 |
| 1981 | 13.74 | 13.42 (-20.0%) | 13.29 |
| 1982 | 11.93 | 12.47 (+9.2%) | 12.63 |
The period of 1978 to 1981 was not kind to holders of long-term Treasuries. And if that yield increase scenario were to be recreated today with today's yields, bond total returns would be down drastically in the short term. One could see 10-year bonds in the red to the tune of 30% to 40% or more. Long-term Treasuries? Forget it, they bring tears.
But looking back to the last 70s, there was an obvious better investment, short-term treasuries. The yield curve inverted to deliver a very decent investment opportunity. There was no yield reward for taking on the addition duration of 10 and 20 years or more. Many will write that we are in the same situation today, that the risk-return proposition for Treasuries is not that attractive. It's likely a solid argument. And it will look "right" if we do see aggressive rising rates.
Treasuries, especially the 20 year-plus Treasuries, may continue to offer that stock market hedge, delivering that inverse relationship to the S&P 500 stocks when investors need that portfolio volatility reducing agent. The best use of Treasuries (as I have been advocating) is as a short-term market insurance. Investors may want to take the money and run if the stock markets fall hard and the Treasuries deliver a nice short-term spike.
All said, I am still committed to the balanced portfolio, I would never look at stocks or bonds in isolation. Those who use long-term Treasuries within their balanced portfolio might be well served to include those Treasuries within a very well-balanced bond portfolio.
How can we protect our portfolios in a rising rate environment?
Once again, there's no way to predict what may happen with rates. But here's what many suggest if you do want to protect against rising rates. You can stick to the shorter end of the yield curve. You can ladder your bond portfolio, or purchase a laddered bond fund or a broad-based bond fund with a sensible duration. As always, invest on a regular schedule and purchase your bonds or bond funds on a regular basis. We know we have to purchase stocks when they are going down in price, ditto for bonds, when we're investing for the longer term. Bond ladders and the regular purchase of your bond funds (sticking to the shorter end) will typically deliver positive returns over several years. Many also suggest that you diversify by adding higher-yielding bonds to the mix. They can be less reactive to rates and can act more like stocks at times, and of course, they will usually deliver a juicy yield.
And as always, maintain a balanced portfolio, stocks and bonds together offer a unique dynamic that often provides that low-to-negative correlation to help to dampen volatility and support portfolio values. Just because rates are low does not mean that we should abandon risk management.
And to think out loud for a second, perhaps rates can't go higher in a hurry, because governments simply can't afford a high-yield environment, especially the U.S. They'd be in very big trouble in a heartbeat. This from Forbes...
if interest rates in the U.S. normalize and increase 100 basis points annually over the next five years, the interest expense on government debt would rise from US$360 billion last year to US$1.51 trillion.
Maybe bond holders can continue to count on government manipulation? I would guess the U.S. falls under the category of "too big to fail". Only time will tell.
Happy investing, and be careful out there.
Dale
Disclosure: I am long SPY, DIA, VYM, EWC, EFA. I wrote this article myself, and it expresses my own opinions. I am not receiving compensation for it (other than from Seeking Alpha). I have no business relationship with any company whose stock is mentioned in this article.
Additional disclosure: Dale Roberts is an investment funds associate at Tangerine Bank (formerly ING Direct). The Tangerine Investment Portfolios offer complete, low-fee index-based portfolios to Canadians. Dale's commentary does not constitute investment advice. The opinions and information should only be factored into an investor's overall opinion forming process