I was rummaging through my CD collection last week and rediscovered an old favorite. Recorded by my now middle-aged eldest daughter almost 10 years ago as a present to me, it was a compilation of great Joe Cocker tunes. However, the CD starts with a quirky song performed by the Australian band Skyhooks in 1974. The song is titled "You Only Like Me 'Cos I'm Good In Bed", and it reminds me of investing in utility stocks.
The song has a very distinctive refrain:
You just like me 'cause I'm good in bed,

You just like me 'cause I'm good in bed,

Yeah, that's what your girlfriend said
What is more refreshing than to understanding why something happens -as in "What is the cause and what is the effect"? The refrain of the song is pretty straight forward, as are the characteristics of many utility opportunities. Investors should appreciate the characteristics of their investment choices, and in the utility sector, these characteristics can be wide and varied. There are several events in the utility sector that may cause specific companies to benefit - or not. Identifying the cause, or event, may solicit a specific effect on specific utilities. Exelon (NYSE:EXC), Southern Company (NYSE:SO), National Fuel Gas (NYSE:NFG), and ITC Holdings (ITC) are examples of utility firms that should positively respond to specific events.
Exelon bulls stress the impact of a turn in depressed electricity pricing on the firm's merchant power profitability. Higher coal and natural gas commodity pricing coupled with higher electricity demand in the Northeast, Mid-Atlantic and eastern Midwest will create a positive environment for increased earnings. With a rebound in both pricing and consumption, EXC's low-cost nuclear power plants will throw off increasing amounts of cash flows.
However, the merchant power business is becoming less important. In 2008, regulated utility earnings generated about 20% of total EPS of $4.16 during the peak of commodity pricing. Regulated earnings are expected to be more than half of 2015/2016 estimated EPS of $2.30, which may be the trough in commodity pricing. By some estimates, regulated EPS may almost double from about $0.83 in 2008 to $1.48 in 2016. Exelon will have invested $19 billion in regulated utility acquisitions, with $7 billion to acquire Constellation Energy in 2011 and $12 billion for PEPCO in 2014.
With the higher stability of EPS from regulated assets comes the double edge sword of lower ROIC as the state-PUC allowed ROE is considerably lower than the ROIC earned at peak commodity pricing. Below is the 15-yr graph of EXC's ROIC from fastgraph.com. As shown, EXC has historically generated substantially higher ROIC than electric utility average of around 3.5% to 5.0%. Investors should be prepared to say "Bye-Bye" to these impressive ROIC charts as EXC move towards higher percentage of regulated assets.
To finance the PEPCO acquisition, management is anticipating issuing $3 billion in new debt, $1 billion in asset sales and new convertible debt, and dilutive new equity of $2 billion.
It may be possible for the three utilities to earn an average 10% return on equity. After many years of sub-par performance, ComEd is about to embark on a formula-based rate structure with annual price increases, which should aid in profitability. Company-wide, the regulated rate base could increase by 7% annually over 2014-17 time frame, based on a $3.0 billion average annual capital investment. This steady increase in rate base assets will be a catalyst for EXC earnings to grow by about 5% a year and will allow for dividend increases over time.
Southern Company is in the process of building two very costly new generating facilities. These are a "clean coal" plant in Kemper, Mississippi and two new nuclear reactors at Plant Vogtle, units 3 and 4, in Georgia. The Mississippi plant is about $1.6 billion over allowed budget and, while there will be some electricity produced this summer, the project will not be fully functional until 2015, about a year behind schedule. The nuclear expansion projects are also over budget and will not go on line until 2017 and 2018. In Feb of last year, SO published a report that indicated construction costs are already $381 million higher than budgeted.
SO ROIC has suffered as these costs are not allowed to be included in rate based assets. The fastgraph.com graph below shows historic ROIC ranges between 5.9% and 7.5%, making the 1st quarter 2014 ROIC of 4.1% seem dismal. However, this return represents about industry average.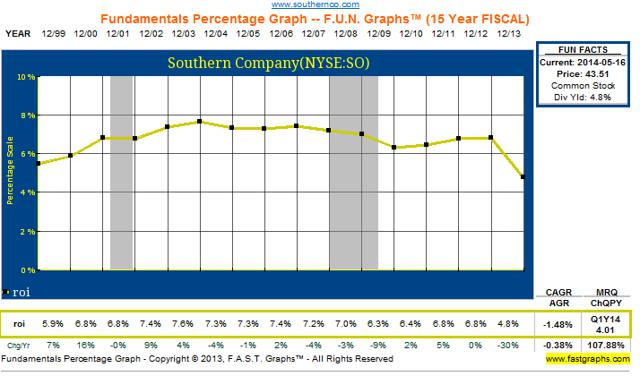 The regulatory environment in the Southeast continues to be positive and allowed ROE should continue to be favorable. With underlying population growth in its service area, SO should return to better ROIC as these construction projects begin to taper off. Over the trailing twelve months, SO has generated free cash flow of $1.0 billion, based on operating cash flow of $6.4 billion and capital expenditures of $5.4 billion.
SO currently yields 4.7%, above industry average. Management has increased the dividend for the past 14 years, and investors should expect about a 3.5% annual dividend growth over the next few years. Due to the construction write-offs reducing reported EPS, the dividend payout ratio is above its historic levels.
As these construction projects move from capital expenditures to income generating operational assets, and the recent cost overruns become a topic of the past, earnings and ROIC should return to their historic levels.
National Fuel Gas is under pressure from its second largest shareholder to split up the company in order to unlock shareholder value. Mario Gabelli's funds own 9.1% of outstanding shares and on April 25, filed SEC documents pre-announcing his intention to possibly file a proxy question at the 2015 annual meeting. NFG is a natural gas utility based in Buffalo, NY with a very active natural gas pipeline, storage business. In addition, NFG is the largest fee landholder in the Marcellus shale and is very active in drilling for natural gas.
Gabelli has stated his belief the assets are being undervalued in the market by about 30%. Applying public pressure should have been more newsworthy as the Buffalo News is the singular newspaper covering the story. While the SEC filings are public domain, mainstream news media and public stock analysts have yet to focus on this event. When they do, or as management moves in the direction Gabelli is pushing, share prices should respond favorably.
ITC Holdings is a pure play on the benefits and advantages of being federally vs. locally regulated. ITC operates 15,000 miles of high-voltage power lines and the Federal Energy Regulatory Commission FERC regulates prices for these assets. With the investment necessities to upgrade and expand the electric grid, the FERC has set the allowed ROE return higher than the average state PUC. Every dollar invested in FERC-regulated asset will be allowed to return about 25% to 30% higher profitability than in state-regulated assets.
While there are some legal challenges to the higher incentive returns permissible by Congress in the Energy Policy Act of 2005, the concept of offering preferred investment returns for transmission investments is accomplishing its task - providing the necessary private cash flow into these assets. It is unlikely the benefits of being regulated by the FERC will go away anytime soon. While management failed in its attempt to get the necessary state approvals to merge with the transmission assets of Entergy (NYSE:ETR), ITC have announced a $6.5 billion capital expansion plan over the next five years. This will continue to drive earnings higher over time.
ITC pays a dividend representing a lower payout ratio than its utility peers at 34%. Dividend growth has been impressive with 1-yr at 9.9%, 3-yr at 7.0% and 5-yr at 6.7%. The current yield is a paltry 1.5%, but is offset by the low payout ratio and higher historical dividend growth.
While some of these events may take several quarters to materialize, the long-term impact should be positive for these companies and their shareholders going forward. One important factor when investing is utilities is the patience factor. These stocks should provide ample rewards over time for patient investors.
For those interested, a YouTube link to the 1974 hit from the Skyhooks can be found here. It is a pretty catchy tune.
Author's Note: Please review important disclaimer in author's profile.
Disclosure: I am long EXC, SO, NFG, ITC. I wrote this article myself, and it expresses my own opinions. I am not receiving compensation for it (other than from Seeking Alpha). I have no business relationship with any company whose stock is mentioned in this article.