So far in my sum-of-the-parts analysis of Bank of America (NYSE:BAC), I've taken a look at its Consumer and Business Banking, Consumer Real Estate Services, Global Wealth And Investment Management, Global Banking, and Global Markets segments. In this, the last segment installment in the series, I'll take a look at Bank of America's "catch all" segment, All Other. We'll see if we can find out what, if anything, this segment is worth to the consolidated company.
As the name implies, All Other is a miscellaneous category for those businesses that don't fit elsewhere within the organization. From the 10-K:
"All Other consists of ALM activities, equity investments, the international consumer card business, liquidating businesses, residual expense allocations and other. ALM activities encompass the whole-loan residential mortgage portfolio and investment securities, interest rate and foreign currency risk management activities including the residual net interest income allocation, gains/losses on structured liabilities, the impact of certain allocation methodologies and accounting hedge ineffectiveness. The results of certain ALM activities are allocated to the business segments. Additionally, certain residential mortgage loans that are managed by CRES are held in All Other."
And as a note, I've pulled all data for this article from the company's 10-K filing linked above.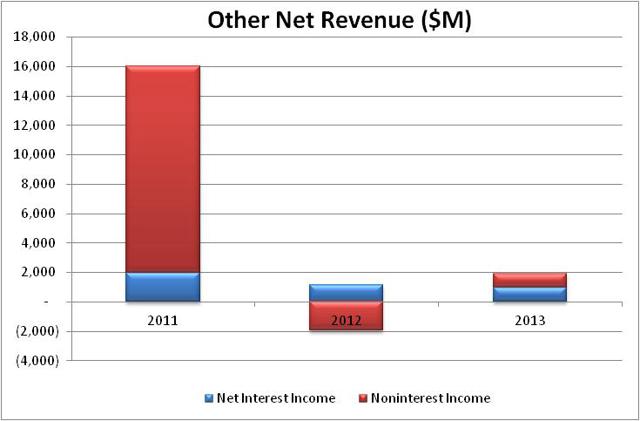 This segment, as you'd imagine, is very difficult to digest. It is always producing numbers that make very little sense from a forecasting point of view because of the complex nature of its holdings. For instance, 2011 saw $16 billion in net revenue from All Other, a staggering figure that made it one of BAC's largest segments. But the next year, All Other produced a negative net revenue number due to non-interest income that was nearly $2 billion in the red. Last year the segment produced about $2 billion in total net revenue but what it will show for 2014 is anyone's guess. I'm thinking that 2013 is an indication of more of a normalized year for All Other as we won't see $16 billion again and hopefully, we also won't see a negative net revenue number either.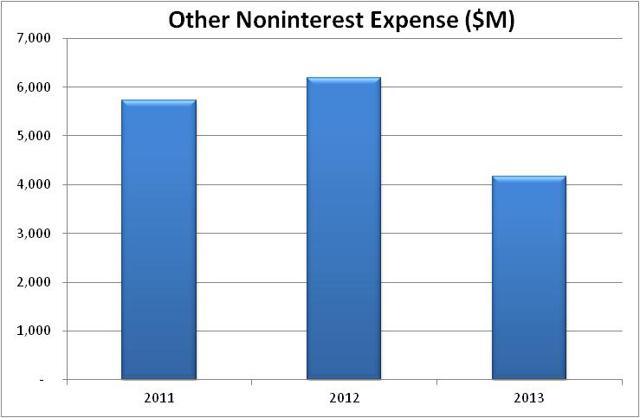 Other non-interest expense has been the biggest destroyer of profits for All Other, aside from that pesky negative net revenue number, but it is improving as of last year. After the increase in 2012, last year saw non-interest expense dip significantly to just over $4 billion. That implies to me that servicing the All Other assets (i.e.: personnel expense) is coming down and that is an unequivocal positive for BAC's consolidated results. I'm looking for more non-interest expense reductions this year as All Other's asset base continues to shrink.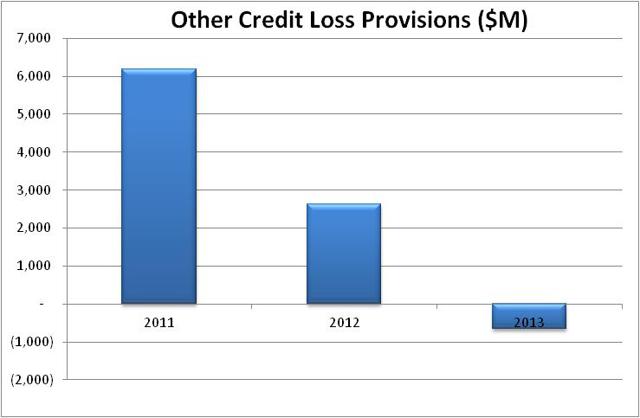 The bright spot in All Other is the credit loss provisions we see here. Three years ago we see that All Other produced a whopping $6+ billion credit loss provision but it came down drastically in 2012 and last year, was actually negative. This indicates BAC was over-reserved and indeed added nearly $700 million backing into the income statement as a result. I'm confident BAC is properly reserved now if it was confident enough to back reserves out of the income statement last year and I suspect this was due to improved values in some of its Countrywide holdings. And again, All Other's asset base declined significantly in 2013 so hopefully that is a sign that it is shrinking further and reducing losses.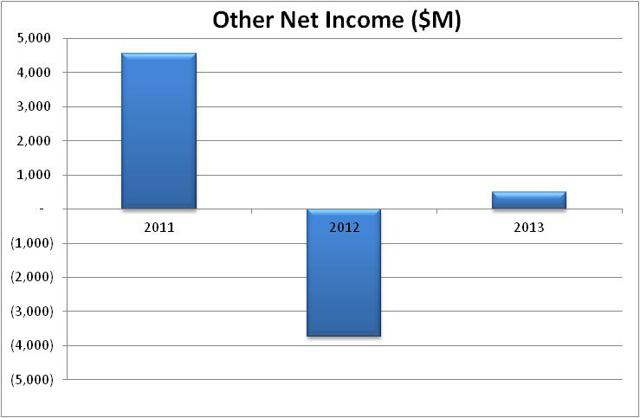 Finally, All Other's net income is seen here for the past three years. All Other's net income situation is made more interesting not only due to what we've already seen but also its unique tax situation. All Other is where we see meaningful release of the company's significant deferred tax assets. In the past three years, BAC has cumulatively received a tax benefit of $9.24 billion in the All Other segment. In fact, All Other produced negative operating income but positive net income due to its income tax benefit received last year. Thus, the largest source of profitability going forward for All Other is likely the continued release of BAC's deferred tax assets, boosting net income for All Other when it will likely be negative otherwise.
Forecasting for a segment such as All Other is a challenge to say the least. However, I think we're to a more normalized state for this segment after most of the Countrywide malaise has been provisioned over the past couple of years. To be sure, BAC still has some legacy problems and some of them aren't going away anytime soon, but All Other appears to be on the mend. This will never be a sustainable profit center for BAC and that's fine because it isn't supposed to be. What I want from All Other is more DTA releases and getting close to breakeven. For 2014, I'd like to see net income at breakeven on low credit loss provisions, slightly positive net revenue and sustained DTA releases.
In the wrap-up piece in this series, I'll assign values to each segment and see how the current market value of BAC compares to my calculation.
Disclosure: I am long BAC. I wrote this article myself, and it expresses my own opinions. I am not receiving compensation for it (other than from Seeking Alpha). I have no business relationship with any company whose stock is mentioned in this article.