The rural economy rallied to its highest level in 2014 this past month because of increasing crop prices and economic conditions. Farmland values declined slightly but the belief is that the increase in crop prices over the last several months should boost land values over the summer. Extreme support for the Keystone XL Pipeline construction was expressed by bankers surveyed.
The Rural Mainstreet Index (RMI), ranging between 0 and 100 with 50.0 representing growth neutral, increased to 55.6 from 53.2 in April. The RMI has increased the last three months following two months of decline to start off 2014. Levels are still short of where they were this time last year, but with steadily increasing pace is positive news as we move into the summer months.
Ernie Goss, Ph.D, Economics Professor at Creighton University stated, "The overall index for the Rural Mainstreet Economy indicates that economic conditions of the areas of the nation highly dependent on agriculture and energy are improving. Recent gains in agriculture commodity prices are boosting the farm/rural economy,"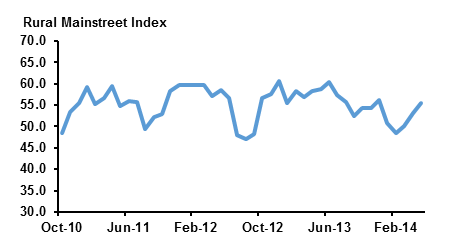 Source: Rural Mainstreet Index Creighton University
The farmland price index increased to 46.7 from 42.9. This is the second consecutive increase in the farmland price index, following four months of decline starting in November 2013. Though the measure remains below growth neutral, the continued increase is a good sign. "This is the sixth straight month that the farmland and ranchland-price index has moved below growth neutral. Stronger farm commodity and grain prices over the last several months should put a floor under farmland prices in the months ahead. I expect the index to move above growth neutral before Labor Day," said Goss.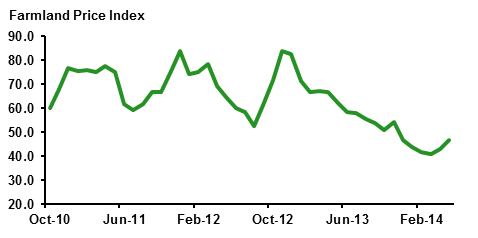 Source: Rural Mainstreet Index Creighton University
The farm equipment sales index also rose for the first time since November 2013 increasing to 33.6 from 36.7. Goss said, "Propelled by rising farm income, farm equipment manufacturers in the region have experienced healthy growth since 2009. However agriculture equipment and implement dealers in the region are experiencing very weak sales to farmers in the region even as the farm equipment manufacturers are experiencing positive growth due to healthy sales abroad."
Bankers were asked if they were in support or opposed to the construction on the Keystone XL pipelines and the impact on agriculture if the GMO law passed in Vermont were to be adopted across the U.S. An overwhelming 93.6% either supported or strongly supported the idea, with 6.4% saying they were indifferent to the idea. No banker answered in opposition to the pipeline. DeWayne Streyle, CEO of Unity Community Bank of North Dakota in Leeds, N.D. said, "Farmers have shouldered the cost of inadequate access to rail cars due to increasing oil car shipments. The Keystone XL pipeline would benefit agriculture and energy independence."
Bankers were also very one sided on the GMO labeling issue. 49% of bankers surveyed thought the requirement would have a negative impact on the agriculture industry, and only 3.3% believing that the labeling would positively impact the industry. Jim Shafer, CEO of the First National Bank in Tremont, Ill., summarized much of the banker sentiment saying, "Over-regulation always has a negative impact on all of us."
Table 1: Rural Mainstreet Economy Last Two Months and One Year Ago: (index > 50 indicates expansion)

May 2013

April 2014

May 2014

Area economic index

58.8

53.2

55.6

Loan volume

72.1

73.1

75.4

Checking deposits

54.5

65.1

54.8

Certificates of deposit and savings instruments

42.6

42.0

40.3

Farmland prices

62.1

42.9

46.7

Farm equipment sales

52.4

36.7

33.6

Home sales

73.9

63.8

63.9

Hiring

59.8

64.0

64.0

Retail business

52.3

50.0

51.7

Confidence index (area economy six months out)

54.5

54.0

51.6
Source: Rural Mainstreet Index Creighton University
Survey
This survey represents an early snapshot of the economy of rural, agricultural and energy-dependent portions of the nation. The RMI is a unique index covering 10 regional states, focusing on approximately 200 rural communities with an average population of 1,300. It gives the most current real-time analysis of the rural economy.
Disclosure: I have no positions in any stocks mentioned, and no plans to initiate any positions within the next 72 hours. I wrote this article myself, and it expresses my own opinions. I am not receiving compensation for it. I have no business relationship with any company whose stock is mentioned in this article.