On Sunday, AT&T (NYSE:T) agreed to buy DirecTV (DTV) for $95/share in stock and cash in a deal that would be worth approximately $67.1b, including DTV's debt. The deal will be financed with 70% stock and 30% cash, which gives T a chance to bid on the upcoming AWS-3 and broadcast auction over the next 3 years. I expect the deal to go through, as it faces the lowest regulatory hurdle within the telco/cable M&A landscape and none of T's businesses would emerge as monopolistic players.
The deal will be earnings-accretive to T and help T to shift its video customers to satellite. In this way, T will be able to deliver faster broadband speed and cross-sell its broadband services to DTV's video customers.
However, acquiring a large satellite business when viewership is shifting to OTT (over-the-top) content does not seem to be the most attractive option at the moment. Moreover, investors should not expect immediate cost savings from this merger given the few business overlaps between the wireless and the wireline segment. Finally, the low cash component places the merger at risk in that Dish Networks (NASDAQ:DISH) could counter with a higher cash component that satisfies both the DTV shareholders and the regulators, thereby sparking a bidding war.
The good: FCF and earnings-accretive, faster broadband speed, cross-selling an incremental positive.
A T/DTV merger could be earnings-accretive, in my view. According to Bloomberg consensus, T is expected to generate $15b in net income this year, while DTV is expected to generate $3b in net income. The acquisition of DTV would allow T to benefit from a 20% earnings boost in FY14, and 21%/22% in FY15/FY16 afterwards.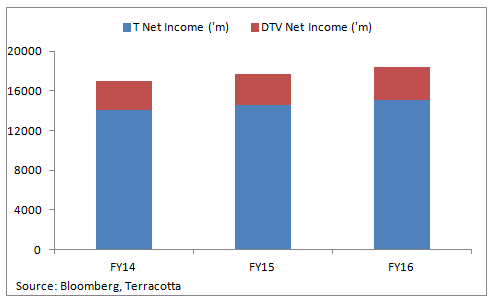 On free cash, DTV is expected to generate $289m in FY14 and $300m in FY15, which will enhance T's FCF by 26%/24%/21% in FY14/FY15/FY16, respectively, and improves T's dividend coverage. Moreover, the extra free cash could be used to invest in additional content to boost the video platform.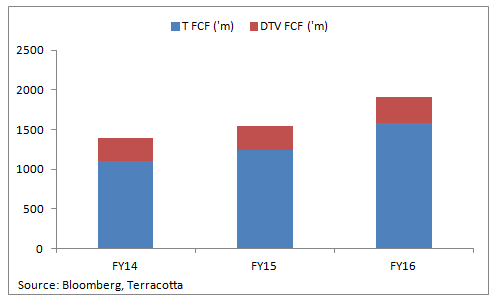 Shifting T's U-verse customer base to DTV's platform could free up its broadband network, which would ultimately increase broadband speed. This will result in a better user experience and lower capex requirement. Finally, the bundling of T's broadband and DTV's video services will likely offer a more attractive value proposition than the standalone DTV and a competitor broadband offering.
The bad: Satellite continues to face OTT pressure. Don't expect significant cost savings, but prepare for a bidding war.
The T/DTV marriage is not the most ideal scenario. While T will become the largest national provider of wireless and video services in the US, the video segment will continue to face competitive pressure from OTT services, which could reduce consumers' reliance on satellite. In addition, T's prior experience in selling satellite via partnership with DISH and later DTV was less successful, as satellite subs declined to 1.6m at the end of 2012 from 2.2m in 2009.
Investors should not expect immediate cost savings. Management expects $1.6b in annual cost savings by year three, which implies that in the near term, DTV most likely will not reduce headcount significantly. The difference in delivery platforms also rules out shutdowns of operations. I see this as a win for the employees of DTV, but much less for T, as it will have to face the increased cost burden post-merger.
Finally, given that the cash component of the deal is only at $28.50, this gives DISH enough wiggle room to make a counter offer that could please the regulators and DTV's shareholders. I expect a $30+/share cash component from DISH's offer could prompt DTV shareholders to seriously consider the counteroffer. Under that scenario, T may have to raise the cash component if it still decides to pursue DTV, and that could force T to raise additional capital for the AWS-3 spectrums, a negative to its credit rating.
Overall, I view this merger as a financial positive but a strategic negative for T. A more ideal scenario would be T purchasing DISH to achieve better spectrum cost by using the 54MHz of wireless spectrum that DISH currently has. While T/DISH merger could face a higher regulatory hurdle than T/DTV, I expect it to face a lower hurdle than Sprint (NYSE:S)/T-Mobile (NASDAQ:TMUS) given that DISH does not hold much low-frequency spectrum, an area that is greatly scrutinized by the regulators. As for the pay-TV segment, the regulatory hurdle could be lower than that of Comcast (NASDAQ:CMCSA)/Time Warner (TWC) merger in that T/DISH combined would have less than 20% of pay-TV subs, compared with 33% for Comcast/TWC.
Disclosure: I have no positions in any stocks mentioned, and no plans to initiate any positions within the next 72 hours. I wrote this article myself, and it expresses my own opinions. I am not receiving compensation for it (other than from Seeking Alpha). I have no business relationship with any company whose stock is mentioned in this article.