The sustenance of revenues at Lockheed Martin Corp. (NYSE:LMT), one of the world's largest military contractors, - is being questioned in the wake of the reduced US military budget. However, the company has found ways to continue to be profitable and continue creating value for shareholders. In this post, I will detail why damage control measures from Lockheed Martin are effective enough to keep investors interested in the stock.
Impact from US Budget Cuts
As per the Budget Control Act of 2011, US defense spending is to be reduced by $500 billion over a period of nine years starting 2013. This has already resulted in a $37 billion drop in defense expenses for the government fiscal year ending September 2013. The move weighs heavily on Lockheed Martin, as the US government is the single biggest customer for the defense contractor, single-handedly accounting for most of its sales. Lockheed Martin operates in five segments, and the US government - along with its agencies, departments and contractors - is the largest buyer for each of these segments. The table below illustrates the US government's share in net sales for FY 2013 concluding that they made up 83.2% of the total net sales in 2013.
Source: Lockheed Martin 2013 Annual Report
The significance of US sales in Lockheed Martin's net sales for FY 2013 can be estimated from the graph presented below.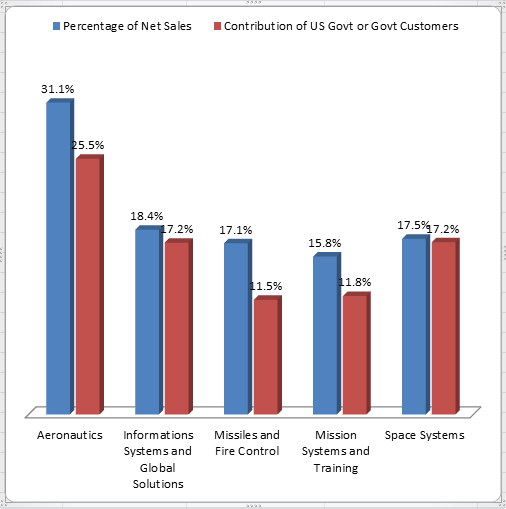 So, the decrease in planned military spending is bound to hit Lockheed Martin's revenues. The company's annual sales for 2013 reflected a 4% YoY decline compared to a 1.5% YoY hike in 2012 as shown below in the excerpt from the 2013 annual report.

Source: Lockheed Martin's 2013 Annual Report
For 2014 and ahead, the reduced US orders are already on the cards. In March 2014, the Pentagon announced their plan to buy only 34 F-35s in 2015, eight less than the 42 expected earlier. In April 2014, the Pentagon mentioned they would be buying 19 fewer fighter jets between 2016 and 2019 as a result of spending cuts passed in 2011.
Will Lockheed Martin Still be Able to Keep Sales on Track?
So, the drop in US sales has impacted sales and will continue to be a factor in the coming years. In February 2014, the company reported that its net sales for FY 2014 are expected to stay flat or slightly decline for all segments due to US budget cuts, except for Aeronautics where a higher turnover of F-35s is likely. However, that is not the end of the world. I expect the sales to sustain or drop only slightly in 2014 due to two main reasons:
1. International Orders
In 2013, Lockheed Martin made about 17% of their total sales to international customers. Now, however, the company sees a shift in strategy with a greater emphasis on international markets including the sale of F-35 Joint Strike Fighter, JSF, jets. The F-35s are the company's largest selling product accounting for 16% of its net sales. Foreign sales will also help bring down the cost of jets.
In April 2014, the Australian PM announced that the country would order 58 more F-35 JSFs for $11.61 billion. South Korea's arms procurements agency in March 2014 stated it would buy 40 F-35 jets in a $6.8 billion deal that is expected to close in Q3 2014. In May 2013, the Turkish government said it has decided to order two F-35 fighters as the first order from the country's already-announced plan to buy 100 joint strike fighters from Lockheed Martin for $16 billion. The company may also receive orders from Singapore, as currently Singapore is evaluating the jets for purchase. So, overall, foreign sales are going to provide a good relief to Lockheed Martin's revenues going forward and at the same time will diversify its risk profile.
2. Backlog Cushion
The company had a bulky backlog of $82.6 billion at the end of 2013. This is worth 22 months of production. Backlog converts to sales in future periods as orders are completed and deliveries are made. Lockheed Martin expects to convert $35.4 billion of this backlog to sales inside 2014. So, keeping in mind the thick volume of unfulfilled orders any immediate or drastic impact on the company's top line is unlikely.
Attraction for Shareholders
Now that I have explained why sales should not be dented greatly by the budget cuts in the US let us turn to other factors of interest to investors. Other than exploring foreign markets the company is responding to the loss in sales from the US by cutting costs. In November 2013, the company announced a plan to close and consolidate a number of facilities and cut up to 4000 jobs. The move is hoped to weigh well on profitability.
The company is generously rewarding shareholders with buybacks and dividends. In September 2013, the company decided to increase its share repurchases by $3 billion. The schedule of repurchases however has been left to management. In Q1 FY 2013, Lockheed Martin repurchased 7 million of their 319 million shares for $1.1 billion. The company has revised its 2014 EPS guidance to $10.5-$10.8 from $10.25-$10.55 compared to $9.13 for 2013 reflecting a significant 17% increase in EPS at midpoint of the guidance. As far as dividends go, the company posted its 11th consecutive year of double-digit dividend growth and now boasts a dividend yield of 3.2%.
Recommendation
With such complete dependence on the US for its revenues the US military budget constraints will keep the sales growth in check. While foreign markets will help it is unlikely that they will completely offset the decline from the US, at least in the short term. So, during this transition period of shifting focus from domestic to international markets the role of the backlog will be important.
The stock offers an excellent dividend yield and share repurchases keep the EPS growing even if the top line stays flat. So, despite the fact that Lockheed Martin is far from growth in the short term it is a stock that dividend lovers may consider having in their portfolio.
Disclosure: I have no positions in any stocks mentioned, and no plans to initiate any positions within the next 72 hours. I wrote this article myself, and it expresses my own opinions. I am not receiving compensation for it (other than from Seeking Alpha). I have no business relationship with any company whose stock is mentioned in this article.