Texas Instruments, Inc. (NYSE:TXN), designer and maker of semiconductors, has recently been upgraded from reduce to neutral by Nomura. Additionally, Citigroup Inc. has also reiterated its buy rating on the shares of Texas Instruments. Citigroup Inc. currently has a price target of $53 for Texas Instrument's shares while the stock is currently trading at around $46.16. Texas Instruments sells its products to electronics designers and manufacturers via its three segments: Analog, Embedded Processing, and Other. The solid earnings posted by the company in Q1 FY 2014 as reported a few weeks ago, showed further margin upside and the core business revenue growth made the analysts see that the company had upside potential. In this article, we will take a look at some of the factors that are likely to bring further improvement in the company's performance and position. Consequently, the bright future outlook of the company will present an opportunity for investors to capitalize on.
Semiconductor Industry Outlook
The global semiconductor market is in a fascinating phase and proposing enormous opportunities for players in the industry. The market recorded a decline in the revenue due to the global economic recession but it is projected to recover with high growth momentum in the coming years. The robust growth in the demand for electronic devices such as mobile devices and applications in new areas will result in the semiconductor market growing at a CAGR of 7.6% during 2013-2017.
The semiconductor association "SEMI" also offered encouraging forecasts for the semiconductor industry at its recently held Industry Strategy Symposium. The association perceives improvement in the global GDP growth from 2.4% in 2013 to 3.1% in 2014 and that this will increase semiconductor output. This is because technology continues to grow faster than the economy bolstered by the silicon requirements for the prevalent computing era.
The IC Insights president, Bill McClean, also predicted that the global semiconductor market will grow by 7% to $351 billion in 2014. Overall, it is clear that none of the forecasters are disagreeing with the view that 2014 will be a growth year for semiconductors (see chart below).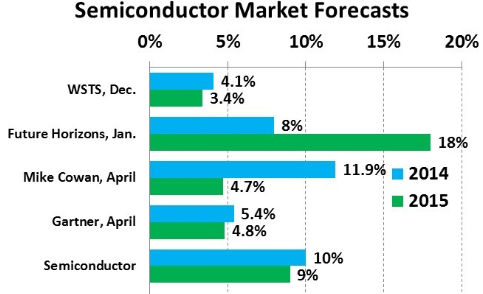 Source: Semiconductor Intelligence
Texas Instruments generated around 62% of its total revenue and 72% of its operating income for Q1 FY 2014 from the analog segment (see table below). Therefore, I will also determine the outlook of the analog chip industry in my analysis.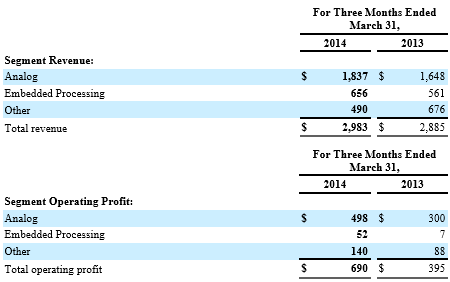 Source: TXN Form 10-K Q1 FY 2014
The analysts forecast the global analog Integrated Circuit (IC) market to grow at a CAGR of 4.79% during 2013-2018. One of the crucial factors backing this market growth is the requirement for power management in electronic products. The global analog IC market has also witnessed the emerging applications of analog ICs in LED lighting systems. More and more LED lighting applications are using analog ICs because of their power-efficient functions. Thus, the demand for LED lighting systems is rising and demand is coming from the industrial, commercial, automotive as well as household sectors as they consume less power and deliver more glare. Hence, the need for smart power management in electronic products including the demand for power-efficient LEDs is increasing the usage of analog ICs in these diodes.
All of these external factors will bring recovery and growth in the global semiconductor industry and will also support Texas Instruments' efforts to improve its performance further.
Ongoing Restructuring Program
Texas Instruments is planning to reduce its workforce and cut costs in less profitable markets. The company is now targeting its embedded processing business for restructuring. The company exited its wireless business in September 2012 in order to concentrate on opportunities that have the preeminent potential for sustainable growth and returns. Continuing with this strategy the company is now planning to cut costs in certain embedded processing product lines that either have matured or do not deliver the targeted return. Texas Instruments has recently disclosed that it is planning to reduce its resources in Japan. The company estimates 1,100 people will be laid off as a result of changes to the company's operations in Japan. Consequently, the company expects to have annualized savings of about $130 million by the end of FY 2014 as a result of enacting restructuring initiatives.
Texas Instruments is also exiting the low-margin mobile chip business in order to focus on the more lucrative analog business. The analog business manufactures chips for everything ranging from automotive safety devices to electronics. The company's competitor, Qualcomm Inc. (NASDAQ:QCOM), recently posted its least quarterly revenue increase since 2010. This is because Qualcomm grappled with a smartphone market that is progressively supplying to consumers preferring less expensive devices.
In addition, Texas Instruments is also planning to keep a cap on capital spending that will help boost its margins. The company's Chief Financial Officer, Kevin March, disclosed that Texas Instruments is hoping to keep its capital spending at about 4% of revenue till 2016 that will also help the company's bottom-line, cash flows, and overall financial position (see graph below).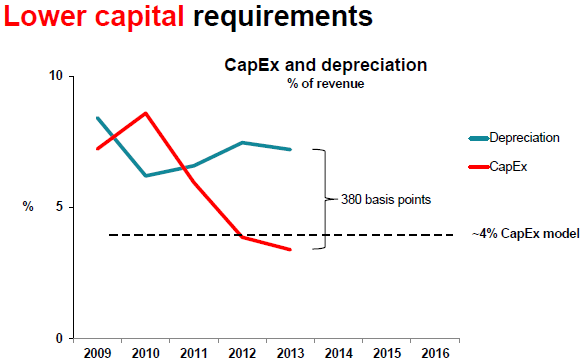 Source: TXN Capital Management Strategy Presentation
More Growth is on its way and Higher Return for Shareholders
The initiatives enacted have enabled Texas Instruments to provide a guidance of 55-63 cents earnings per share in Q2 FY 2014 that is also well above analysts' average estimate of 52 cents per share. These initiatives include restructuring the organization to focus on more profitable businesses and areas. The company reported an EPS of $0.44 in Q1 FY 2014 up from $0.32 in Q1 FY 2013 as the company's net income rose 34% to $487 million. Analysts expected the company to record an EPS of $0.41 in Q1 FY 2014. The company projected its gross margin would improve approximately 300 bps in Q2 FY 2014 due to a 10% quarter-over-quarter revenue growth. This infers incremental margins of 80-90%.
The growing demand of analog chips due to the rising need for power-saving and efficient electronic devices will support Texas Instruments in growing its top line further in the coming periods. The applications that will drive the growth for demand of semiconductor chips range from communication equipment to industrial machines and automotive parts. The company's Q1 FY 2013 revenue increased to $2.98 billion from 2.89 billion recorded in Q1 FY 2013, also beating analysts' estimates of $2.96 billion. Excluding the impact of the divestiture of the company's wireless business the company's revenue grew 11% in Q1 FY 2014. The company believes it will earn $3.14-$3.40 billion in Q2 FY 2014 compared to analysts' estimate of $3.15 billion.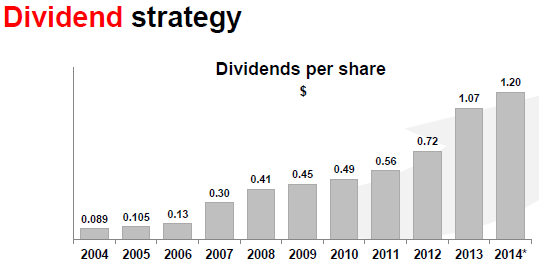 Source: TXN Capital Management Strategy Presentation
The company has a history of dividend growth. Over the past 10 years, the dividend has grown consecutively with an average annual growth in dividend of 22% over the last 5 years. The company has declared a quarterly cash dividend of $0.30 per share payable May 19th, 2014, to stockholders of record on April 30th, 2014. The company's 4% capex model will also free up cash flows to pay higher cash returns to shareholders. The optimistic future outlook of the company presents the stock as a decent investment opportunity.
Disclosure: I have no positions in any stocks mentioned, and no plans to initiate any positions within the next 72 hours.
Business relationship disclosure: The article has been written by a Gemstone Equity Research research analyst. Gemstone Equity Research is not receiving compensation for it (other than from Seeking Alpha). Gemstone Equity Research has no business relationship with any company whose stock is mentioned in this article.