Spruce Point Capital Management is proud to present the contents of its 60 page investment research report on iRobot Corp. entitled, "About to Short Circuit," with a strong sell opinion. The full report may be downloaded on our website here.
Note: This article reflects the independent opinion of a financial analyst that did not speak with management prior to publication
Executive Summary
iRobot (Nasdaq: IRBT) has seen its stock rise irrationally due to investor speculation of a "Robotics Revolution," caused by media, analyst, and investor hype over small investments by companies such as Google (GOOG, GOOGL) and Amazon (NASDAQ:AMZN) in robotics. In reality, we believe IRBT is a struggling consumer product company whose dominance in the home vacuum market is now in question, from powerful macro housing changes, and the proliferation of cheaper competitive products. The company appears to be scrambling to forestall its problems with aggressive and opaque accounting gimmicks, by diverting attention to its "Formidable IP Portfolio," touting a large and global addressable market opportunity (where its int'l share appears to be eroding), and trumpeting its "Growth Opportunities" in the enterprise and health telepresence markets (which are years away from commercialization and presented to investors with dubious misinformation).
However, there are more pernicious and glaring signs that IRBT is no longer a growth company, but more likely a mature company with its best days behind it. We observe that insiders are milking existing cash flows through outrageous compensation schemes, and with intensifying and persistent insider sales. To keep its stock elevated, IRBT also appears to be using aggressive accounting techniques to prevent the unraveling of its financials, but its balance sheet is showing signs that it may be stuffing the channel (Days Sales Outstanding and Days Sales in Inventory are exploding). We also observe that IRBT has dramatically ramped up its sales and marketing above the level of R&D expenditures, which begs the question: is IRBT still a technology innovator with a defensible moat, or a struggling consumer product marketing company?
Furthermore, IRBT has accelerated its investor marketing campaigns in 2014 in an effort to convince investors and sell-side analysts that its future is bright. The sell-side analyst community has embraced the story and given its shares numerous buy recommendations, and an average price target of $44/share (implying +35% upside). IRBT is quick to compare itself to the likes of 3D Systems (NYSE:DDD), Garmin (NASDAQ:GRMN), Trimble (NASDAQ:TRMB), Synaptics (NASDAQ:SYNA), and Dolby Systems (NYSE:DLB) - (companies with enterprise values 5x its own and valuations of 4x sales) - in hopes of justifying its share price expansion. In our opinion, IRBT is richly valued at 9.5x '15E EBITDA and 1.3x '15E revenues, and at high risk of not achieving analyst expectations. Further, we believe IRBT should be viewed as a narrowly focused consumer product company such as SodaStream (NASDAQ:SODA), LeapFrog (NYSE:LF), Skullcandy (NASDAQ:SKUL), NetGear (NASDAQ:NTGR) and Select Comfort (NASDAQ:SCSS), and that our governance and accounting concerns are not discounted into the current share price.
We estimate IRBT's intrinsic value to be $20 - $25/share (20-40% downside), implying a valuation on 2015 Street estimates at the midpoint of 16x, 6x, 0.8x - EPS, EBITDA and revenues, respectively. Our valuation assumes Street estimates are achieved (unlikely in our view), and even incorporates an overly generous value for its patent portfolio. We note that IRBT has spent a negligible amount of money to defend its patents, and has never found a way to monetize its portfolio. However, using a rule of thumb that patents may be worth 5-10% of an addressable market value (in this case IRBT's patents are heavily weighted toward the robotic vacuum market), we derive an optimistic valuation range $50 - $100m, or $1.60 - $3.20 per share for its patents.
Signs of a Robotics Bubble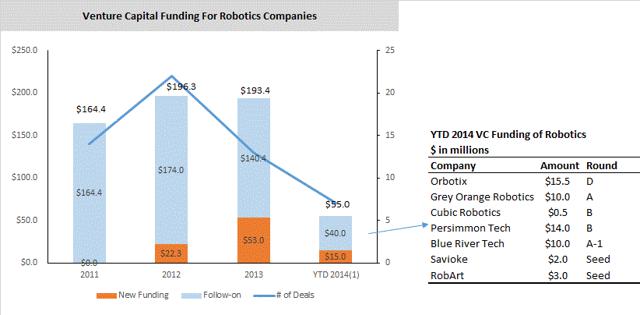 Spruce Point also notes signs of a potential bubble from the formation of a new mutual fund and ETF specifically designed to target retail investors.
Debunking the Fundamental Bull Case Propagated By Sell-Side Analysts and Investors
The company, bullish investors and sell-side analysts believe the following to support the bull case:

IRBT will grow revenues 15 - 17% in the home robotics category
Its international addressable markets are huge and growing
Its patent portfolio has substantial value and makes it a potential takeover target, and
Its management and financial performance is best in class

Spruce Point believes the following:

1. According to the US Census Bureau, there are powerful housing trends that are negative for IRBT's home vacuum sales:

With the majority of IRBT's current and future success being tied to home robot sales, we believe it's important to monitor the trends in the US domestic housing sector. New home construction should stimulate demand for home cleaning supplies such as robotic vacuums.
In the US, there's been a powerful trend towards more Multi-family homes vs. Single-family homes. On average, Multi-family homes are 40-50% smaller on a square-foot basis.
Furthermore, the trend in the past six years has been for smaller Multi-family homes, with the average square-footage declining from 1,316 to 1,118 (15% decline).
Overall, less housing square footage may reduce the implied demand for luxury home cleaning supplies such as robotic vacuums.

2. New market research by global vacuum leader Electrolux has negative implications for IRBT.

Robotic Vacuums Are the Least Popular Model: After a decade in existence, a 1% response rate is more indicative of failure than future opportunity.
Brand Has Little Importance To Consumers in the Purchasing Decision Process: IRBT is increasing its ad spending, and may have little success.
Brazilians Spend the Most Time Vacuuming: IRBT has had limited success in Latin America, and even removed its Latin America market share slide from its presentation.

3. We believe IRBT may experience headwinds of declining market share. We observe that IRBT has made recent changes to its market share slides to spin its share in a more positive light:

IRBT removed the Latin America market share from its recent Analyst Day slide.
IRBT finally acknowledges ECOVACS (China's dominant robot vacuum maker) in its Asia segment, yet somehow its share grew from 63% to 67% in just 7 weeks (March to May).
IRBT started citing "internal data" in addition to NPD and Gfk.
Spruce Point believes IRBT will face challenges in Asia since many of its competitors and manufacturers are already located there.
4. The source of IRBT's struggles appears to be increased competition in home robots.
We observe IRBT removed a slide from its Nov 2013 (slide 11) investor presentation, which showed its competitive positioning

5. IRBT has to convince investors and analysts that its vacuum robots are still relevant in order to buy time for its other "Growth Opportunities" to save the day. However, the company appears to want decreasing accountability for its timeline, and has repeatedly changed a key slide, and very recently at its May Analyst Day finally omitted it completely!

IRBT claims opportunity for robots for other home chores like lawn mowing and folding laundry. However, these products have been around now for a while and have not really taken off as expected. These categories already contain competition such as Robomow, LawnBott, Husqvarna and John Deere
IRBT has been baiting investors with big expectations in the healthcare and enterprise telepresence market and has formed partnerships with inTouch Health and Cisco

Ava 500 the enterprise telepresence market with Cisco has other competitors such as VGo and Double Robotics which offer substantially lower priced products
IRBT has sourced "IDC" for projections of a $1.1 billion market by 2017. However, a recent report we found from IDC showed the market for enterprise telepresence is actually shrinking, and Cisco's sales of equipment declined 20%
The RP VITA healthcare telepresence partnership with inTouch cites a 2011 report by InMedica - a unit of IMS research showing a $1 billion market by 2016. Our review of more recent news publications from IMS point to forecasts that have been cut due to "poor implementation, low reimbursement levels, and lack of physician support" as barriers that have held back telehealth adoption rates

IRBT appears to be also diverting investor attention from its struggles by focusing on its "Formidable Patent Portfolio"

Patent investment plays have been in favor recently in selected technology industries and in some cases companies have been highly prized for their patent portfolios (Motorola)

However, Spruce Point believes this has not yet proven to be the case in the robotics sector, and cannot find any precedent examples of large robotic patent portfolios being acquired for substantial sums
Furthermore, we believe there are numerous weaknesses in IRBT's argument that its investors should value its stock higher for its patents

IRBT appears to lack basic control of how many patents it owns. Its recent investor presentation backdated its figures to boost its portfolio in 2013 by +64
IRBT cites a high score it received by The Patent Board. While we agree that Patent Board is a high quality source, we believe the report indicates a majority are tied to the home vacuuming market, and includes a large preponderance of internal vs. external citations. We believe the report also did not evaluate IRBT's foreign patents
IRBT has spent practically no money defending its IP. Litigation expense in 2012 and 2013 amounted to just $155k and $1.2m, respectively
IRBT has not been able to articulate a strategy or way to monetize its IP, or that to tell investors/analysts it could, but costs are a factor against doing so
Numerous robotics start-ups have been founded by former IRBT employees, yet it doesn't appear they've had to license its technology

Organizational Turmoil, Aggressive Insider Sales and Milking Shareholders With Excessive Compensation

Organizational Turmoil

Repeated and Intensifying Insider Sales

1. At IPO, insiders beneficially owned ~60% of the company. Insider ownership has declined in every single year.

2. As of the last proxy statement in early 2014, insiders beneficially owned ~5%.

Rapid decline of ownership between 2013 and 2014 from 11.8% to 5%

3. The CEO has been a large seller of shares:

His ownership is down 65% since 2009
His ownership is down 24% in just the past two years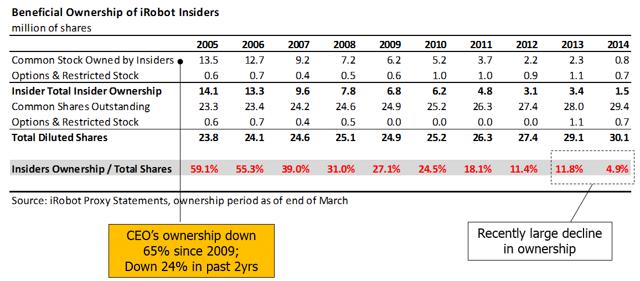 Compensation and Governance Concerns
With less and less equity at risk, IRBT's executive team has taken to paying itself more in cash compensation, and has been using aggressive methods with financial presdigitation
For 2013, IRBT changed its goal weighting from 60/40% Adjusted EBITDA/Revenues to 70/30%. Its revenue goal was adjusted downward by 3-5%, but its Adjusted EBITDA goals were lowered by 25-30%
IRBT set its target and maximum Adjusted EBITDA payout at $59.1m and $76.8m, respectively. IRBT reported it hit $75.3m for 2013, to justify the actual percentage earned (as % of target) was 182%. Overall, IRBT's cash incentive payout increased from $0.47m (2012) to $2.72m (2013)
IRBT's $75.3m Adjusted EBITDA target cannot be easily reconciled to its own figures, which were reported at $62.2m
Even worse, IRBT's EBITDA calculation does not appear to adjust for one-time warranty reversals gains, which we detail later

Total executive compensation (base, cash bonus, equity, and perks) totaled approximately $10 million in 2012-2013, or 52 - 35% of Adjusted Operating Income by our calculation. We believe this is a measure of a richly compensated management team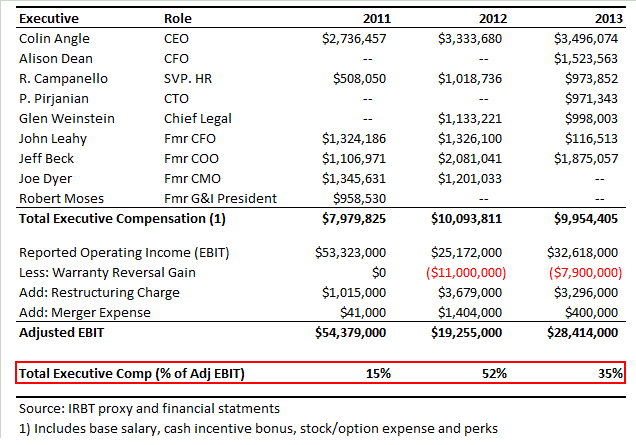 In Q1 2014, IRBT reported its first operating cash flow burn since 2006. A majority of the $7.7m cash burn is attributable to a swing in accrued compensation. Furthermore, this marked the first time in Q1 that IRBT had positive GAAP net income, with a corresponding operating cash flow decline. The divergence is a significant red flag for a quarter where IRBT reported a 7.5% YoY revenue growth, with no change in accounts receivable or inventory
Warning Signs Present in the Financial Statements
Receivables taking longer and longer to collect
In Q2 2013, IRBT's accounts receivables rose rapidly by 87% quarter-to-quarter (Sales +23% and Inventory +29%). The large change was not discussed in greater detail on the company's filings or conference call
By our calculation, Days Sales Outstanding (DSO) has been steadily rising since 2011: from 26 days to 33 days
Inventory taking longer and longer to turn over
The previous CFO John Leahy resigned in March 2013. Around this time, IRBT's Days Sales in Inventory (DSI) was approximately 51 days (Alison Dean appointed CFO)
By the end of Q3 2013, the DSI had steadily risen to 64 days
On November 25, 2013, the new CFO, Alison Dean, was appointed to oversee supply chain and manufacturing. We note it to be uncommon for a CFO to also oversee supply chain and manufacturing matters
Possible explanations include the following:
Products have been oversold, and customers refuse to pay until the unfulfilled promises have been met
Extended payment terms may be offered that allow IRBT's distributors to delay full payment long after everything necessary has been done for the vendor to earn the revenue
IRBT may be engaging in possible Channel Stuffing
IRBT may be recognizing its revenues more aggressively, ahead of inventory being moved to distributors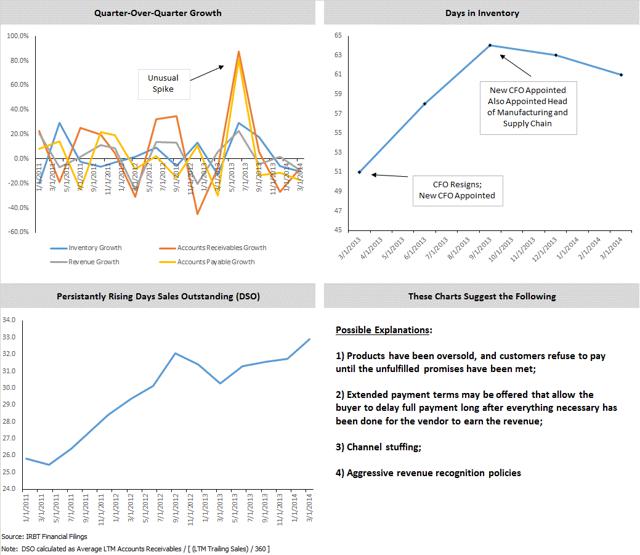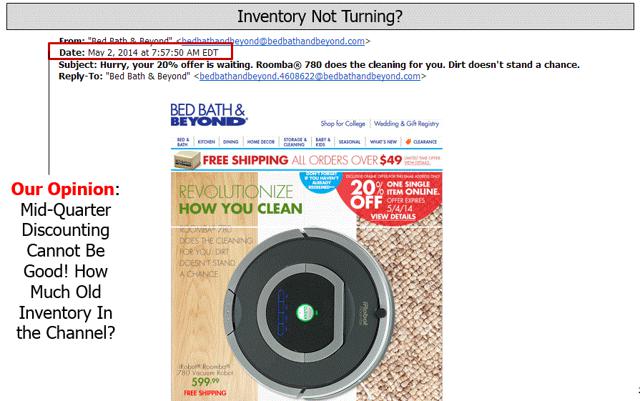 Fuzzy Accounting
Inventory Accounting
In its 2010 10-K, IRBT removed some language about 'seasonality, short life cycles, and technology obsolescence' being factors that would cause an inventory write-down
IRBT has also made numerous disclosures (without clarification or explanation) in the footnotes of its cash flow statement related to "transfers of inventory to property, plant, and equipment" as being non-cash flow items. In our opinion, these are unusual disclosures and merit close scrutiny

We also observe that recent filings have removed prior-year disclosures from 2010 of these transfers, which could potentially signal a cover-up
We believe a possible motivation for these transfers is to avoid taking inventory write-downs, which would impact current-year earnings vs. transferring them to PP&E and depreciating these costs over future periods of 2-5 years
We note that the cumulative amount of these transfers has been $11.7 million, and that in certain years, had the transfers been actual inventory write-downs, a material amount of GAAP net income would have disappeared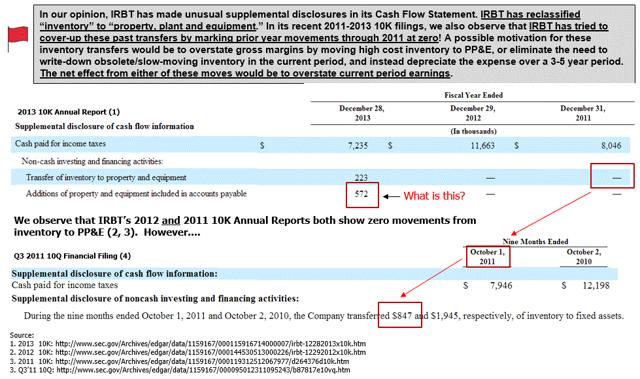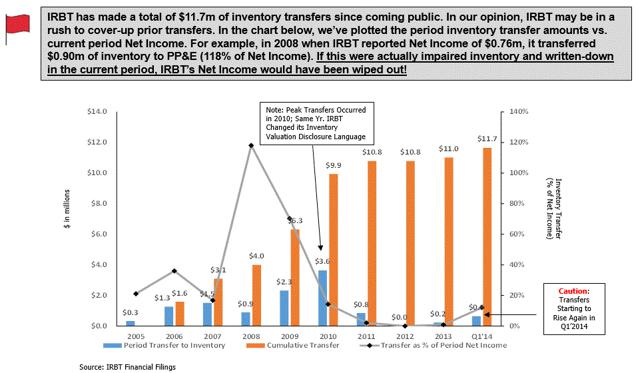 We observe that IRBT has made numerous cost reclassifications between Cost of Goods Sold and Operating Expenses (and never detailed exactly what was reclassified). While these were explained as related to the company's reorganization, a possible alternative explanation could be IRBT wanted to enhance its Gross Profit to deflect Gross Margin deterioration. We note these reclassifications boosted historical Gross Margins by 340 bps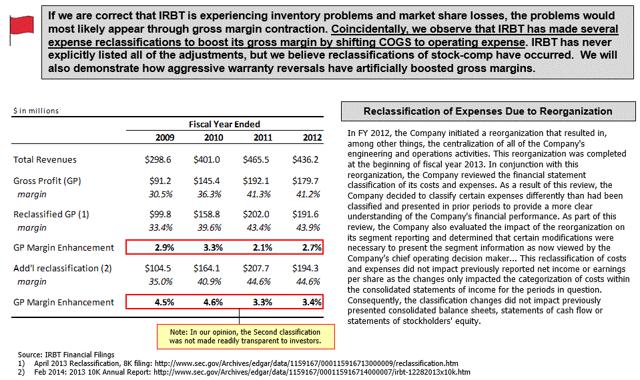 One-Time Gains from Warranty Reversals and Other Errors
We observe that IRBT has made numerous one-time reversals of warranty accruals, while citing improvements in manufacturing and lower return rates

While this might be the case, these reversals have not always been made transparent, are one-time/non-recurring in nature, and have 100% Gross Margin impact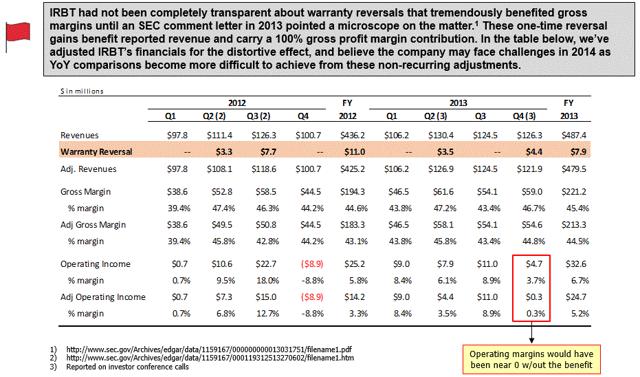 IRBT's financials have contained disclosure of various (non-material) errors (here, page 7 and 8) related to depreciation expense and taxes. We believe these are further indicators that IRBT's financials should be viewed with above average caution
Who's Controlling IRBT's Financial Statements?
1. Given the variety of issues we've noted in IRBT's financials, we believe a closer look into its CFO is warranted. We note from the CFO's bio.
Has been with IRBT since 2005 in the roles of Financial Controls and Analysis and VP of Finance
From 1995 to August 2005, served at 3Com Corporation as Vice President and Corporate Controller and Vice President of Finance, Worldwide Sales
2. We note that during her tenure at 3Com, a shareholder lawsuit claimed that both 3Com and US Robotics (a company it merged with), perpetuated a scheme to mislead investors about its financial condition.
i. Deferred the date of the 3Com / USR merger to hide disastrous results of USR
USR customers had substantial inventories of older models that would become obsolete that they covered under a price protection to make its customers whole with a rebate when prices on the old products were discounted
To inflate its revenue, USR induced customers to take quantities of new modems substantially in excess of their needs with unlimited return privileges (rebates), and failed to accrue any reserves, other expenses and take inventory write-downs
Defendants issued false and misleading statements about the company's financial health and levels of inventory in the distribution channels
Defendants sold more than 4m shares of 3Com stock at prices as high as $58 3/8 per share, realizing gross proceeds from these sales of >$200m
3. The case was settled for $259 million in 2000 (a near record amount for that time period), and its executives avoided acknowledging any wrong doing.
IRBT's CFO was not named in the shareholder litigation complaint, nor should it be implied or assumed she facilitated any wrong-doing
IRBT appears to agree that it needs help in its auditing function, and currently is hiring a senior auditor according to its website
Analyst Misperceptions and Valuation
IRBT is dramatically ramping up its investor marketing campaign
IRBT has presented to investors 5 times year-to-date vs. 2 presentations this time last year
IRBT presented at 10 conferences total in 2013, 4 in 2012 and 2 in 2011
Analysts have responded with favorable recommendations for the stock; IRBT's average price target is $44/share or +35% higher than its current price
IRBT is Playing Games With its Positioning to Incorrectly Achieve a Significantly Higher Valuation
The market has struggled to compare IRBT to other public companies, because of its focus on robotics (no other pure play robotics company trades here)
In its proxy statement (filed April 9th, 2014) IRBT defined a peer set for compensation benchmarking purposes with an average enterprise value ~$1 billion and 2.0x EV/revenues valuation multiple
A month later, at its May Analyst Day, IRBT dramatically changed its peer set to include a vastly different set with an average enterprise value of $5bn and a 4.0x EV/revenue valuation multiple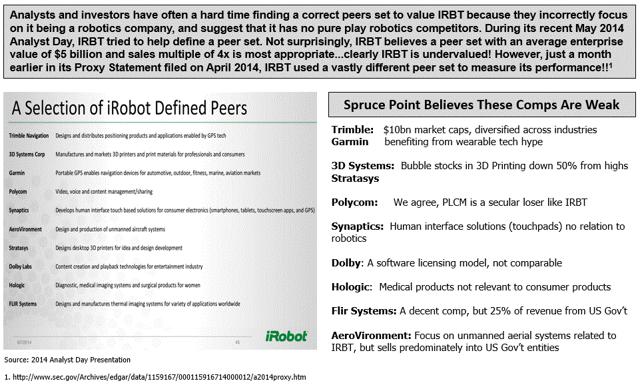 Sell Side Analysts Have Fallen For the Story
Leader in Home Care Robotics; Growing Int'l Revenue Opportunity
Formidable IP Portfolio
Telepresence represents a large/growing market
Solid management, attractive financial model and valuation
Spruce Point's Variant View
Powerful headwinds created in the housing market may be constraining vacuum demand
Robots in the home vacuum market becoming an increasingly competitive space
Growth markets are at high risk of not achieving desired results
IRBT transitioning more to a consumer product marketing company and less a high tech company
Hidden patent value and IRBT as a takeover target are pure speculation
IRBT should be valued/viewed like a slowing consumer products company

SodaStream
Skullcandy
Select Comfort
LeapFrog
NetGear
Valuation Considerations
IRBT currently valued on 2015E P/E, EV/EBITDA, EV/sales: 23x, 9.5x, 1.3x
Assumes lofty sales and earnings targets are achieved
On 2015E P/E, EV/EBITDA, EV/sales, our suggested peer set is valued closer to 16x, 7x, and 0.7x
We don't think the IP portfolio holds 'substantial hidden value' as the bulls would suggest. However, as a crude rule of thumb, patents are typically valued at 5-10% of an addressable market opportunity

A majority of IRBT's patents are related to vacuuming, while its defense products and contracts are being phased out
IRBT says the global vacuum market is worth $7 billion
15% is penetrated by robots = $7bn x 15% = $1 billion
5-10% of $1 billion = $50 - $100 million
31.1m fully diluted shares outstanding
Stretch case patent portfolio value per share = $1.60 - $3.20

Our price target is $20-$25/share (including patent value)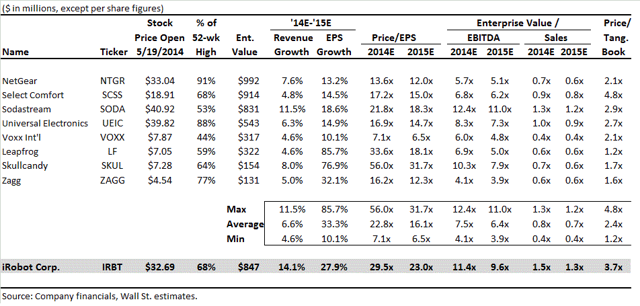 Disclosure: I am short IRBT. I wrote this article myself, and it expresses my own opinions. I am not receiving compensation for it. I have no business relationship with any company whose stock is mentioned in this article.
Additional disclosure: This research report expresses Spruce Point Capital Management LLC's ("Spruce Point") opinions. Use of the research produced by Spruce Point is at your own risk. This is a short-biased article and you should assume the author of this report and its clients and/or investors hold a short position and derivatives tied to the security of iRobot Corp. that will benefit from a decline in the price of the common stock. Following publication of the report, the author (including members, partners, affiliates, employees, and/or consultants) along with its clients and/or investors intend to continue transacting in the securities covered therein, and may be long, short, or neutral at any time hereafter regardless of the initial recommendation. The author of this report has obtained all information contained herein from sources believed to be accurate and reliable and has included references where available and practical. However, such information is presented "as is," without warranty of any kind- whether express or implied. The author of this report makes no representation, express or implied, as to the accuracy, timeliness, or completeness of any such information or with regard to the results to be obtained from its use. Forward-looking statement and projections are inherently susceptible to uncertainty and involve many risks (known and unknown) that could cause actual results to differ materially from expected results. For a list of the risk factors specific to iRobot Corp. and its industry, review the company's Risk Factors in its financial filings at the SEC. All expressions of opinion are subject to change without notice, and the author does not undertake to update or supplement this report or any of the information contained herein. Spruce Point is not a broker/dealer or financial advisor and nothing contained herein should be construed as an offer or solicitation to buy or sell any investment or security mentioned in this report. You should do your own research and due diligence before making any investment decision with respect to securities covered herein, including, but not limited to, the suitability of any transaction to your risk tolerance and investment objectives and consult your own tax, financial and legal experts as warranted. Please visit sprucepointcap.com for our full legal disclaimer.