Recently, Vanda Pharmaceuticals Inc. (NASDAQ:VNDA) announced that it has commenced a late-stage study to evaluate its candidate tasimelteon in patients suffering from non-24-hour sleep wake disorder (N24HSWD). The disorder primarily affects totally blind individuals resulting in abnormal night sleep patterns and chronic daytime sleepiness.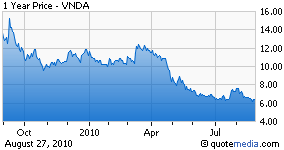 The study will evaluate the safety and efficacy of 20 mg tasimelteon against placebo in totally blind individuals suffering from N24HSWD. The company intends to enroll 160 patients for the study. The primary goal of the study is improvement in total sleep time (TST) at night. The treatment period of the study is 6 months with an optional open-label extension.

The late-stage study, from which results are expected in the fourth quarter of 2011, also intends to gauge the parameters of daytime sleep and laboratory measures of the synchronization between the internal body clock and the 24-hour environmental light/dark cycle.

We note that tasmilton was granted an orphan drug designation by the US Food and Drug Administration (FDA) for N24HSWD in February this year. The disease affects approximately 65,000 to 95,000 in the US and 140,000 in Europe.

Vanda Pharma, incorporated in 2002 and headquartered in Rockville, Maryland, focuses on the development and commercialization of candidates for treating disorders that affect the central nervous system.

Currently, we have a Zacks #4 Rank (short-term Sell recommendation) on Vanda Pharma. However, the long-term stability, offered by its only marketed product Fanapt (iloperidone) for the treatment of schizophrenia in adults and its pipeline candidates, leads to a Neutral recommendation on the company in the long-run.