Netflix Inc. (NASDAQ:NFLX) is a video streaming network with more than 48 million users in over 40 countries in North America, South America, and Europe. DVD-by-mail service is also available in the United States. The company also generates revenue from monthly subscription charges from users for streaming content.
Despite the fact that Netflix is a typical growth stock (which warrants its being traded at high multiples without giving out any dividends) I will discuss whether or not the exuberance regarding its growing earnings is really justified especially given the increasing competition from bigger players like Comcast (NASDAQ:CMCSA) and Amazon (NASDAQ:AMZN).
Stock Appreciation
Netflix's share has performed outstandingly well in the last year. The stock traded below $215 on June 18th, 2013 and rose to above 450 by March 4th, 2014 posting a return of more than 100% in less than 10 months. Since then, the stock has already dipped by more than 23% trading around $347 as of May 14, 2014.

Source: Google Finance
Key Drivers for Netflix's Growth
Netflix was able to consistently ramp up sales by striking new contracts with television networks. For example, in July 2013, Netflix struck agreements with Public Broadcast System, PBS (US and Canada), and Columbia Broadcast System, CBS to make a wide variety of their programs available to Netflix customers.
In February 2014, Netflix reached an agreement with the largest ISP in the US, Comcast, to smoothen the Netflix streaming experience for its customers using Comcast internet services. The multi-year agreement is expected to ensure better quality for Netflix content for users and the speed benefit was already visible in April 2014 numbers.
Netflix has extended its reach to the Netherlands in September 2013, and plans a substantial European expansion in 2014. The US streaming market presently contributes a major chunk of the company's revenues as the graph below shows. So, making use of the demand in the big European market provides a great opportunity to Netflix to enhance its top line.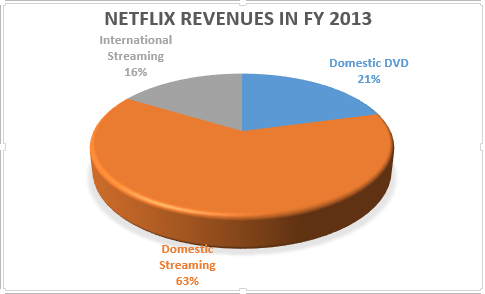 So, agreements with broadcasters, cable companies, and internet service providers are expected to continue boosting the number of members as well as the revenue in dollars for Netflix in the years to come. In addition, the online streaming market is expected to grow as an industry to faster internet speeds of 4G LTE and trending handheld devices with larger screens.
Can Competition Hamper Netflix's Growth?
The US market generates just below two thirds of Netflix's revenues and so it is very important for the company. However, the competition is becoming increasingly fierce in the domestic sphere. In February 2014, Comcast and Time Warner Cable announced they agreed to merge in a $45 billion deal. They said the transaction will save them about $1.5 billion from increased operating efficiencies. Once approved, the deal will create a pay-tv giant with around 30 million subscribers.
Netflix cannot ignore the merger as a non-significant event because Time Warner Cable is the second-largest cable company in the US while Comcast is the largest. On top of all that, Comcast also happens to be the biggest ISP in the US and even Netflix subscribers use Comcast's internet services.
Another giant becoming more aggressive about its online media market is Amazon. In April 2014, Amazon announced it was signing a deal with HBO to make HBO's television programs available to Amazon Prime's customers. HBO's content has never before been made available for an online-only streaming service. Amazon is already a competitor to Netflix in the DVD-by-mail service. So the fact that the retail giant is now looking to increase its share in the video streaming market should be a concern for Netflix.
Is Netflix a Sell or Buy?
As far as earnings go the company looks strong even in coming years on the back of multi-year agreements with broadcasters and ISPs, its huge and growing subscriber base, and the prospects of expansion in Europe. Netflix reported a Q1 FY 2014 EPS of $0.86 but analysts expect the EPS to clock in above $4.20 for full year 2014. For 2015, Reuters estimates an EPS average of $6.89.
However, problems stem from two factors.
The first is competition. Comcast and Amazon are already giants in their own spheres and are now joining hands with other partners to strengthen their position in the video streaming market. If they are able to steal market share from Netflix analysts' estimates will be quick to revise downwards.
The second is volatility of earnings. Unlike rivals Comcast and Amazon, video-on-demand seems to be Netflix's only big business. So, if this business is dented, there is essentially nothing to fall back upon. This increases the risk for investors and the company does not pay any dividends nor does it intend to pay any in the foreseeable future.
Therefore, Netflix's stock more of a risky venture in my opinion. In the short-term, the stock seems to have already accounted for growth in earnings as it already has a high P/E multiple of 130x compared to 18.3x for Comcast. So, any negative impact on the earnings from recent breakthrough developments from the competition can significantly drive the stock price down. Therefore I retain a strong sell stance on Netflix.
Disclosure: I have no positions in any stocks mentioned, and no plans to initiate any positions within the next 72 hours. I wrote this article myself, and it expresses my own opinions. I am not receiving compensation for it (other than from Seeking Alpha). I have no business relationship with any company whose stock is mentioned in this article.