Share price of National Oilwell Varco (NYSE:NOV) has appreciated by 3.3% year to date, which is fairly in line with a 2.5% gain for S&P 500 Index. The price has almost recouped all the loss due to a ~7% selloff on April 27, 2014 as management guided lower offshore drilling backlog and book-to-bill ratio for 2014. Despite the offshore drilling concern, I believe investors should accumulate NOV shares at the current level due t the company's trong free cash flow, solid dividend growth potential, inexpensive valuation, and a few near-term catalysts.
In terms of the offshore drilling slowdown, I believe market's concern has already been reflected in the share price given that the issue has been a topic for quite a while and is no longer new news. The subsequent price rebound proves that the selloff following the downward backlog revision was completely overdone. On the bright side, NOV continues to see recovery in North America activity as demand for onshore equipment is on the rise. It is believed that this trend would benefit NOV's Petroleum Services & Supplies segment. The company recently announced an increase in quarterly dividend from $0.26 to $0.46, representing a 77% growth. This demonstrates management's commitment to return part of the company's significant cash holding ($3.7B) to shareholders and continue maintaining a sustainable dividend growth going forward.
Taking the recent developments into perspective, I have performed a cash flow analysis to illustrate NOV's free cash flow potential and its capacity to support capital programs including dividend, M&A, and possible share buyback (see chart below).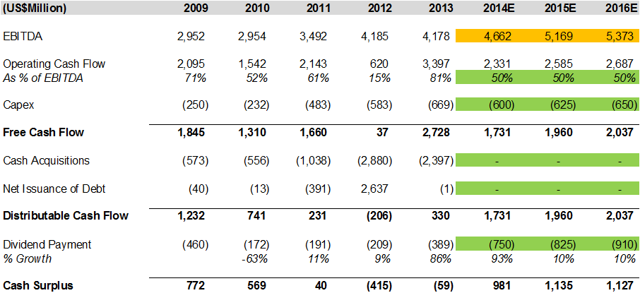 My analysis started with consensus EBITDA estimates which predict EBITDA increase from $4.7B in 2014 to $5.4B in 2016. It is noted that NOV's EBITDA to operating cash flow margin averaged at 56% in the past 5 years. To be conservative, I assumed a flat ratio of 50% through 2016 and this implies that operating cash flow will rise from $2.3B in 2014 to $2.7B in 2016, which trails the current consensus estimated trend expecting the operating cash flow to increase steadily from $2.7B in 2014. For capex, I assumed the metric to steadily increase from $600M in 2014 to $650M in 2016 based on management's guidance of $600M for 2014. Given these assumptions, my model projects free cash flow to rise from $1.7B in 2014 to $2.0B in 2016. Based on the current annualized dividend of $1.84, I estimated annual dividend payment to be approximately $750M in 2014. As such, my projected free cash flow can comfortably cover the annual dividend commitment over the forecast period even with an assumption of 10% annual dividend growth in 2015 and 2016. In this scenario, NOV would have approximately $1B cash surplus per annum that can be used for M&A activity and/or share repurchase. Given the robust free cash flow generation, I would not expect any additional debt borrowings.
NOV's valuation looks inexpensive relative to oilfield services peers. The stock now trades at 11.9x forward 2015 estimated EPS, which is at a slight discount to peer average of 12.7x. I believe this valuation is somewhat conservative given that 1) NOV's various profit margins are line with peer averages; 3) the company's pristine balance sheet has a lower-than-average leverage; and 3) the stock's 2.2% dividend yield is now more than twice of peer average at just 1.0% (see chart below).

NOV recently announced that its board of directors has approved the planned spinoff of the Distribution business. Share trading of this business is expected to begin in June 2014. In my view, the separation of the Distribution segment should unlock shareholder value given that there are significant variances in the fundamental drivers for the two businesses. It is believed that the Distribution spinoff will result in higher profit margin for NOV's remaining businesses as Distribution's profit share is lower than its revenue share. As part of this restructuring, management will re-segment NOV's remaining businesses into 4 new segments and their respective historical financial details will be disclosed.
In conclusion, given the current state, NOV will continue to generate robust free cash flow over the coming few years while still have ample resources to support dividend growth and pursue M&A and/or share repurchase opportunities. As valuation remains inexpensive, investors are recommended to buy the stock now. Shareholders are expected to benefit from near-term catalysts including the separation of the Distribution segment which will likely unlock value and the disclosure of new segment information as the details will help the market better understand NOV's growth potential.
All charts are created by the author, and data used in the article and the charts is sourced from S&P Capital IQ, unless otherwise specified.
Disclosure: I am long NOV. I wrote this article myself, and it expresses my own opinions. I am not receiving compensation for it (other than from Seeking Alpha). I have no business relationship with any company whose stock is mentioned in this article.