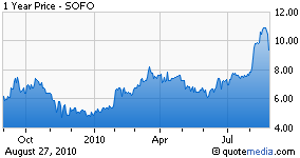 By now, most of us have watched (or listened to) hundreds or even thousands of webcasts, whether for investment research, training, education, continuing education, or for any number of other reasons. Few would debate whether webcasts and other forms of online video are here to stay, or whether all of us will watch more and more events online over the next five years.
As the market grows and matures, the viewing experience will no doubt continue to improve. Yet, surprisingly - to this day - the average webcast offers limited or even disappointing functionality and performance. At the risk of sounding like a broken record: there is a better way. This post is meant to serve as an additional check on our implicit subjectivity as an owner of Sonic Foundry (NASDAQ:SOFO). We always strive to be objective in our research.
In January, we shared Who on Earth Needs Mediasite?, posting that everyone can benefit from Sonic Foundry's Mediasite solution for webcasting all kinds of events -- from schools to corporations to government organizations to hospitals and all of their respective end-users. In that post, we included a number of links to various events for readers to peruse and objectively evaluate different platforms relative to Mediasite.
Among the alternatives, we included Thomson Reuters (NYSE:TRI), PR Newswire's "MultiVu" /VideoNewsWire, ON24, TalkPoint, Veracast, Wall Street Webcasting, Accordent, and even Cisco's (NASDAQ:CSCO) WebEx solution. We see a wide disparity in the quality of the end user experience from these various platforms, especially relative to Mediasite.
As an example, while WebEx may be optimal for group collaboration, we see the solution as suboptimal for lectures, town-hall-type CEO presentations, conference events, or any other one-to-many situation. Further, we surmise that most viewers would prefer to not see the extraneous WebEx pop-up window that says:
Playback in progress - Do not close this window, refresh this Web page, click Back or Forward, or click a URL in another window. If you do so, playback will end.
Click images below to enlarge

In late July, we again mentioned that countless webcasting companies and even Nasdaq's (NASDAQ:NDAQ) Shareholder.com unit could use Mediasite. Here, we shared Microsoft's (NASDAQ:MSFT) Analyst Meeting that was webcast live by Shareholder.com -- video only, no synchronized slides (slides available via separate download):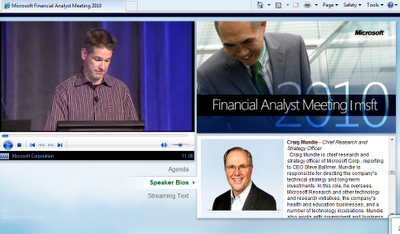 The Shareholder.com approach only features the active video box and all other "boxes" are still images.
Likewise, another example comes from the quarterly conference calls of video gear maker Polycom (NASDAQ:PLCM), which uses Visual Webcaster from Onstream Media (NASDAQ:ONSM). Here's a snapshot from the latest call in July: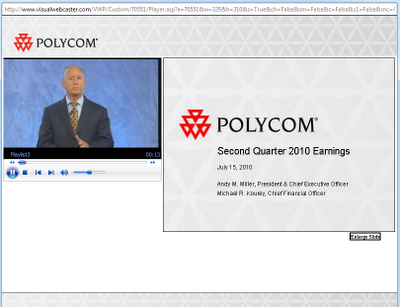 In this case, the slides pop up in successive, separate windows and, like Microsoft's Analyst Meeting, the "POLYCOM" window above is static.
Finally, we watched the proposed Intel (NASDAQ:INTC)/McAfee (MFE) acquisition webcast live the other week, which provided yet another example of the shortcomings of most webcasts. The audio-only webcast launched pop-up windows for each slide, leaving a number of excess windows open on our PC toward the end of the event: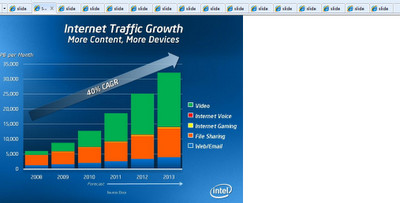 By the way, looking more closely at this slide -- based on data from Cisco Systems -- please note the expected growth in video traffic (not necessarily surprising; acknowledge difficulty in accurately forecasting both market size and potential growth):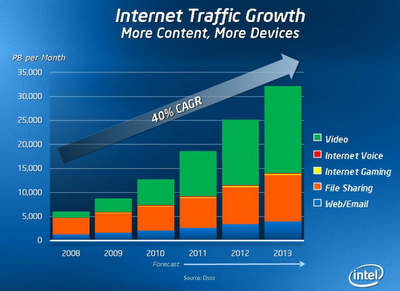 Now, for comparison, we will again share the following recent Mediasite catalogs and presentations:
While shares of Sonic Foundry have moved higher following favorable June quarter results, we continue to believe shares are trading well below fair values based on earnings power and implied private market valuations that would be assigned by an informed strategic buyer. In the latter case, recent M&A activity provides ample valuation support.
Further, we fully expect Mediasite video content to contribute a large share of the growing video traffic on the Internet referenced in the above slide. BUT, to be sure, although we like this very positive secular trend and large addressable market opportunity for Sonic Foundry, we're not necessarily buying the trend. We're buying value. Investing solely in the latest, most hyped trends without value is a perilous endeavor.
Just how is Mediasite contributing to online video growth? We shared evidence from Twitter in our July post, The Value of the Mediasite Franchise? First, Many Firms Could Clearly Benefit; Second, Ask Massey University and Others Around Globe. Tweets from the University of Florida, North Carolina State University, and Massey University, respectively:
mediasite RT @brianjsmith: @robgrau You beat us to it! We're at 168,000 #Mediasite views right now, also surpassing our '09 numbers by a large margin. about 19 hours ago via HootSuite

mediasite Wow - kudos! RT @robgrau: We hit 200,000 #Mediasite views for 2010 today! That matches last year's total w/ 5 months to go!

mediasite Congrats! RT @mattalexandernz: Wahoo! Just topped 50,000 views of our Mediasite content. 20,000 so far for 2010.
The last Tweet comes from an IT specialist at Massey University. Toward the end of the Massey video shared in that post (video link here), note this customer commentary:
"We looked at what other universities were doing.... We tried Mediasite and, to be honest, we've not looked back.... The automation has just started. It's very successful and again that means we can cope with minimum resources. Basically, our roadmap is to get a number of units so that we can do automated recording across our campuses in three different cities and we can cope with the demand we're getting and that we expect to get over the next year or so... What I like about it [Mediasite], is that it's consistently high quality."
Finally, we could listen to other customers (plenty of direct commentary on Sonic Foundry's website). From a news release in January 2009 announcing the London Business School's decision to go with Mediasite:
Prior to selecting Mediasite, the School completed an extensive international assessment of course capture solutions, including a comprehensive benchmarking review, site visits at peer business schools to study their respective capture strategies and formal, scientific evaluation of responses to the School's publicly-issued RFP.

"During our review, we were impressed with the comprehensiveness of the solution, how Mediasite addresses the very real and practical day-to-day demands that we as a support organization meet along the pipeline from class to website," said Altendorff. "Mediasite offered more administrative tools and diagnostics, more comprehensive features than its competitors, and that was important for us because we aim for 100 percent up time for all technology in a lecture theatre. For us, the more slick the back office is, the better, and Mediasite is a mature and well-developed product."

"We were equally impressed by the service levels of Sonic Foundry and the quality of Mediasite's install base. It was very powerful to talk with people who are using Mediasite and have been for some time, and to hear them speak so highly of their experiences with the product and the company," added Altendorff.
While some could say we're biased given our ownership position in the company, we can objectively say that many more organizations can benefit from Mediasite. Not only staff, but end users like all of us. Webcasting life all around the globe could be significantly improved.

Disclosure: Author long SOFO