Computer Sciences Corporation (NYSE:CSC), the IT services provider, reported a decent fiscal 2014. The revenues decline, which is partly attributable to the company's restructuring, was partly offset by costs savings. Fiscal 2015 is expected to be better than fiscal 2014. Revenues are forecasted to be flat to slightly up with capital providers benefiting from incremental costs savings.
While longer term the company faces structural competitive challenges, near term the company has a solid book of business, and management is taken step, such as offshoring, to reduce operating expenses. The joint venture with HCL should provide a cushion for revenues during this fiscal year. Additionally, the board of directors authorized a substantial share repurchase program, and I expect management to use about $800 million of the allotted $1.5 billion during this fiscal year.
Including the aforementioned and conservative estimates of the underlying fundamentals of the business, shares of CSC are undervalued by 17%.
Recent Developments
CSC is establishing a Global Cloud Center of Excellence in Austin, Texas that will enable customers to accelerate the development, migration, and transformation of enterprise workloads to AWS along with the integration of private and hybrid clouds in an extended enterprise environment.
Rob Carey is now vice president and general manager of CSC Cybersecurity.
CSC is working on increasing security at the application layer.
CSC is planning to launch a hybrid cloud management solution that integrates ServiceMesh Agility Platform with Microsoft System Center.
CSC and VMware expanded their partnership with the addition of a hybrid cloud brokering solution for VMware vCloud Hybrid Service. The solution will enable customers to develop and move workloads on any combination of vCloud Hybrid Service, CSC BizCloud, and CSC CloudCompute as well as other commercial cloud offerings.
The company introduced an incident response service offering designed to provide commercial clients with around-the-clock access to trained professionals during a cyber-security incident.
Analyst's Note
CSC is a global leader of next-generation information technology services and solutions. The company's mission is to enable superior returns on clients' technology investments through best-in-class industry solutions, domain expertise, and global scale. CSC has three operating segments: Global Business Solutions, Global Infrastructure Services, and North American Public Sector. The combined segments generated total revenues of $13 billion in fiscal 2014.
The joint venture with HCL should be a sound strategic decision. Applications require modernization before they can be virtualized and moved to the cloud. Generally, application services are expected to be a $200 billion market in 2014 with application modernization being one of the fastest growing segments of the market. This is a play on the cloud transition and should generate, at least, incremental revenues during FY15 and FY16.
CSC ServiceMesh Agility Platform is a platform for hybrid cloud management, governance, and security. The platform is interoperable with Microsoft Azure, Amazon EC2, CloudStack and HP Cloud, to name a few. Also, ServiceMesh, enables enterprises to adopt cloud-based IT operating models that increase business agility, speed application delivery, and lower costs. With its comprehensive lifecycle management, the ServiceMesh Agility Platform is a value added for enterprises.
| | | |
| --- | --- | --- |
|   | 2014-03 | 2015-03E |
| Revenues | 12998 | 13193 |
| Gross profit | 3431 | 3562 |
| Operating income | 1059 | 1055 |
| Net income | 674 | 660 |
| Diluted EPS | 4.46 | 4.60 |
Off of the top of my head, I would expect revenues to be flat to slightly down in FY15, but management is guiding to flat to slightly up revenues. I tried to build in some margin expansion on costs reductions, but the EPS number was too high; so I modeled flat margins with EPS being enhanced by the share repurchase program.
On the balance sheet front, assets and equity are expected to trend roughly flat as management returns capital to shareholders and debt holders. The debt-to-capital ratio is forecasted to stay in the 40% range. Also, there appears to be ample liquidity in the form of cash and accounts receivable. Additionally, the activity accounts are congruent with sales.
For the full year, cash provided by operations is expected to be $1.58 billion with free cash flow to the firm coming in at $1.22 billion. Free cash flow to equity is anticipated to increase to $1.13 billion. The forecast is for $800 million of share repurchases during the fiscal year with $137 million of cash dividend payments. That would be about 10 to 13 million shares repurchased or about 10% of the outstanding shares.
CSC is in the process of completing a major restructuring, but the restructuring may not solve the underlying challenges that the firm faces. CSC has to find more areas of IT where it has a competitive advantage. With that stated, the firm is expected to generate a respectable return on capital during the fiscal year. Also, management is engineering a higher stock price.
Valuation & Technicals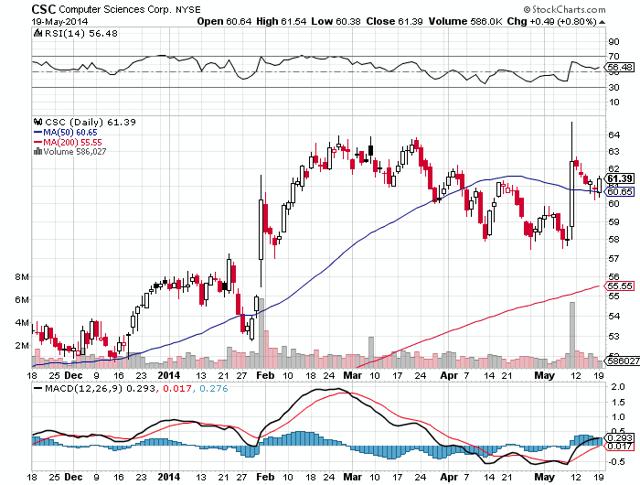 CSC is in a bull market of intermediate and primary degree. Based on the fundamentals of the firm, I expect the bull market to continue as management engineers a higher stock price.
| | | |
| --- | --- | --- |
|   | Estimated intrinsic value | Forward price multiples @ base case value |
| Optimistic | $104.48 | P/E: 15.62 |
| Base case | $71.83 | P/S: 0.78 |
| Pessimistic | $39.18 | P/BV: 2.71 |
|   |   | P/CFO: 6.51 |
The estimated fundamentals of the underlying business are far from rosy. But the model suggests that the shares are 17% undervalued. Additionally, at $71.83 per share, CSC would be trading at 15.62 times FY15 earnings, which is cheap relative to the industry and the market.
General Risks
The share price is likely to remain volatile and investors could lose a portion or all of their investment.
Investors should judge the suitability of an investment in CSC in light of their own unique circumstances.
A decline in the global economic growth rate and/or a decline in the pace of economic growth in the United States could adversely impact the results of operations and the share price.
The technology industry is characterized by rapid technological change, which could materially adversely impact the results of operations.
Competition in product development and pricing could adversely impact performance.
Incorrect forecasts of customer demand could adversely impact the results of operations.
Higher interest rates may reduce demand for CSC's offerings and negatively impact the results of operations and the share price.
This section does not discuss all risks related to an investment in CSC.
Disclosure: I have no positions in any stocks mentioned, and no plans to initiate any positions within the next 72 hours. I wrote this article myself, and it expresses my own opinions. I am not receiving compensation for it (other than from Seeking Alpha). I have no business relationship with any company whose stock is mentioned in this article.