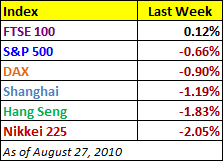 Here's a weekly update the major world indexes I've been tracking during the past few months. The table at right shows the performance over the past week.
The FTSE 100 was the top performer for the week, with a fractional gain. The other five indexes lost ground, with the Hang Seng and Nikkei 225 as the biggest losers.
The chart below illustrates the comparative performance of World Markets since March 9, 2009. The start date is arbitrary: The S&P 500 hit a low on March 9th, the Nikkei 225 on March 10th, the DAX on March 6th, the FTSE on March 3rd, the Shanghai Composite on November 4, 2008, and the Hang Seng 4.4 months earlier on October 27, 2008. However, by aligning on the same day, we get a better sense of the present-day synchronous behavior of the markets than if we align the lows.
Cyclical Bear Markets and Corrections
Using the traditional metrics for cyclical bear markets and corrections, the Nikkei and Shanghai are experiencing bear markets. The Hang Seng, FTSE and S&P 500 are in correction territory.
A Longer Look Back
Here's the same chart starting from the turn of 21st century. Since the bubble Shanghai Composite makes the spread between the other five indexes more difficult to see, I've included a second version with the Shanghai excluded.
Disclosure: No positions