Energy XXI (EXXI) is a Gulf of Mexico energy play that has been under pressure over the past twelve months. The stock has fallen some 40% since its highs early in the fourth quarter of 2013. However, there are signs that there are sunnier days ahead for the company and the stock. Patient investors could accrue significant capital appreciation as well a nice dividend yield over the medium term.
Positive Developments:
It was nice to see that insiders are acting on their conviction that the stock is undervalued by scooping up shares recently. Two insiders have purchased just under $1.5 million of new shares in May so far. This follows other insider buying in April, March and January for smaller amounts.
Raymond James upgraded from "Outperform" to "Strong Buy" yesterday. The firm has a $29 a share price target on Energy EXXI and cites the company's valuation and potential upside from the soon-to-close merger with EPL Oil & Gas (NYSE:EPL) as recent for its upgrade. This is significantly above the current price of ~$21 a share. However, this is still less than the $31 a share median price target the 15 analysts that cover EXXI have on the shares currently.
In addition, the stock seems to be bouncing off a level just under previous long term technical support. If EXXI can rise above $22 a share, that level should provide a strong floor under the stock.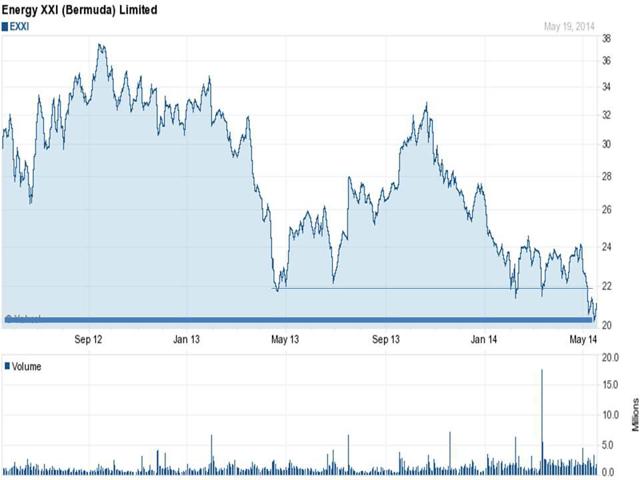 Valuation:
Recently the Energy XXI acquired EPL Oil & Gas for $2.3B including debt. The new company will produced some 65,000 BOE/D (Barrels of oil equivalent/day) of which ~70% will be oil production.
The company's earnings will be down this year as it digests this merger, but the shares are selling for just over 11x FY2013's EPS and around 10% over book value. Earnings are currently projected to grow some 25% in 2015 year-over-year and the company achieves some synergies incorporating its recent purchase.
EPL Oil & Gas was very strong in using seismic data to identify new energy formations to develop. Energy XXI has historically been strong in coaxing additional production out of existing fields. As the two companies become one integrated energy firm, the combination of core competencies should form a stronger company. This is a thesis that analysts currently back given their price targets and a patient investor also gets a 2.3% dividend payout while waiting for this stronger combined company to emerge. BUY
Disclosure: I am long EXXI. I wrote this article myself, and it expresses my own opinions. I am not receiving compensation for it (other than from Seeking Alpha). I have no business relationship with any company whose stock is mentioned in this article.