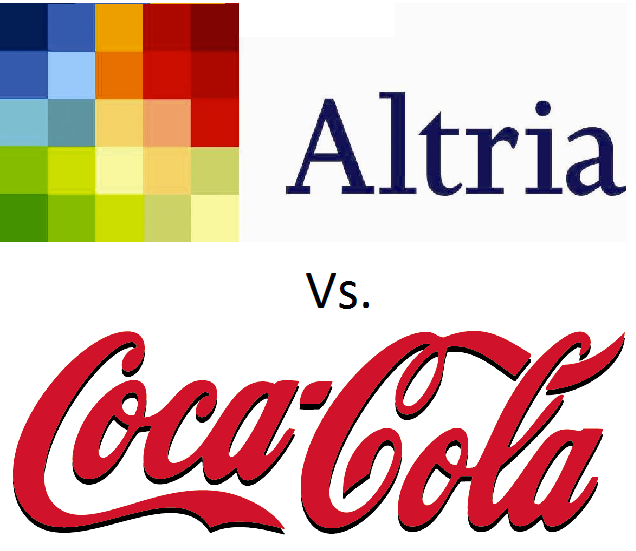 Government regulation and advertising against the cigarette industry has caused the consumption of cigarettes to decline by about 3% per year. The government regulates this industry due to its health risks so consumers can better understand the ramifications of their decisions.
The soda industry is being targeted by politicians just as the tobacco was targeted. A 12oz can of Coca-Cola (NYSE:KO) has 39g of sugar. According to the American Heart Association, the maximum amount of added sugar an adult male should consume is 37.5 grams; slightly less than once can of Coca-Cola.
Soda is not healthy. As a society, we know this. Society is continually redrawing the lines as to what should and should not be regulated. New York has banned selling large sodas. The federal government has removed sodas and candy from public schools. Whether or not it is 'right' or even beneficial to regulate personal decisions is beyond the scope of this article.
Both Coca-Cola and Altria have a long history of profitability and rewarding shareholders. They sell commodity products at significant markups thanks to their strong brand names. Which business makes the better investment going forward? This article will attempt to answer this question by examining the current events of both businesses, and comparing the two on several fundamental and price metrics.
Coca-Cola Current Events
Coca-Cola is the world's leading beverage business. Coca-Cola has been around for 127 years, has products available in over 200 countries, and has 17 brands with over $1 billion per year in sales. Coca-Cola's success is attributed to its incredible brand strength. The company ranks 3rd on Interbrand's best global brands list. Coca-Cola sells 4 of the world's top 5 carbonated beverage brands:
Coca-Cola: Created in 1886
Diet Coke: Created in 1982
Fanta: Created in 1940
Sprite: Created in 1961
Coca-Cola is facing headwinds from declining soda sales and possible regulatory pressure. Consumer perception of sodas is slowly shifting as more people become increasingly health conscious. Diet Coke & Coke Zero are the only 2 sparkling cola billion dollar brands started after 1980. Coca-Cola's sparkling (carbonated) sales are slowly declining in the US and Europe. Coca-Cola's future growth depends on its still beverages.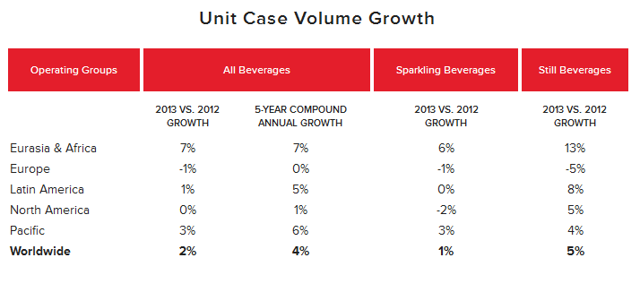 Source: Coca-Cola 2013 Year in Review
Coca-Cola has managed to grow its still brand business successfully over the last several decades. The business currently has 11 still brands with over $1 billion in sales. The business has captured an impressive 33% of global juice growth since 2007. Coca Cola grew still beverage volume 5% in 2013 versus 2012. 8 of the 10 most recent billion dollar Coca-Cola brands have been still beverages (non-carbonated).
Coca-Cola looks to expand its still brands through the company's venturing and emerging brands division (VEB). The VEB division's mission is to identify and build the company's next billion dollar brands. VEB has made several notable acquisitions and partnerships since its origin in 2007 including Honest Tea, Zico, Illy Issimo, & Fuze.
Honest Tea in particular has been a bride spot for Coke's VEB division. Honest Tea's sales have quadrupled since Coke began investing in the company in 2008. Honest Tea currently has sales over $100 million annually, with significant growth expected.
Source: Honest Tea Blog
Shareholders of Coca-Cola can expect a CAGR of around 8% going forward from growth (3% to 4%), dividends (3%), and share repurchases (~2%). Coca-Cola has historically been very shareholder friendly. In 2013, they returned about 85% of cash from operations to shareholders through dividends and share repurchases. The company plans to repurchase approximately $2.5 to $3 billion in shares in 2014.
Altria Current Events
Much like Coca-Cola, Altria (NYSE:MO) has built its business on the strength of its fantastic brands. The company's brands include smokeless Tobacco products such as Copenhagen, Skoal, & Husky, as well as the St. Michelle winery family of brands. Altria also owns Parliaments and Virginia Slims cigarettes, Black & Mild cigars. Altria is most known for Marlboro cigarettes. Marlboro cigarettes have continuously gained market share over the last 60 years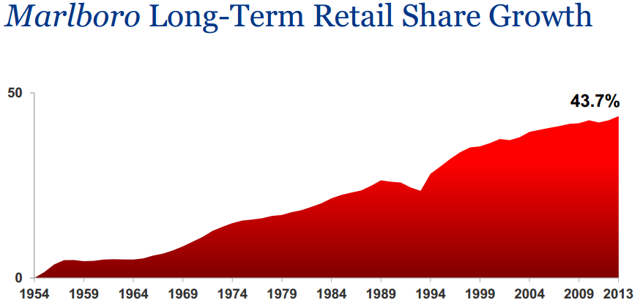 Source: Altria Group Annual Shareholder Meeting Presentation
The cigarette industry is in a slow decline. Public perception of cigarettes has gradually shifted toward negative views.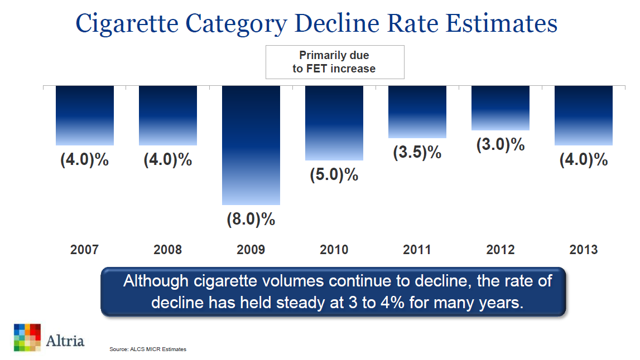 Source: Altria Group CAGNY Conference
Altria's total revenue decreased by 0.6% in 2013. The decrease is due to a -1.60% revenue growth rate for the company's smokeable products division. The smokeable products division is by far the largest of Altria's 3 divisions.
| | | | | |
| --- | --- | --- | --- | --- |
| Segment | Revenue | 2014 Rev. Growth | Op. Margin | Op. Income |
| Smokeable Products | $ 21,868 | -1.60% | 32.30% | $ 7,063 |
| Smokeless Products | $ 1,778 | 5.10% | 57.54% | $ 1,023 |
| Wine | $ 609 | 8.60% | 19.38% | $ 118 |
Source: Altria 2013 Annual Report
Altria's revenue growth should continue to stagnate due to the significant headwinds and challenges in the cigarette industry. Altria is attempting to overcome these obstacles through acquisitions in the e-cigarette industry, and expansion of their high margin smokeless tobacco products.
The e-Cigarette market in particular is a bright spot for the business. Altria owns both the MarkTen & Green Smoke brands in this category. The young e-Cigarette market is composed of many smaller businesses. Increased government regulation of e-Cigarettes will work in favor of large tobacco companies like Altria as regulation compliance costs will pose a larger burden to small businesses. The e-cigarette market is expected to grow substantially over the next decade, replacing much of the revenue lost from declines in traditional cigarettes.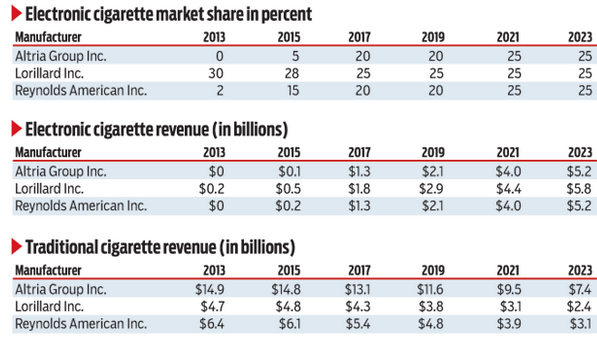 Source: Wells Fargo Securities
Comparison 1: Dividend History
Altria has paid increasing dividends (after accounting for spin-offs) for 44 consecutive years. Coca-Cola has paid increasing dividends for 47 consecutive years. Coca-Cola has the slight edge on paper in this category. Conceptually, both businesses have a fantastic long-term track record of rewarding shareholders.
Why it matters: The Dividend Aristocrats (stocks with 25-plus years of rising dividends) have outperformed the S&P 500 over the last 10 years by 2.88 percentage points per year.
Source: S&P 500 Dividend Aristocrats Factsheet, February 28 2014, page 2
Comparison 2: Dividend Yield
Coca-Cola's dividend yield is 3.00%, versus 4.77% for Altria. Altria's dividend yield is significantly greater than Coca-Cola's. Altria wins this category by a large margin.
Why it Matters: Stocks with higher dividend yields have historically outperformed stocks with lower dividend yields. The highest-yielding quintile of stocks outperformed the lowest-yielding quintile by 1.76 percentage points per year from 1928 to 2013.
Source: Dividends: A Review of Historical Returns
Comparison 3: Payout Ratio
Altria's payout ratio of 87% is high. The company targets an 80% payout ratio, as its cash flows are very predictable and it has little opportunity to reinvest cash flows into its most dominant brands. Coca-Cola's payout ratio is much lower, at 58.60%. Neither business has a low payout ratio, but Coca-Cola wins this category.
Why it Matters: High-yield, low-payout ratio stocks outperformed high-yield, high-payout ratio stocks by 8.2 percentage points per year from 1990 to 2006.
Source: High Yield, Low Payout by Barefoot, Patel, & Yao, page 3
Comparison 4: Growth Rate
Coca-Cola has grown revenue per share by about 9% over the last decade, versus revenue per share growth off under 2.5% per year for Altria. The fact that Altria can expand per share revenue even in a declining industry shows how dedicated the business is to repurchasing shares. Coca-Cola wins the growth category by a wide margin.
Why it Matters: Growing dividend stocks have outperformed stocks with unchanging dividends by 2.4 percentage points per year from 1972 to 2013.
Source: Rising Dividends Fund, Oppenheimer, page 4
Comparison 5: Volatility
Altria's long-term volatility is 20.29%, versus 18.71% for Coca-Cola. Both businesses extremely stable cash flows have resulted in low price volatility. Coca-Cola holds the slight advantage in this category as well.
Why it Matters: The S&P Low Volatility index outperformed the S&P 500 by 2 percentage points per year for the 20-year period ending September 30th, 2011.
Source: Low & Slow Could Win the Race, page 3
Conclusion
Coca-Cola outranks Altria based on the 5 Buy Rules from the 8 Rules of Dividend Investing. Altria's P/E ratio is somewhat lower than Coca-Cola's, at 18.6 versus 21.6. The slight valuation edge (and large yield edge) does not make up for how much faster Coca-Cola has grown than Altria. Coca-Cola is likely to continue growing at a solid clip as it continues to gain share in the expanding still beverage category.
Disclosure: I have no positions in any stocks mentioned, and no plans to initiate any positions within the next 72 hours. I wrote this article myself, and it expresses my own opinions. I am not receiving compensation for it (other than from Seeking Alpha). I have no business relationship with any company whose stock is mentioned in this article.