There are people who are getting worried about the current level of the general market, and although those concerns may be warranted we are more troubled by some of these commodity prices we see that appear to be mostly speculators. We have recently discussed natural gas and our thoughts on where that market will head, but palladium continues to move strongly higher even as tensions have eased a bit in Eastern Europe with Russia at least appearing to back away from a confrontation with Ukraine.
Markets can remain irrational far longer than an individual can remain solvent, so we point these types of issues out not in the hope that readers bet big in the futures market but rather so they can factor these ideas into their overall investing strategy. Generally we play the commodities markets in two ways; either we are long or have no position. Rather than taking on short positions we prefer to invest in good companies which are consumers of commodities we think are headed for a correction. This is why we would prefer to take a position in a chemical company rather than shorting a dry natural gas play.
This is something to think about in the months ahead, especially if palladium's uptrend breaks down.
Chart of the Day:
Thus far 2014 has been a great year for palladium and the ETFS Physical Palladium Shares (NYSEARCA:PALL) ETF that tracks the metal. We continue to think that a correction is warranted down the road and that taking profits is the prudent action after this run.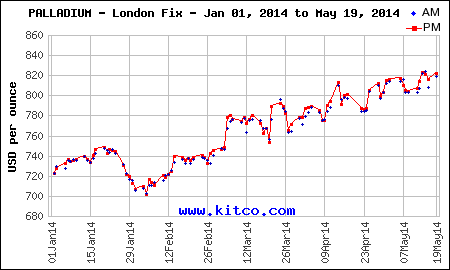 Source: Kitco
Commodity prices are as follows (at time of submission):
Gold: $1,294.50/ounce, up by $0.70/ounce
Silver: $19.41/ounce, up by $0.057/ounce
Oil: $102.49/barrel, down by $0.12/barrel
RBOB Gas: $2.962/gallon, down by $0.0026/gallon
Natural Gas: $4.562/MMbtu, up by $0.092/MMbtu
Copper: $3.1415/pound, down by $0.0255/pound
Platinum: $1,470.00/ounce, unchanged by $0.00/ounce
Investing In Shale Plays
Over the last few years we have stressed the importance of not only picking the best companies in each play but first picking the best plays. Our experience in the resource industry has taught us that if one can get the play correctly that picking out the right companies in the early innings is relatively easier. This is why we have been bullish on plays such as the Eagle Ford, Utica, Wattenberg, Permian and the extensions to the Bakken.
Recent Comments
We have recently discussed our favorite shale E&P names and the importance of picking good names in good plays; something we cannot stress enough. We remain bullish on the five previously listed areas as well as a good number of the companies operating in those plays. Right now however one can no longer just buy across the board or even simply buy the biggest land holders in an area as we are too far into the development of these areas to use those early game tactics. At the end of the day though we are believers in those shale plays as well as an emerging one called the Tuscaloosa Marine Shale, or TMS, which we have also previously discussed.
Yesterday we saw that Topeka Capital Markets reiterated their positive outlook on many of the top shale names, with specific comments that caught our eye on Diamondback Energy (NASDAQ:FANG), Rosetta Resources (NASDAQ:ROSE), Magnum Hunter Resources (MHR) and Cabot Oil & Gas (NYSE:COG). The idea behind the report was that the best upside in the industry remains with those focused on the Permian and Utica/Marcellus area.
We left a few names off of the list however Diamondback Energy, even after its monster run, remains the firm's second favorite play while Magnum Hunter Resources is one of their top small cap plays. Topeka believes that both areas will benefit during the second part of the year, no doubt due to news flow picking up and takeaway capacity improving with the continued buildout of infrastructure.
With the good news on the horizon and the economics of the plays, Topeka is thinking that the Permian and Utica focused players will benefit the most in M&A and continue to command the premiums that completed deals have sported moving forward.
Disclosure: I have no positions in any stocks mentioned, and no plans to initiate any positions within the next 72 hours. I wrote this article myself, and it expresses my own opinions. I am not receiving compensation for it (other than from Seeking Alpha). I have no business relationship with any company whose stock is mentioned in this article.