Details: Vascular Solutions (NASDAQ:VASC), Healthcare- Medical Instruments and Supplies
Recommendation: Buy at $12.60 with $17.50 Target, Stop at $10.75
Thesis: Vascular Solutions is a small cap medical instruments company, market cap of $212M, that is experiencing earnings growth north of 20% per year, and has the makings of a potential acquisition target in a consolidating industry. With a return on invested capital of 17.7%, Vascular Solutions is well ahead of peers and despite trading at 21.75X forward earnings, shares are attractively priced with a bullish long term chart. Micros Endovascular, a similar company, was recently bought for $480M by Johnson and Johnson (NYSE:JNJ), but only for a 5.5% premium.
Overview: Vascular Solutions develops solutions to interventional cardiologists and radiologists worldwide. It provides Hemostat products and catheters. In May, the Company acquired AMRTNEEDLE and pdACCESS from Escalon Medical to add to its product portfolio with the niche products, and immediately raised FY10 guidance. Catheter products account for 45% of revenues, Hemostat products account for 36%, and Vein Products account for 17% of revenues. Laser surgery for varicose veins is a growth area for the company, a condition that impacts 40 million people in the US. Vascular Solutions is aggressively expanding its product portfolio, 10 new launches in 2010, and also expanding Internationally, with 14% of Q2 sales from international markets, from 36 countries.
Fundamentals: Vascular Solutions shares trade 21.75X earnings, PEG of 1.2, 2.9X sales, and 18.5X cash flow. The Company has grown sales at a 25% clip the past 5 years and projects 35% growth in earnings next year. Management efficiency ratios are high for the industry with a ROA of 15.14%, ROE of 19.7%, and Operating Margins of 17%. Shares have an EV/Revenues ratio of 2.56.
Industry and Macro Analysis: Other players in the vascular and catheter device industry include Abiomed (NASDAQ:ABMD), AngioDynamics (NASDAQ:ANGO), Atrion (NASDAQ:ATRI), CR Bard (NYSE:BCR), Becton Dickinson (NYSE:BDX), Boston Scientific (NYSE:BSX), ICU Medical (NASDAQ:ICUI), LeMaitra Vascular (NASDAQ:LMAT), Medtronic (NYSE:MDT), Micros Endovascular (MEND, Recently Bought Out), Merit Medical (NASDAQ:MMSI), Rochester Medical (NASDAQ:ROCM), Volcano (NASDAQ:VOLC), Covidien (COV) and Zoll Medical (NASDAQ:ZOLL).
The cardiovascular and catheter market has remained resilient. The industry is highly competitive, but the market continues to grow, so there is room for a lot of players, and industry consolidation has larger medical firms looking to make acquisitions to enter this growth market, which makes the small device makers that have proven growth, strong management, and a diverse product portfolio, attractive takeover targets.
Analyst Coverage: Vascular Solutions is covered by Cannacord, Wedbush, Felti & Co., Dougherty, Duncan-Williams, and Stifel, lacking real coverage among Tier 1 firms.
Short Interest, Ownership and Options Analysis: Vascular Solutions has nearly 4% of its float short, a short ratio of 6.65. Short interest has dropped since March of 2010, but has been fairly stable. Options do not actively trade in this name and there is minimal open interest, so there is no edge in the options analysis. Institutions own 29% of shares, Insiders own 16.7% of shares, and the public owns the rest. GAMCO Investors have 3.64% ownership, Dimensional Fund Advisors own 2.49%, and Blackrock Fund Advisors own 2.17% as the three largest holders.
Technical: Vascular Solutions' shares broke out of a long term channel down with a technical breakout alert in February of 2010, a measured move to $15. Shares are currently trading at $12.60 with a fresh bullish flag forming that projects a move to $17 on a break of $13.
Click to enlarge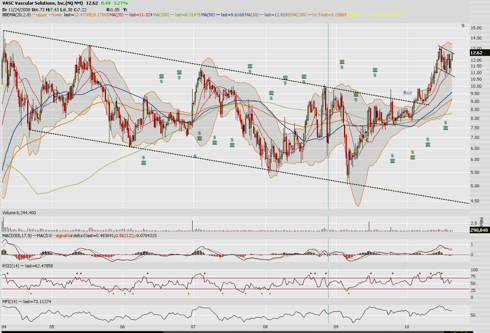 Click to enlarge


Trading Strategy: Buy at $12.60 with $17.50 Target, Stop at $10.75; Alternatively the March $12.50/$17.50 Call Spread for $1.50 offers a reward/risk > 2:1

Disclosure: Long VASC at $12.60