Has the Middle East respiratory syndrome coronavirus, or MERS-CoV, risen to the threat level where it will be declared a pandemic threat in the near future, resulting in government contracts to produce vaccines to protect US citizens? Alarmed public health officials around the world are monitoring a dramatic increase in infections of this deadly new virus.
The recent surge in infections and deaths are significant. Even more concerning are the number of new MERS cases, which seem to be growing exponentially.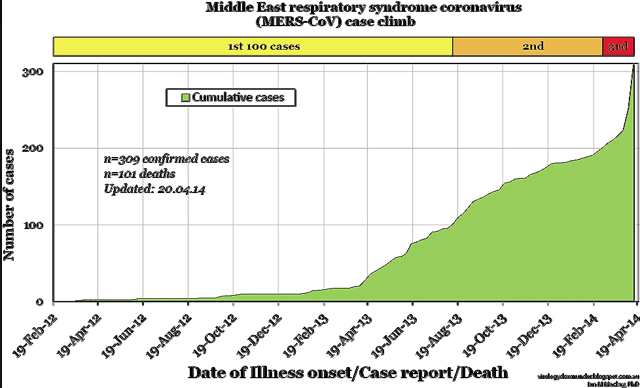 As dramatic as the recent "Virology Down Under" graphic above is, the numbers have already doubled since its publication. The World Health Organization (WHO) reported on May 16th that globally, 614 laboratory-confirmed cases of infection with MERS-CoV have officially been reported, including 181 deaths. That makes the current fatality rate 29%. Historical tracking data is available from WHO here. These numbers may be dramatically under-reported. It appears likely that there are significant cases of MERS in Africa that have not been captured in this reporting process. The National Institute for Communicable Diseases (NICD) is attempting to provide guidance to accurately capture this missing piece of the puzzle.
On Friday, May 17th, the Centers for Disease Control (NASDAQ:CDC) conducted a public briefing via a telephone conference call. This briefing was primarily focused on the three cases of MERS that have been identified here in the US. Two individuals worked in the Arabian Peninsula and traveled back to the US after becoming infected. One case was human-to-human transmission between two businessmen, where the only physical contact was one handshake. Here is CNN's coverage of that incident
On May the 17th, The Motley Fool published an article describing three companies as possible beneficiaries of potential government contracts to prepare the US against an infectious disease outbreak of MERS here and abroad - "Could These 3 Biotechs Help Fight the MERS Virus?"
The companies that were the focus of this article were:
1) Inovio Pharmaceuticals (NYSEMKT:INO)
2) Novavax (NASDAQ:NVAX)
3) Nanoviricides (Not Publicly Traded)
Of these three companies, only one, Novavax, has published data demonstrating that its MERS vaccine candidate blocked infection in laboratory studies.
Only Novavax has three full-scale vaccine production facilities that enable it to immediately start producing a vaccine now.
It appears that only one company is being contacted by both US and foreign governmental health agencies for information on the timeline for producing and providing a vaccine - Novavax.
During Novavax's May 7th Earnings Call (Transcript), Stanley C. Erck, CEO, responded to an analyst's question regarding MERS inquiries to the company.
Yes, we're getting -- there's a lot of interest -- we're starting to get inbounds from a variety of different sources, all the way to the Middle East and so it's not clear what the direction is going to be, right now. All of this surge in activity has been in the last -- just in the last few weeks. And so it's a clear problem. We have a potential solution, and we were [engaged] early enough on this to actually have published data on it, so we'll see.
Significant contracts could be disclosed much sooner than anyone following normal regulatory patterns and timeline would expect. One possible short-term intervention mentioned on this same conference call would be to provide the human vaccine product already produced by Novavax, and utilize it in the zoonotic source, camels, to stop the spread of the virus. The following statement by Mr. Erck was in response to a question by Gregory Wade of Wedbush Securities, who wanted to know what exactly a MERS medical countermeasure would look like.
From our point of view, it could be a vaccine that could be used, actually the medical countermeasure could be to prevent -- to vaccinate animals would be one way. The other would be a human vaccine, and those are the 2 that are currently on our table right now, same vaccine.
Novavax's CEO was also asked if he believed that a mass vaccination of people would be potentially acceptable, based upon the limited number of individuals currently infected? His response was:
Yes, and that actually depends on which way or which direction the disease goes. And then it might be in the geographic area.
WHO says the spread of the MERS virus isn't yet a worldwide health emergency.
No US governmental agency has declared that the MERS outbreaks have reached the threshold of an epidemic.
Although there have been no emergency declarations, many agencies in many countries are closely monitoring the situation and preparing for just such an outcome.
As an investor, I will be monitoring the WHO site that reports the most current data on new MERS infections. You can find that information here, reported by the Global Alert and Response (GAR) group. GAR is the WHO's integrated global alert and response system for epidemics and other public health emergencies.
The CDC also has a dedicated site for reporting the most recent US information on MERS.
Other US agencies involved in researching and monitoring MERS are NIAID, which also leads an interagency working group on MERS-CoV therapeutics. Other federal government agencies represented within this group include the Centers for Disease Control and Prevention (CDC), the Food and Drug Administration (FDA), the U.S. Department of Defense (DOD), and the Biomedical Advanced Research and Development Authority (BARDA). Novavax's Influenza program has received $179 million in funding to-date from BARDA.
If the infection rate continues on its current trajectory, then governmental intervention will become inevitable. Governmental, in this case, is not limited to the US, as the name implies this virus emerged from and is causing the most infections and deaths in the Middle East, at least so far.
Last week, I published a detailed look at Novavax's regulatory approval prospects, and I would like to ascribe its recent price gains to that article. A much more likely scenario is many investors are seeing Novavax as a play on the potential of an emerging MERS pandemic. Track the rate at which infections are increasing using the links provided in this article, and invest accordingly.
Disclosure: I am long NVAX. I wrote this article myself, and it expresses my own opinions. I am not receiving compensation for it (other than from Seeking Alpha). I have no business relationship with any company whose stock is mentioned in this article.