Safety defects in General Motors' (NYSE:GM) vehicles that resulted in at least thirteen deaths have put the focus on how its legal department is handling the continuing investigations.
Although the company has acknowledged that it has known about the defective ignition switches for more than ten years, it has placed the blame on the isolated work of a few midlevel employees. However, a review of interview transcripts, emails, and internal documents has now begun to paint a different picture.
For the past year, as the ramifications of the ignition problem became more obvious, top executives as well as the company's legal department, headed by Michael P. Millikin, the general counsel, have been acting with a sense of growing urgency. Once depositions began to affect senior company officers, a number of departments redoubled efforts to fix the defects in vehicles.
Did GM Ignore A Known Issue?
Prosecutors accused GM of flaunting legal provisions for ensuring driver and passenger safety standards in vehicles. As word got out about how the defective switches were responsible for the car accidents, GM's lawyers stepped up efforts to contain the information, keeping it hidden from crash victims' families and other concerned outsiders.
The ignition problem resulted in fatalities because the switch would turn off, shut down the vehicle's engine, and disable airbags. In response to the accidents being traced to defects in the vehicle, Transportation Secretary Anthony R. Foxx aims to fine GM $35 million for not immediately reporting the defects.
Why Did Top GM Executives Leave or Resign?
Since the recall of the vehicles with the defective ignition switches began, strange things have been happening at the company. Jim Federico, a top engineer, left the company, as did three other senior executives, and neither GM's lawyer, Mr. Millikin, or other high-ranking officials have been willing to talk to the financial press.
Lawmakers, Regulators, and Investigators Scrutinize GM's Slow Recall Efforts
The $35 million fine by federal regulators is only one of many problems the company faces. The Justice Department (DOJ) and the Securities and Exchange Commission (SEC) are looking into whether high-level company officers negligently ignored the growing need to recall vehicles and fix the defective switches once the cause of the accidents was identified. Anton R. Valukas, a former US attorney, is conducting an internal investigation on the matter of how the company's management handled the problems associated with the faulty switches. His findings will influence how investigators and regulators view management's key decisions on the recall and repair efforts.
Meanwhile, Mr. Foxx, the transportation secretary, believes that GM's failure to immediately and openly discuss the matter of the defective switches with regulators resulted in more deaths than would have occurred if prompt recall action and public warnings had been issued. In a news briefing, he referred to GM's silence as fatal.
GM Lawyers Admit Defect In Chevrolet Cobalt
The defective switches were found in a number or models, including the Chevrolet Cobalts. While 13 deaths have been linked to the problem, more deaths may have been involved than the officially-recognized number. With 112 crashes resulting in 122 injuries linked to recalled vehicles, there is a growing body of evidence to suggest a high level of GM management's denial and avoidance of the entire issue of engines switching off and airbags becoming deactivated.
Road Ahead For GM Investors
The tide turned against GM in September last year when GM lawyers admitted that a 2010 car accident in a Chevrolet Cobalt may have been due to the defective switch.
GM stock had proved relatively resilient to the news until recently; however, the continued stress of litigation is likely now taking a toll. YDT performance is on the decline.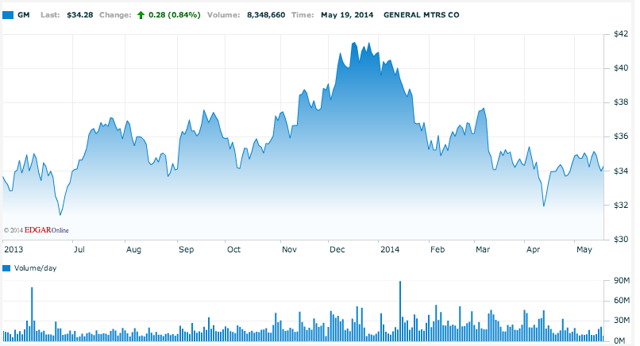 (Nasdaq.com)
GM continues to forge an ambitious path in China with a $12 billion investment in new plants (part of a three-year plan to 2017). While this is a promising market, it won't likely make up for a tarnished reputation and continued slide at home.
We suggest investors to take some profits in GM before news gets worse and consider the rocketship Tesla (NASDAQ:TSLA) instead.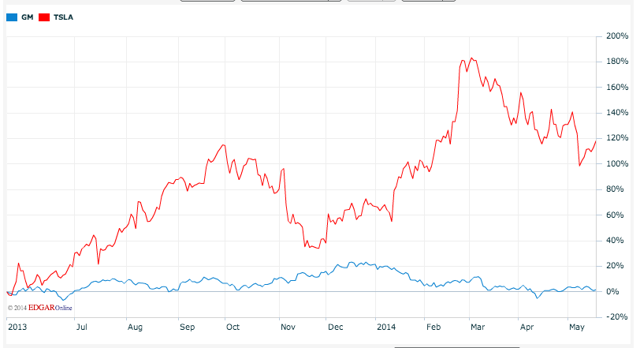 (Nasdaq.com)
We invite readers wishing to join the discussion on GM to click the +FOLLOW button above the title of this article.
Disclosure: I have no positions in any stocks mentioned, and no plans to initiate any positions within the next 72 hours. I wrote this article myself, and it expresses my own opinions. I am not receiving compensation for it (other than from Seeking Alpha). I have no business relationship with any company whose stock is mentioned in this article.