H&Q Healthcare Fund (NYSE:HQH) has announced a non-transferable rights offering to shareholders. The fund will offer one right for each share of the fund owned. The rights will entitle shareholders to acquire one additional share for each three rights held. The fund may also issue, at its discretion, additional rights if the offering is oversubscribed. The rights offering amounts to 9,426,576 additional shares or 33.33% of existing shares (28,279,728). Current (May 19 close) total net assets for HQH is $772.866M. Increasing that by a third would raise the total to $1.028B at today's price.
Pricing for the rights is interesting. A prospectus will be mailed to shareholders on or about June 5, and the offer will be open beginning June 6. Shareholders may exercise rights until Monday June 23, 2014's close. The subscription price will be 95% of the volume weighted average price for the four business days ending Wednesday, June 25, 2014.
The closed-end fund from Tekla Capital Management has been around since April 1987. It has been managed by Daniel Omstead since September 2001. Dr. Omstead has extensive experience in the pharmaceutical industry and in private, development-stage, biotech companies. HQH invests in healthcare technologies including the expanding biotechnology fields. The fund invests in publicly-traded equities and, for up to 40% of its assets, in venture or restricted securities in both public and private companies. I find this aspect of the fund one of its most appealing characteristics, as it provides an opportunity for the individual investor to gain exposure to a diversified portfolio of venture securities in the biotech arena.
I have written about HQH previously, and I refer the reader to those articles for my positive view of the fund. In October 2013, I looked at several opportunities in the healthcare sector (see article here) as Obamacare was officially rolled out. At that time, HQH was priced at a -3.73% discount to its NAV. I followed up two months later (see article here) by which time, HQH's price had moved to a premium of 1.76% for a 5% gain on discount compression alone. Since that time, the fund has moved from premium to discount and back to premium again several times as can be seen in this chart from cefconnect.com.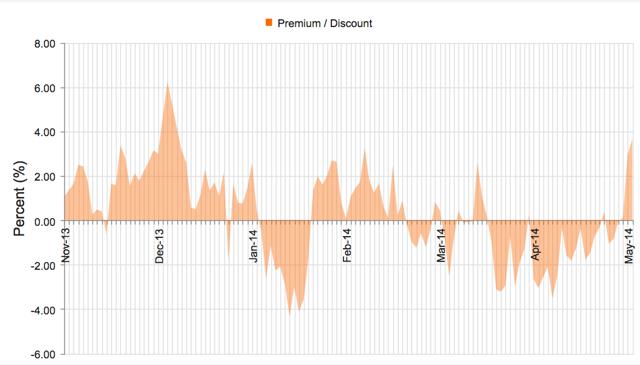 Performance has been good over a long period. Although the fund took a solid hit along with the rest of the biotech sector earlier this year, it is still up nearly 7% total return for the year. As the table below (through 19 May close, from Morningstar) shows, HQH has turned in some attractive numbers for the past year.

Total return in this case includes distributions, which the fund pays at 2% of total net assets per quarter. Default is for distributions to be paid as shares, but the shareholder can opt for a cash payment.
The charts below show 1-year and 3-year total return for HQH and 2 comparable ETFs: iShares Nasdaq Biotechnology Index Fund (NASDAQ:IBB) which is probably the best comparison fund, and the more broadly based SPDR Healthcare Select Sector Fund (NYSEARCA:XLV).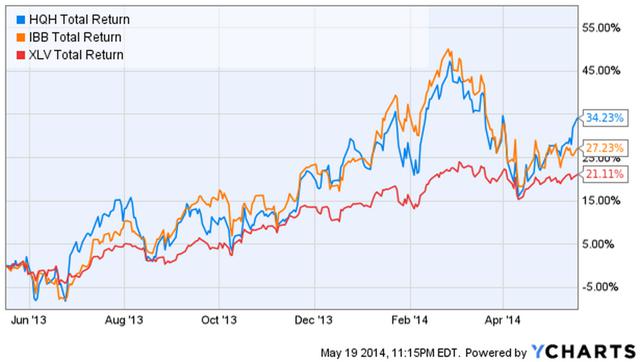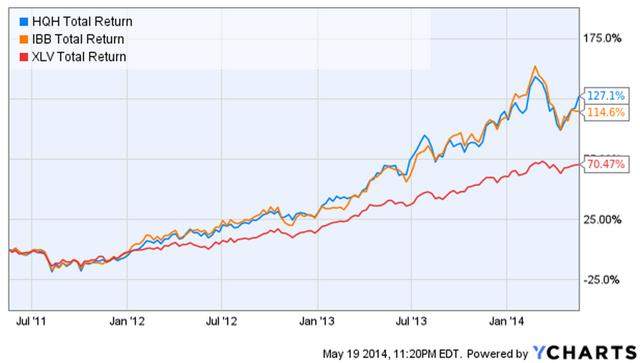 SA contributor John Dowdee reviewed (here) biotech and pharma funds recently. His analysis placed HQH among the leaders on a risk-return basis over the past 3 years. And, I would add, by strategically buying as the fund's price drops to lower discounts, one can improve on those numbers.
What interests me is the possibility that the rights offering will provide just such a discount opportunity for existing shareholders to increase their stakes in HQH. The offering will, in effect, be deducting some 5% from the discount/premium rate for the pricing period. Of course, investors may bid up HQH in anticipation of just this event. Countering that is the probability that others will be put off by the potential dilution of adding 33% to the fund's assets.
Although the rights offering was only announced at the close today (May 19, 2014), I'll note that the past few trading days have seen a strong upward move for HQH. The fund has gone from a -1.06% discount to a 3.66% premium in the past 7 trading days.
If the fund were attractively priced, I would consider purchasing new shares in anticipation of the rights offering. However, with HQH having moved sharply back into a premium situation in recent days, that is not an appealing option. If this level of premium is sustained through the pricing period, I would probably not add shares, even at the 95% rate. If, however, the premium reverts to even a slight discount, I would be likely to take advantage of the discounted offering in June. I am not anticipating this happening, but I will certainly be watching HQH carefully over the next few weeks.
Disclosure: I am long HQH, IBB. I wrote this article myself, and it expresses my own opinions. I am not receiving compensation for it (other than from Seeking Alpha). I have no business relationship with any company whose stock is mentioned in this article.