When we think of companies that have been hit hard by the wild weather of the first quarter, ones that generally come to mind are those in the retail, transportation or travel industries. Yet while these might be the most well-known losers of the weather, some companies in the chemical space were also hit hard by the uncertainty.
A great example of this trend is Airgas (ARG), a Pennsylvania-based provider of industrial, medical and specialty gases. The company blamed the weather for its recent earnings miss, as the company was projected to put up $1.20/share in earnings, but only delivered $1.15/share instead, largely thanks to the negative impact of the cold on its refrigerant business.
However, the weakness for Airgas, and other chemical companies too, could be more than just a weather-related issue. Sluggish business conditions and some economic uncertainty could spell trouble for this stock in the near term, a worry that can be confirmed by recent earnings estimate revisions for ARG.
Recent Estimates
Analysts have become extremely bearish on ARG's prospects for both the near term and the long term as of late. In fact, not a single estimate has moved higher in the past 30 days for any of the time periods that we study.
The poor trend is especially apparent when investors zero in on the current year time frame, as 12 estimates have gone lower in just the past 30 days. The consensus has also moved sharply lower as a result of these estimate revisions, as the current year has gone from $5.45/share 30 days ago to just $5.11/share today.
Next year's predictions have also deteriorated significantly, with a 7% decline in just the past 30 days. And with the company's rocky history at earnings season - the last four reports have produced an average surprise of -1.1% - there are plenty of reasons to be skeptical of this stock in the weeks ahead.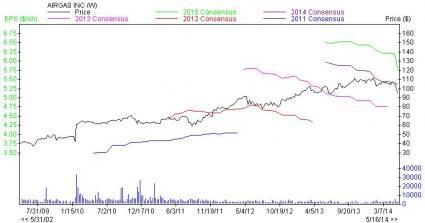 For these reasons, we are looking for ARG to underperform the market significantly over the next few months. We have even given the stock a Zacks Rank #5 (Strong Sell) putting it into the bottom 5% of all stocks that we cover.
Other Picks
For investors still looking for a pick in the chemical diversified industry the pickings are pretty slim as the segment has a rank just outside the bottom 33%. There is, however, a single top ranked stock out of the 38 stocks in this industry, Compass Minerals International (NYSE:CMP).
The stock posted a solid earnings beat in the last quarter, unlike ARG, and earnings estimates have been moving in the right direction. The consensus estimate for CMP has moved higher by 13% in the past two months (for the current year) and it may be a better choice in the near term, especially when compared with Airgas this summer.
AIRGAS INC (ARG): Free Stock Analysis Report
COMPASS MINERLS (CMP): Free Stock Analysis Report
(email registration required)