2013 was a challenging year for Deere & Company (NYSE:DE). Its share price moved only 5.7% last year, from $86.42 per share to more than $91.33 per share. Year-to-date, the stock surged more than 1.5%.
Global macro-trends present significant opportunities for Deere. The world population today stands at around 7 billion people, and in less than four decades, this number is expected to rise above 9 billion. Today, a little over half of the people on earth live in cities, and by 2050 over 70% of the world's population is expected to live in large urban areas. This inevitable population growth and migration out of rural areas and into major urban centers will double the demand for agricultural output. The Food and Agricultural Organization (FAO) projects that food and feed production will need to increase by 70% by 2050 to meet the world's food needs. This will dramatically increase the amount of agricultural equipment needed by farmers. This increase in population and demand will require the productivity of modern agriculture and advanced equipment that the company supplies. As a leading player in the Agricultural Machinery industry, Deere is well positioned to profit from these robust macroeconomic drivers, and continue to lead a growing industry over the next several years.
Deere is working to increase its market share in Asian countries, especially in China and India, where the demand for agriculture and infrastructure is growing quickly. According to a research report, the global agricultural machinery market will grow at a CAGR of 7.97% over the period 2013-2018. The global agriculture equipment sales is expected to reach $91 billion in 2015, and $122.9 billion in 2017. According to the report, one of the major drivers leading to an increased demand for agricultural machinery is the increasing global population. The growth of the population is particularly high in Asia compared to other continents. This is mainly due to the presence of countries such as India and China, which are the two most populous countries in the world.
Deere is expanding its presence in China and India to benefit from the growing agricultural equipment market in these regions. During 2013, the company opened seven new factories in China, India, Russia and Brazil. Of the seven, three are in China, two are in Brazil, and one each in Russia and India. Agricultural equipment market in China is projected to grow 10.38% over the period 2013-2018.
Deere also has a strong presence in Brazil, where it has great growth opportunities. Brazil is one of the world's largest producers and exporters of agricultural commodities. Therefore, it has a very strong demand for agricultural equipment. Brazilian farmers spend significantly on farm equipment, fertilizer and other investments. Analysts expects that agricultural machinery sales in Brazil will grow at a CAGR of around 8% during 2012-2015. As one of the fastest growing construction equipment markets in the world, Brazil also offers a great opportunity for the company's construction equipment. Brazil's construction industry is expected to grow 4.1% in 2014. To meet the growing demand for its construction equipment products in Brazil, Deere opened two new factories in Brazil, one of which is part of a joint venture with Hitachi Construction Machinery. The total investment was approximately $180 million with Deere investing approximately $124 million of the total.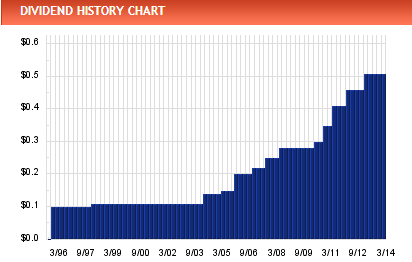 Source: dividendchannel.com
Deere is also attractive for dividend investors, offering a current yield of 2.20%. It has consistently paid dividends for the last 18 years. Over the past five years, the company has increased its annual dividend payment by over 13% per year, which is quite nice. A 13% growth in dividends translates into the dividend payment doubling almost every six years. The company's current dividend payout ratio is only 22%, which leaves substantial room for future payout growth. With more than $3.18 billion in cash, it has the ability to pay dividends for at least 10 years.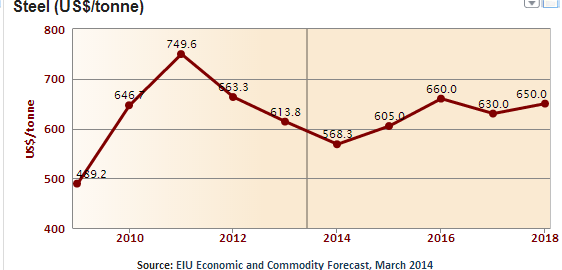 Steel prices are expected to increase in the coming years that could affect the profitability of Deere. Steel is the largest input for manufacturing in the industrial equipment industry. The majority of Deere's Agriculture and Turf (A&T) and Construction and Forestry (C&F) products are made from steel. Therefore, the price of steel is a huge factor in the cost of goods sold for the company. According to EIU forecast, steel price will increase from $568/tonne in 2014 to $605/tonne in 2015 and $650/tonne in 2018. This will result in heightened manufacturing costs for the company.
Bottom Line
Future of Deere looks promising. It has great growth opportunities in China, India and Brazil. The agriculture sector is modernizing and expanding in Asian countries that will drive the demand for agricultural equipment. Through dividends, the company will keep its investors happy for years to come. In my opinion, Deere is an attractive investment for long-term investors.
Disclosure: I have no positions in any stocks mentioned, and no plans to initiate any positions within the next 72 hours. I wrote this article myself, and it expresses my own opinions. I am not receiving compensation for it (other than from Seeking Alpha). I have no business relationship with any company whose stock is mentioned in this article.