When American International Group (NYSE:AIG) reported quarterly earnings, the company demonstrated that it was well underway in its turnaround. Its coverage ratio improved, thanks to lower debt, and share buybacks proceeded in the quarter. More importantly, the underlying business improved. In the current quarter, AIG sold International Lease Finance Corporation (ILFC) to AerCap (NYSE:AER) for $7.6 billion. Since AIG announced the sale in December, 2013, the value of ILFC rose by $2 billion. With more upside in AIG to come, why then, are hedge funds lowering their position in AIG? There are much more gains investors may make by holding shares of AIG. Below are three reasons why investors should still hold AIG.
Balance sheet
AIG's ILFC sale to AerCap boosts AIG's balance sheet by $3 billion. AerCap also paid for the unit with 97.6 million of its own shares. Thanks to AerCap shares moving up since last year, AIG gains an additional $2.2 billion, which it will record as a pretax gain. The sale of ILFC will be net positive for AIG's credit rating.
AIG ended Q1 with a book value per share of $65.49, excluding Accumulated Other Comprehensive Income (AOCI). AIG closed recently at $52.50, nearly 20 percent below its book value. When AOCI is included in the calculation, AIG's book value rises to $71.77 per share, up from $68.62 at the end of last year. Despite the discount, AIG is up 27% from its yearly low.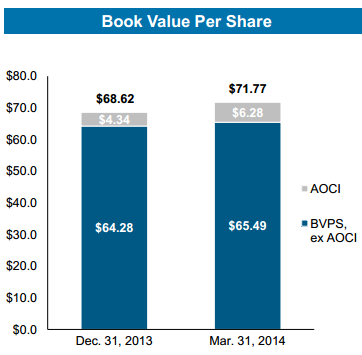 [Source: AIG]
AIG lowered its Direct Investment Book (DIB) debt by $2.2 billion, thanks to the redemption of a 3.0% Note that is set to be due in 2015.
Share repurchase
AIG bought back around 17.4 million shares last quarter for $867 million. Its repurchase authorization program still has around $537 million remaining. The firm still has $533 million earmarked for future buybacks. AIG is taking a slow pace at buying back shares, which may have been delayed until the ILFC deal closed. When the program is complete, the share float will fall by 0.7 percent.
Business units improving
Net premiums written grew 3 percent over last year. The value could have been higher, but AIG chose not to write premiums on riskier prospects. The mortgage unit benefited from an improving housing market. Both delinquencies and the expense ratio fell. This contributed to a near-doubling in operating income in the first quarter to $76 million (compared to $41 million last year).
AIG's Life and Retirement unit generated a record $1.4 billion in operating earnings. This was due to better income spreads and higher fee income. Net inflows in fixed annuities were $1 billion, compared to an outflow of $244 million last year. The inflow contributed to boosting AIG's AUM by $13 billion. Operating income from Life and Retirement was the biggest contributor in the quarter: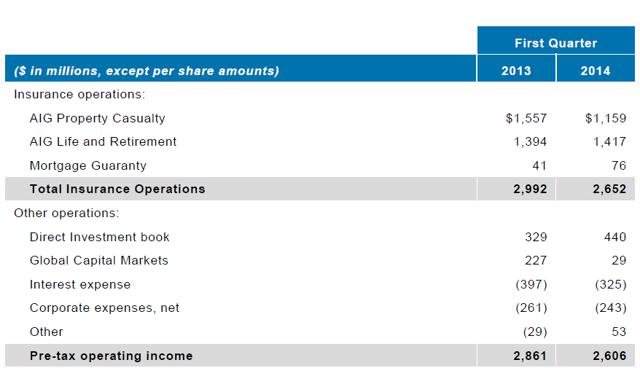 Click to enlarge
[Source: AIG]
Investors should expect the unit to be a bigger contributor to income in future quarters.
In Q1, Premiums and deposits rose to $7.1 billion, compared to $5.6 billion last year: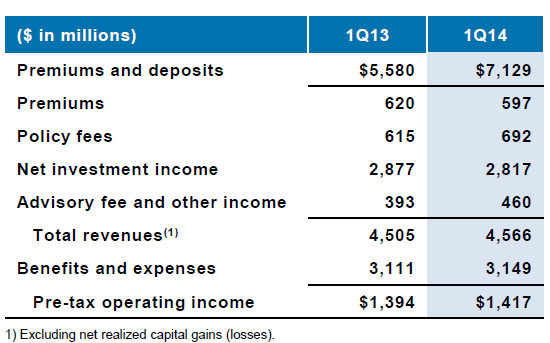 [Source: AIG]
Better results were driven by disciplined pricing on new businesses. AIG also generated good returns on alternative investments. This offset fair value losses ($79 million) involving group investments with PICC Life.
AIG now has $324 billion in AUM.
Conclusion
AIG's quarter was not entirely rosy, which puts the recovery in its shares in question. The stock still trades at a 20 percent discount to its book value, but this alone is not the reason shares will move up by that amount. The company improved its credit worthiness and balance sheet by selling ILFC. Its Property Casualty and Life and Retirement units are both generating billions in income. Along with disciplined management and strict cost controls, investors should expect these units to improve over the next few years.
It will be paramount for AIG to improve its Property and Casualty division in the quarters ahead. If successful, AIG will, with no doubt, trade at book value.
Disclosure: I have no positions in any stocks mentioned, but may initiate a long position in AIG over the next 72 hours. I wrote this article myself, and it expresses my own opinions. I am not receiving compensation for it (other than from Seeking Alpha). I have no business relationship with any company whose stock is mentioned in this article.