Microsoft (NASDAQ:MSFT) has resurfaced with its new line of Surface Pro 3 devices and they are truly impressive.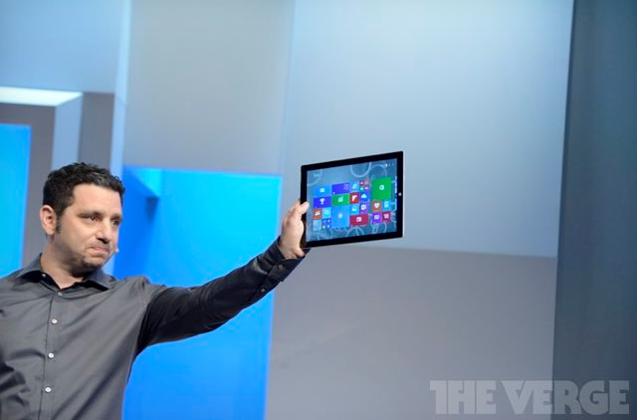 Source: The Verge
Thinner and lighter than a Macbook Air with a 12 inch screen and 3:2 aspect ratio, the new Surface weighs only 800 grams (1.8 pounds) and is barely over 9 millimeters thick. The 11 inch Macbook Air weighs 2.36 pounds and is 1.7 cm thick by contrast.
Like the Macbook Air, the new Surface Pro 3 runs the latest Intel processors, but includes processors from the entry level Core i3 all the way up to a full Core i7, with the lowest priced version at $799 coming shipping with a Core i3 processor; 4GB of RAM; and 64GB of storage. At the high end, the Core i7 version with 8GB of RAM and 512GB of solid state storage will run you $1,949.
The launch presentation gave some interesting insights into just how well the new Surface tablets take advantage of Microsoft's ecosystem, with a demonstration of an application called Final Draft which takes full advantage of the much improved pen that comes with the Surface and the Microsoft Cloud capabilities, allowing a user to make handwritten notes on a document and share those handwritten notes in real time with other parties through the Cloud, in this case editing a movie script while watching the movie under development. A New York Times crossword application also got some air and showed crossword addicts like me a powerful application that allowed a user to enter handwritten answers with the pen as they might with a newspaper crossword and have them immediately converted to digital type.
I suspect the legal profession will be drawn to the new Surface Pro. The ordeal of taking notes at trial and in depositions, and keeping track of them is something the new Surface Pro will facilitate where there has been really no highly practical solution in the market to date, at least not in the many legal proceedings I have witnessed.
The new devices cover a wide range of price points and should attract many buyers although I suspect some damage will be done to laptop demand in the process. While the entry level Surface is $799, it is still more expensive than many laptops and on an equivalent specifications basis more costly than a Macbook Air, a fact that may dissuade some. But for serious professionals who need a mobile device for real work that combines top-of-the-line Intel (NASDAQ:INTC) processors with a high resolution screen, long battery life, very light weight and the ability to take handwritten notes as seamless as writing on paper, the new Surface Pro is likely to be the device of choice. I know I will buy one.
Many had expected Microsoft to release a smaller form factor Surface today, but that did not happen.
It is too early to tell just how well the new Surface will fare in the market. For those who live in the Windows ecosystem it is a real contender, but whether it will lure any customers contemplating an Android tablet, iPad or Chromebook remains to be seen.
The new design remedies many user complaints about the Surface Pro and Surface Pro 2. It is now very light, very thin; has a more adjustable kickstand; a larger and higher resolution screen; and comes with plenty of storage and expandability. In my view, the only knock left is the price, but iOS users have demonstrated that users will pay premium prices for premium products and this one seems to fit that bill nicely.
If Microsoft can find buyers for 3 or 4 million of these tablets in 2014, the Surface line might turn profitable. The original Surface Pro had a bill of materials for the 64GB version with 4GB of RAM of about $321. I would expect the Surface Pro 3 to have a bill of materials of about that amount for the entry level version, with a lower cost Core i3 processor offset somewhat by a higher cost display and likely a higher cost pen. Across the line, the higher end version will probably have a bill of materials of about $400 to $450, with major upgrades to 8GB RAM, 512GB storage and a Core i7 processor.
With those costs and a 20% discount to retailers like Best Buy (NYSE:BBY) and Staples (NASDAQ:SPLS) assumed, margins should come in north of 35% to 40%. If so, and at an average selling price of $1,000 (given the real appeal is to performance users rather than entry level buyers), the Surface products could produce $3 or $4 billion of revenues this year and margin of $1 billion or more.
After the original Surface launch, Microsoft took a $900 million charge against unsold inventory and discounted the tablets heavily to move them out the door. Demand for second generation Surface tablets was better, but still not enough to get the line to profit and some observers put the cumulative loss to date at about $2 billion.
My reaction to the new device is cautiously positive. The device itself has tremendous appeal for me and will no doubt be attractive to many others, but the tablet market is softening and the PC market continues to decline. Sales of $3 to $4 billion in the current year would be a good result, but not enough to move the needle on Microsoft's stock price. If the product fares no better than past efforts, I don't think it will cause much of a reaction, but if the market reception turns out to be stronger than I suggest, this product could add measurably to Microsoft earnings. Time will tell.
I will be looking for sales figures in Microsoft's June quarter to tell the tale. I have no position in Microsoft at this time.
Disclosure: I have no positions in any stocks mentioned, but may initiate a long position in MSFT over the next 72 hours. I wrote this article myself, and it expresses my own opinions. I am not receiving compensation for it (other than from Seeking Alpha). I have no business relationship with any company whose stock is mentioned in this article.