Diversified Industrial companies have geared up for massive profits since the economy began to recover. After experiencing a large decline in the Great Recession, these companies reshuffled their business strategies and made their business models more defensive. A good example is General Electric (NYSE:GE), which almost completely changed its business model. The company has started restructuring its businesses to focus more on their core business rather than expanding into other business.
At the time of the Great Recession, its financial business was at 70% of total business, and it has now successfully brought the financial services business to 30% of total business. To do that, it had to restructure the business model. It has reduced its dividend to give support to cash flows in order to invest more in the industrial business. The company has made numerous acquisitions including Avio Aero and Lufkin Industries, a supplier of artificial lift technologies, and it formed a partnership with XD Electric Group, which offers high voltage transmission and grid automation equipment and services in China. It has also invested a large capital in its gas exploration and transportation businesses. GE also strengthened its healthcare business, and recently announced the bolt-on acquisition.
Due to the restructuring and shift in business, its financial performance has been impacted. Since 2009, its top line growth has been stagnant, but the company's unwavering focus on growing a high margin industrial business and cost savings led to some growth in the bottom line. However, importantly, the company delicately arrived at its goal of 70% of industrial business. The company has now established strong footprints for future growth. At the end of recent quarter, its industrial business showed a growth of 12%. Growth market revenues increased 7%; services revenues went up 3%, with double-digit growth in Aviation and Oil & Gas; and equipment revenues grew 12%. On a consolidated basis, its earnings per share increased by 9%.
Where 3M and Eaton Stand?
3M (NYSE:MMM) and Eaton Corporation (NYSE:ETN), on the other hand, do not need to make an immense change in their business models. Instead, they have to make some changes in product portfolios that suit their core businesses. They further expanded their geographic footprints while enhancing their portfolios and disposing of non-core business.
3M's business strategy is focused on three key points: investments in research, portfolio management, and business transformation. The company is looking to scale back its safety and graphics and electronic business, while enhancing operational efficiencies and offering better services. Portfolio management is its top priority. The company is spending a large amount of resources on research and development to produce innovative products, and it is also attempting to strengthen its product portfolio. The company is following a plan in order to invest around $10 billion on acquisitions in the next three years. All in all, its business strategy is working for the company, as it is generating high double-digit growth in earnings and is expected to keep its double-digit growth momentum in the coming quarters and next year.
Eaton Corporation is a powerful management company that provides energy-efficient solutions, which help its customers effectively manage electrical, hydraulic, and mechanical power. Eaton has made significant acquisition to boost its product portfolio. It has made more than 50 acquisitions and around 10 joint ventures in the past 10 years. The company has recently acquired Copper Industries and is on track for the integration of Copper Industries, which is expected to add $95 million to this year's earnings and $150 million to the next year's earnings. The company is looking to further restructure its industrial business to enhance operational efficiencies, which is expected to generate $35 million in cost savings in the next year. Overall, the company is strong and likely to generate big profits. Last year, it grew by 35% in the top line. Most of the growth comes from the recent acquisitions the company made in the past few years. In the first quarter of this year, Eaton has posted 20% growth in earnings per share. Furthermore, the company is expected to grow 12% to 14% in revenues and 20% in earnings per share this year.
Which is a good stock buy GE, MMM or ETN?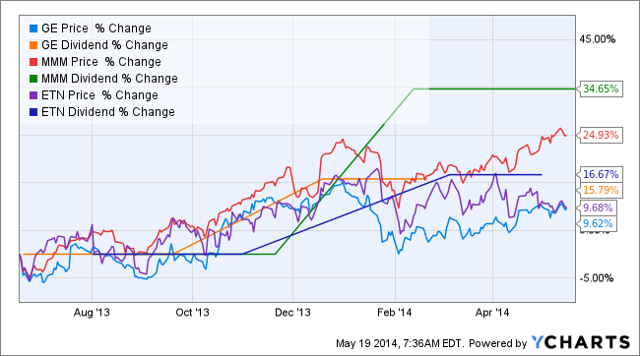 | | | | | |
| --- | --- | --- | --- | --- |
| | GE | ETN | MMM | Industry Average |
| Price/Earnings TTM | 18.2 | 18.0 | 20.4 | 21.0 |
| Price/Book | 2.1 | 2.0 | 5.3 | 2.9 |
| Price/Sales TTM | 1.9 | 1.8 | 3.1 | 1.8 |
| Rev Growth (3-Year Avg) | -0.8 | 17.1 | 5 | 3.1 |
| Net Income Growth (3-Year Avg) | 3.9 | 26.1 | 4.5 | 7.0 |
| Debt/Equity | 1.7 | 0.5 | 0.2 | 0.9 |
| ROE | 10.3 | 11.9 | 26.6 | 14.3 |
Source: Morningstar.com
All three companies have generated strong growth as compared to previous years and are expected to maintain that growth for this year, which was demonstrated in their first quarter results. Industrial companies have retained momentum from the recovering economy, which increased by 3.7% this year, and this momentum is likely to increase in the upcoming days, as the economy is expected to grow by 3.9% in 2015. 3M has outperformed both GE and ETN in terms of price appreciation and dividend growth.
3M is likely to have greater success over both companies this year, as its business strategies are generating high, double-digit growth in earnings. On the other hand, Eaton is also gearing up for strong top and bottom line growth; however, Eaton looks undervalued to me at the moment. The above table shows that it has been generating a large growth in revenues and earnings, and it is looking to generate 20% growth in earnings again this year. Its dividend growth has been high and stable over the years, and the company has potential to sustain its dividend growth. GE looks sluggish in regards to the top and bottom line performance due to the big shift it has made in its business model. However, it has now reached its strategic goals, but I am not expecting similar performance from GE as I do expect from 3M and Eaton.
Disclosure: I have no positions in any stocks mentioned, and no plans to initiate any positions within the next 72 hours. I wrote this article myself, and it expresses my own opinions. I am not receiving compensation for it (other than from Seeking Alpha). I have no business relationship with any company whose stock is mentioned in this article.