Deere & Company (NYSE:DE) continues to be one of my favorite investments in the manufacturing sector -- especially when my favorite company sells off due to some short-term setbacks. Deere & Company manufactures construction and farming equipment such as excavators, tractors, mowers, planting and seeding equipment etc. Deere & Company was founded in 1837 and has a track record of 177 years of producing quality equipment and, more importantly, has survived a variety of cyclical downswings and macro crises throughout its existence. It is that kind of track record that makes Deere & Company so appealing as a long-term investment.
Second quarter results
Deere & Company's second quarter results were disappointing to say the least, but its long-term earnings prospects should not be affected by occasional short-term bumps. For the second quarter 2014, Deere & Company reported:
Net sales and revenues of $9,948 million compared to $10,914 million in the year ago quarter: A decline of 9%.
Net sales in its Agriculture and Turf division of $7,646 million vs. $8,691 million in Q2 2013: A minus of 12% y-o-y while operating profits fell 22% to $1,229 million over the same time period.
Net sales in Construction & Forestry increased 2% y-o-y to $1,600 million while operating profits shot up 63%.
Net income of $981 million compared against $1,084 million in Q2 2013: A decrease of 10%.
Diluted earnings per share of $2.65 vs. $2.76 in last year's second quarter: A decline of 4%.
Deere & Company also updated its outlook for its farm equipment division and now expects net sales to decline by 7% in 2014 as compared to its earlier expectation of a 6% decline. While sales might be cooling off, investors need to remind themselves that Deere & Company had an awesome run over the last years producing record quarter after record quarter. Growth in net sales and earnings will have to normalize, but that doesn't mean Deere & Company is less of an attractive, long-term equity investment.
Sell-off in equities interesting buying opportunity
Shares of Deere & Company have fallen back lately just like many other equities. However, I believe the current pullback is a good opportunity to add a growing, quality business with high free cash flow to a growth tilted investment portfolio. Deere & Company is down about 4.5% from its 52-week High at $94.89.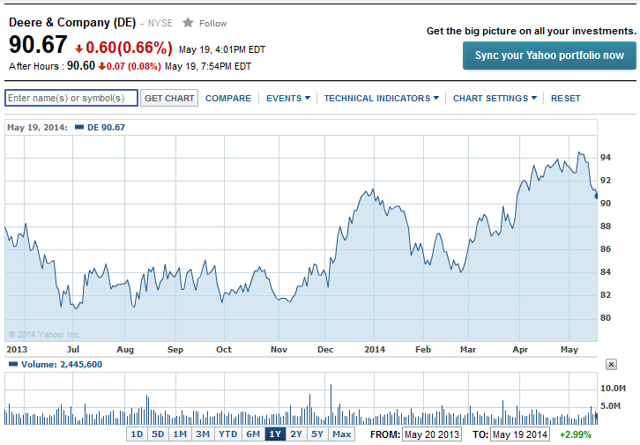 (Source: Yahoo Finance)
If we look at the share charts of Deere & Company, Caterpillar (NYSE:CAT) and AGCO (NYSE:AGCO), we can see solid upward momentum since the beginning of February. Caterpillar in particular has had a good run since December last year; the construction equipment manufacturer was hit hardest as sales slumped due to its high reliance on Chinese commodity demand. A re-pricing of Caterpillar's stock was required throughout much of 2013 as sales fell off a cliff, but I believe the manufacturer now offers investors a contrarian investment opportunity. I have recommended Caterpillar frequently, most recently at $94, and argued that investors should consider the construction equipment company before sales turn around.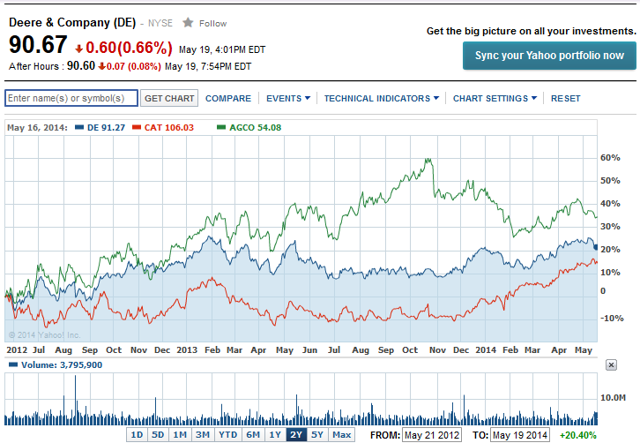 (Source: Yahoo Finance)
Secular macro trends supporting an investment in Deere & Company
There are a variety of reasons why Deere & Company is a solid bet for investors seeking to get exposure to the construction and farm equipment sector. First of all, I can hardly think of any other industry that faces such fundamentally attractive, secular trends in agriculture that should lead to sustained tailwinds for Deere & Company's business. With a growing world population and a larger share of income and wealth accruing in emerging countries over the next decades, Deere & Company is uniquely positioned to capitalize on these fundamental macro trends.
Just like potash firms, farming equipment manufacturers should benefit from the need to increase crop yields in order to feed the world's rising population and from the trend of increasing farm sizes. The world population is expected to rise to 9 billion in 2050, up from approximately 7 billion today, which will put further pressure on the food chain. Deere & Company has a good shot at capitalizing on this substantial future demand for efficient farm machinery.
Secondly, Deere & Company is much more reliant on the farming sector than Caterpillar for instance. I believe global macro trends in agriculture will turn out to be much less volatile than the ups and downs in the cyclical construction and mining business.
Consequently, I think Deere & Company is much better suited for investors who desire a lower-risk cash flow business. Caterpillar might be more suitable as an investment for anti-cyclical, contrarian investors who want to ride the recovery cycle in the mining industry.
Focus on shareholder remuneration
Deere & Company has an excellent shareholder remuneration record and funnels substantial amounts of free cash flow back to shareholders. From 2004 to 2013, Deere & Company has returned approximately $13.8 billion to investors either in the form of share repurchases ($9.1 billion) or dividends ($4.7 billion). Deere & Company also consistently repurchases its own shares: Over the last ten years, Deere & Company has repurchased an average of 17.9 million shares each year for an average consideration of $1.1 billion. Further details with respect to Deere & Company's share buybacks are provided below: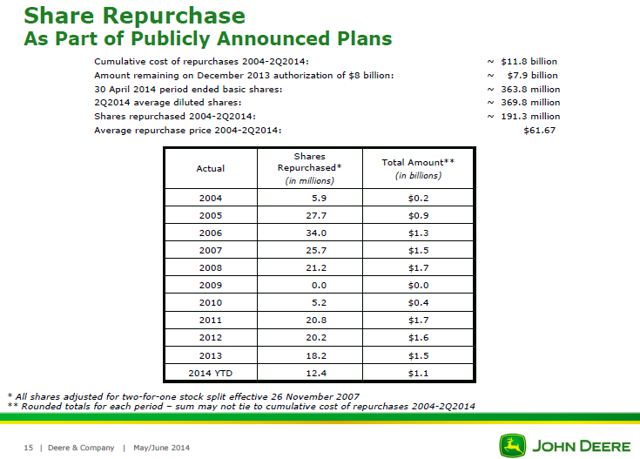 (Source: Deere & Company Investor Presentation May/June 2014)
In addition to continuous share buybacks, Deere & Company also pays investors regular dividends that have increased historically. Deere & Company currently pays investors $0.51 quarterly or $2.04 annually which translates into an annualized forward dividend yield of 2.25%. Given Deere & Company's historical dividend record and favorable long-term demand dynamics, I think investors are looking at serious dividend increases in the future.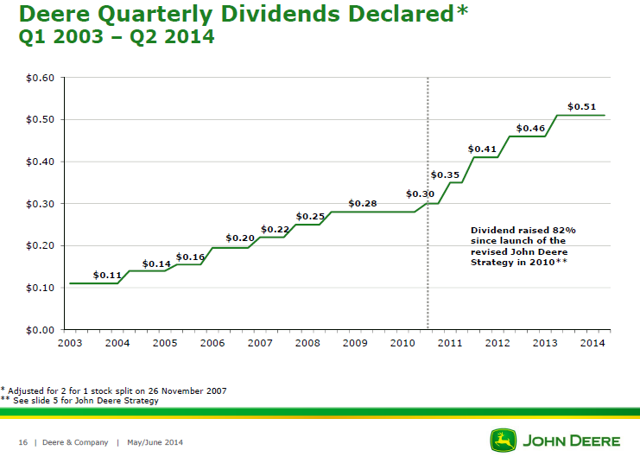 (Source: Deere & Company Investor Presentation May/June 2014)
Final assessment
If I wanted to own a business that produces quality farm equipment technology, it would be Deere & Company. With an operating record of 177 years, Deere & Company has proven over almost two centuries that it is on top of its industry and that it can weather all storms ahead. Moreover, Deere & Company has increased its international profile in recent years and I particularly see huge opportunities for the company in South & Latin America as well as in Asia and Africa where net sales in its equipment division have increased by double-digit annual growth rates in the last seven years. Add to that a focus on growing free cash flow and a determination to funnel back substantial amounts of cash flow to shareholders in form of dividends and share buybacks. Deere & Company is a well-managed, cash flow strong manufacturing business which intends to capitalize on long-term macro trends in the agriculture business (population growth, crop yield improvements). The company would be suitable for investors who seek exposure to secular trends in agriculture, whereas shorter-term oriented investors might want to consider Caterpillar for a sales rebound. Long-term BUY.
Disclosure: I am long DE. I wrote this article myself, and it expresses my own opinions. I am not receiving compensation for it (other than from Seeking Alpha). I have no business relationship with any company whose stock is mentioned in this article.