Shengkai Innovations (NASDAQ:VALV) is a ceramic valve maker in the People's Republic of China. The selling point of ceramic valves is that they do not corrode, making them more durable and longer lasting than the typical metal valves that are currently in use. This is very important for the industries that rely on them, considering that facilities often have to shut down operations to fix problems with valves.
Shengkai operates in this niche market and happens to be one of the few ceramic valve producers in the world. It also happens to be one of the select few that offer R&D, engineering, and manufacturing all within the ceramic valve field. On top of all of this, it has patents in several areas and is the only producer of large size valves with calibers greater than 6'. All of this means it is one of the few key players in an expanding global industry in the second largest and one of the fastest growing economies on the globe.
Recent Positive Developments:
In June, Shengkai Innovations completed construction on a new manufacturing facility that is supposed to triple its total output. The facility has been open for most of the third quarter running at a temporary partial capacity (7,500 units annually as opposed to 24,000 units) to make sure everything is running smoothly.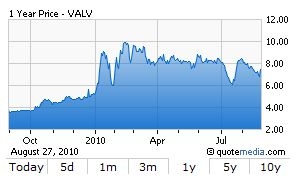 Shengkai was recently named a "high technology" enterprise in China, meaning that its tax bracket has been reduced to 15% for the years of 2009-2011. A partial refund of 2009 taxes paid will be received.
In late August, Shengkai was awarded a contract to supply Hong Kong's power generation facilities. It took over a year of testing for the final decision to be made and Shengkai was the selected winner. It is currently filling three orders from the Hong Kong power industry.
The Chinese government has decided to allow their currency fluctuate based on market factors. Over the mid-term to long term, the US currency will likely suffer due to inflationary pressures. There is potential for added gains to be reaped by US investors due simply to changes in the exchange rate over the next few years.

Negative Developments:
At the beginning of August, Shengkai said that its previous financial statements were not to be considered reliable because they failed to account for cost of the warrants and convertible preferred stock that they provided executives and partners during the initial reverse merger that formed the company. These new liabilities appear to be worth about 78M from the revisions made to their financial statements. While this is a non-cash expense, for now, it is still worth considering knowing the company will have to eventually pay this money out.
Back of the Envelope Metrics
It is clear that this company has a quality product, a large market to grow into and the capability to grow fast. Let us look at the numbers to determine what this company is really worth.
In FY2009, Shengkai had revenues of $39.2M and Net Income of $13.5M. This represents year over year growth of 21% in revenues and 35% in profits. When we look at the FY2010 and ignore the one-time, non cash, expense that company took to correct for the way it had previously accounted for outstanding warrants we get the following results:
In just the first three quarters of the current fiscal year, Shengkai Innovations has managed to match its revenues from the previous operating year ($39.1M). This does not include its fourth quarter results that ended in June 2010. This also does not provide any sort of insight to the potential future growth that will come from their new facility that opened in June. The next two or three quarters will really begin to show the earnings potential of this company. Its total profit for the first three quarters of its FY2010 is $11.6M. This figure comes in just under what they earned for the entire year prior.
The company experienced growth rates of 30% in earnings from 2008-2009. I think it's fair to say that similar growth can be expected from 2009-2010 (FY ended in June) and, being conservative, we can expect 30% to continue for the next two years beyond that (keep in mind that the new plant is supposed to TRIPLE capacity so these figures should be well within reach).
With earnings coming in at $13.5M in 2009, if we compound that by 30% for three years we end up with a figure that is $29.7M. If we discount this back three years, at an 8% rate, we get a number around $23.5M.
(13.5M)(1.3)3
(1.08)3

This should be the present value of its future earnings. Now, stocks typically trade at a multiple of such earnings and growth companies tend to command quite the premium; however, given the uncertainty of the globe in its recovery, equity prices may be a bit more depressed than usual. So, as opposed to applying a multiplier of 20-30 that may be typical of companies with 30% growth rates, we will simply use the US average multiplier of 15. This suggests the company is worth $352.5M currently using the most conservative numbers and growth that are likely to be understated.
23.5(15)=352.5
23.5(25)=587.5

Shengkai Innovations' current market capitalization is right around $170M, suggesting that shares are currently worth at least twice their current amount and have large amounts of growth to fuel them from there. It is easy to imagine a case where the shares are trading around $30 a share 5 years from now (assuming no further dilution).
The other positives to note about the company are its complete lack of debt. The majority of its liabilities come from the expense of exercising warrants in the future. While this is a real liability and should be accounted for, it should also be noted in the event of a prolonged global slow-down that this is not debt that would put the company under. It would also not be in the executives' best interests to exercise warrants to purchase shares in a company where the very act of exercising the warrants puts the company's financial health in jeopardy.
I am, therefore, much more comfortable with this kind of liability. Cash flow has been positive and the balance sheet looks good when considering the major liabilities are not debt. Even this number should begin to look better as earnings come in, adding to assets to offset the negative equity. (Keep in mind that, with negative equity, it may be likely for the company to issue more shares so it is something worth keeping your eyes open for).
This company may prove to be a great opportunity, at a reasonable price, when US equities appear to be overvalued and have small growth prospects over the coming years. Let me know what you think or ask any questions that you may have below.
Disclosure: Author has been long VALV since January 2010. Any recommendations made in this article should be thoroughly researched by any individuals considering taking the advice given. Individuals should, at the very least, review a company's annual/quarterly statements and releases to determine their current position and the risks that are involved with such an investment.