After publishing two articles on Antares Pharma (NASDAQ:ATRS), "Could Teva & Pfizer End Up In A Bidding War For Antares" and "Antares Pharma: Recent Sell-Off Provides Great Entry Point", it hasn't been a fun or profitable few months watching the stock price plunge. I keep getting the question about what is wrong with Antares and if I am still a believer in the company.
As far as what is wrong with the company, I always like to remind others that the stock price does not necessarily indicate the health of a company, but is related more to investor sentiment. My case in point is that Antares stock has mostly followed the movements of the SPDR Biotech ETF (NYSEARCA:XBI) and iShares Nasdaq Biotechnology ETF (NASDAQ:IBB) in lockstep over the past 3 months, albeit with a higher beta.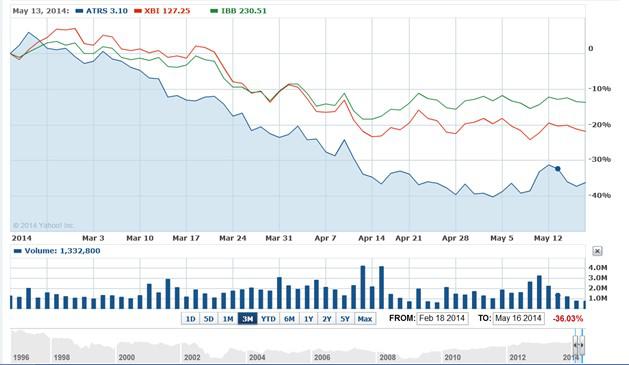 Source: Yahoo Finance
Also, you have to look at the short interest in the stock, which has steadily risen almost 50% over the same time frame to an astounding 17.5 million shares, as of April 30. Those 17.5 million shares short represent 15% of the public float, and would take almost 12 days to cover at a trading volume of 1.5 million shares per day. In addition, the shorts have continued to pile on since April 30, as short sales have accounted for a majority of the trading volume in May.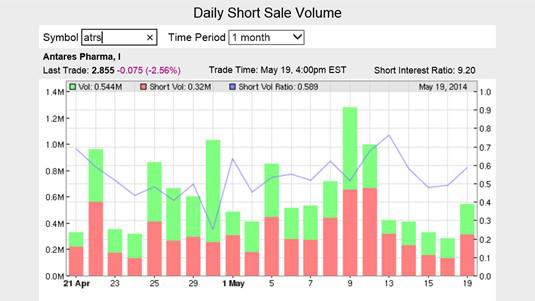 Source: shortvolume.com
As for whether I am still a believer in the company, my answer is "Yes", and I have used the recent weakness in the share price to significantly add to my position. I do need to point out, however, that I am closely monitoring the company, and feel it's important to keep an understanding of the bear case for the stock and why so many shorts have piled on. I mean, it can't be purely sector rotation out of biotech and small pharma stocks, right?
Bear Thesis
On the Q12014 conference call, Antares management stated that around $23-25 million would be the break-even point for Otrexup. This equates to about $6 million in quarterly expenses to manufacture and market Otrexup, and when combined with another $7 million in quarterly expenses for corporate R&D and G&A, the company operates at a $13 million quarterly cash burn before collecting on sales. With the legacy partnered products producing roughly $1.5 million in quarterly cash flow, Antares needs Otrexup to really start ramping up sales to cut into the $11.5 million quarterly cash burn rate. I am excluding development revenue, as I feel that it is non-recurring, or at least hope that's eventually the case as the Teva products finally get marketed.
After subtracting product sales allowances from Otrexup total sales (to get net revenue), I estimate that Otrexup may end up bringing in about $400 cash flow per month for each patient. This means that 9,500 monthly Otrexup patients will be needed for the whole company to break-even for a quarter, at least on a cash flow basis. Given the relatively slow ramp-up that's been expected and seen with some of the weekly script numbers, the company may be required to delay some R&D work on the pipeline to conserve cash. Considering that the company has stated that it will be July or August before it starts seeing a jump in Otrexup scripts, the bear case for the launch would likely be:
| | | |
| --- | --- | --- |
| Month | Patients | Net Revenue (thousands) $ |
| April | 600 | 240 |
| May | 800 | 320 |
| June | 1,000 | 400 |
| July | 1,200 | 480 |
| August | 1,600 | 640 |
| September | 2,000 | 800 |
| October | 2,400 | 960 |
| November | 2,800 | 1,120 |
| December | 3,200 | 1,280 |
| | Total Otrexup Net Revenue | $6,240 |
Using these assumptions, it would mean that Antares would burn about $28 million by the end of year, which would leave the company with only $11 million in cash and another $21 million in short-term investments. While the number of new patients (net of users who discontinue use of Otrexup) will certainly not be the round, linear numbers as I modeled, the bottom line is that Antares stock price will be highly levered to the success of getting near the 9,500 monthly Otrexup patients before the company starts to run out of cash.
Competition
Another factor that many of the short sellers are likely latching onto is the July 10, 2014 PDUFA date for Rasuvo, which is a competing product from privately-held Medac Pharma.
Medac and Antares are involved in litigation, with both companies suing each other for patent infringement. While I continue to believe that Antares will be able to get an injunction on Rasuvo until the litigation is settled, the stock will only get more volatile as July 10 approaches without an announcement from either company. I am also of the opinion that Medac and Antares will eventually end up settling out of court, which will likely pave the way for Antares to partner with a large pharma and launch Otrexup worldwide.
Catalysts For A Short Squeeze
Other than a large ramp-up in Otrexup scripts and a favorable announcement in the litigation with Medac, there is an under-the-radar catalyst that I believe could send the shorts scrambling to cover their bets: FDA approval of one of the Teva (NASDAQ:TEVA) Pen Products. On the Q42013 conference call, Antares management stated:
On the partnership side of the business, we expect our Teva relationship will continue to flourish, and we expect to reveal the identity of Pen one as it has been submitted to the FDA. Teva will of course control the announcement.
Then, on Teva's Q12014 conference call, Teva management stated:
In addition, as part of our life cycle management, for example in the CNS and for sub-Q injection, we also are working with the device group, we have an integrated device group serving both our generic and branded portfolio and looking at novel devices that truly enhance compliance, adherence and convenience for patients.
And if you refer to page 15 of Antares' most recent 10K, it states:
We have designed and produced prototype pen injectors for the second pen injector product. Teva believes the regulatory pathway for this product is an ANDA pathway. Teva has initiated drug stability and completed the device development program and filed an ANDA with the FDA in the second half of 2013. There is also a concurrent development program which was initiated in 2011 for this product in Europe. If the drug stability and ANDA filing are successful, full commercial development of the device molds, tooling and automation equipment will need to be completed during the regulatory review process.
Since the ANDA was filed in the second half of 2013, a 10-month review period would put the approval window in the May-October 2014 time frame. Approval of a Teva Pen would be a watershed moment for Antares investors, after waiting over 6 years for more information on the still-undisclosed product. The royalties and device sales for the pen product would likely provide Antares with enough cash to continue its pipeline development and delay (if not eliminate) the need for the company to raise more cash through another secondary offering.
Conclusion
Although I am still an Antares bull that has been using the recent weakness to add to my position, I feel it's important to understand the bear case for the stock, particularly when short sellers have been making such huge bets. I'll be keeping a close eye on the Otrexup launch and litigation, however, as the whole bear thesis seems to be based on these items. If Antares doesn't announce an injunction on Rasuvo as June starts nearing a close, I'll be looking for ways to hedge my long position through put options or selling into any strength.
Disclosure: I am long ATRS. I wrote this article myself, and it expresses my own opinions. I am not receiving compensation for it (other than from Seeking Alpha). I have no business relationship with any company whose stock is mentioned in this article.