The U.S. Census Bureau and the U.S. Department of Housing and Urban Development (HUD) released on Friday the numbers for April housing starts. The continued increase in housing starts confirms the simultaneous and ongoing ramp-up in employment for private residential construction.
The 413,000 new privately-owned housing structures with five or more units represent a very robust 70% year-over-year increase, and continue a strong post-recession trajectory. These housing starts have not been this high since January, 2006, which was essentially the peak of the last cycle. That peak occurred during a near 15-year stretch of relatively stable economic activity for multi-family housing.
Privately-Owned Housing Starts: 5-Unit Structures or More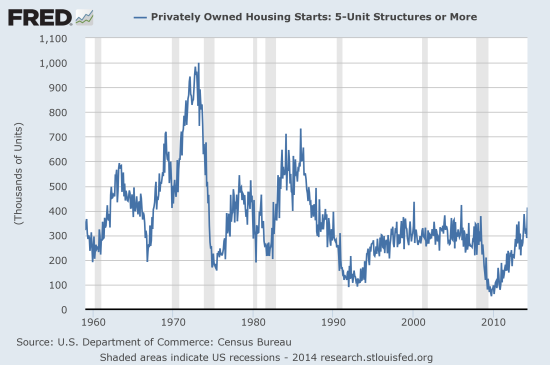 Source: St. Louis Federal Reserve
The story is much different for single-family housing starts. While the 649,000 starts for April are up 9.8% year-over-year, they are behind the even more robust numbers from November and December of last year. Moreover, single-family starts remain WELL below even normal levels from the last housing cycle. So the post-recession rate of growth continues to support the strong results of publicly-traded home builders, but plenty of upside still exists if a path to normalization opens up.
Privately-Owned Housing Starts (Seasonally Adjusted, Annualized): 1-Unit Structures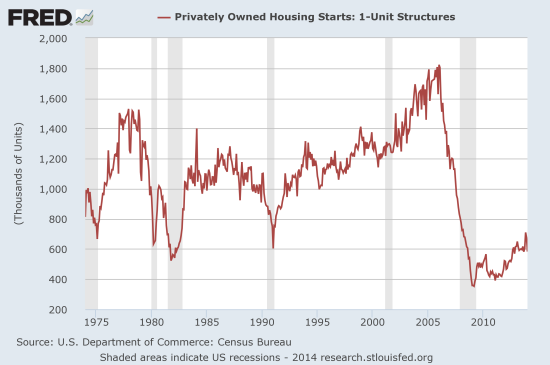 Source: St. Louis Federal Reserve
Interest rates are also supporting housing. Instead of increasing this year, as expected, rates are on the decline. I assume that part of the trend was helped by Fed Chair Janet Yellen expressing concerns that housing has disappointed this year (at the last Joint Economic Committee, U.S. Congress). I believe this disappointment is relative to very high expectations going into the Spring selling season. Whatever the reason, yields on U.S. government bonds are dropping again, and slowly but surely taking mortgage rates down with them. This decline will support housing demand to the extent that there are sufficient buyers who can qualify for loans.
U.S. interest rates are on the decline again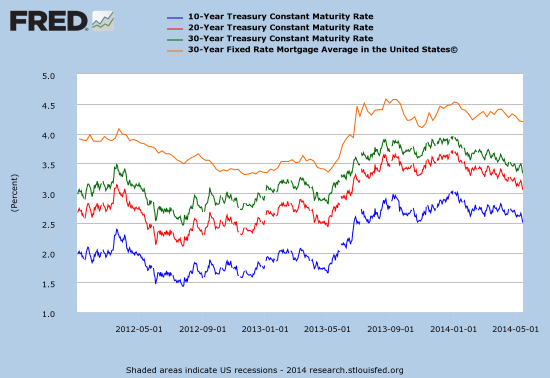 Source: St. Louis Federal Reserve
Declining rates also help housing affordability. The Housing Affordability Index plummeted last year when housing prices skyrocketed. Affordability has rebounded sharply since last September. The pace of growth in housing prices has cooled down with the price of a median single-family home plateauing last Fall and declining into February of this year. Median family income has continued a slow march higher over this time. Home prices are not likely to come anywhere close to last year's surge. Combining this likelihood with steady median incomes and a slight decline in mortgage rates, affordability should nudge higher in the next few quarterly updates. Note that overall, housing still remains more affordable than it has anytime before the last recession, going back to the 1980s. Detailed data on housing affordability are available from the National Association of Realtors.
Housing Affordability Index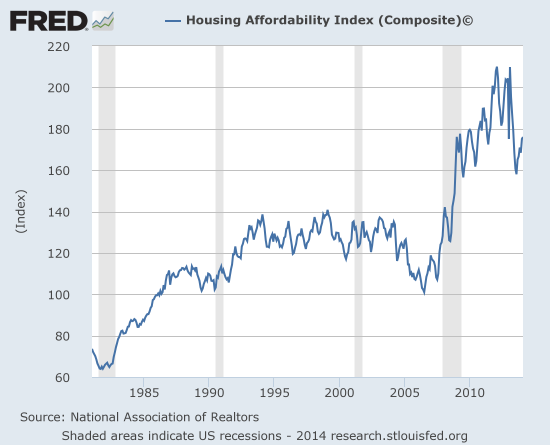 Source: St. Louis Federal Reserve
Finally, sentiment among home builders remains relatively stable. The Housing Market Index (HMI) dropped a point in May to 45 from a downward-revised April reading. A breakdown of the components provides the evidence for continued stabilization. Only sentiment for present single-family detached fell. Sentiment for the next six months increased, along with the traffic of prospective buyers. The small uptick in forward-looking sentiment is consistent with the forward-looking indicators outlined above.
Components of the National Association of Home Builders (NAHB)/Wells Fargo Housing Market Index (HMI)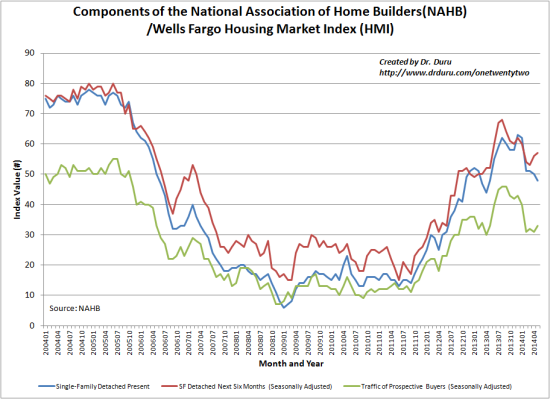 Source: National Association of Home Builders
Taken together, these indicators suggest that housing will have a solid, but nor robust, year. I will go so far as to say that the risks are mostly to the upside from here. Any pickup in the economy should rapidly transmit through the housing market, especially in markets that are still struggling with inventory problems.
The ongoing delay in housing formation is another upside risk, as these delays are creating pent-up demand. However, increasing student debt is the next looming headwind for new household formation. A recent blog posted at the New York Federal Reserve's Liberty Street Economics titled "Young Student Loan Borrowers Remained on the Sidelines of the Housing Market in 2013" shows that not only has home ownership declined for 30-year olds, but also the rate of ownership has declined more sharply for 30-year olds with student debt. These young people now have a lower rate of ownership (represented by the proportion with home-secured debt) than 30-year olds with no student debt. Moreover, the credit scores of young people (at age 25 and age 30) have improved markedly since the recession started, whereas those same young people with student debt have shown almost no improvement.
There are many other slices to these data that warrant unpacking, but the overall message appears to be that, to an increasing extent, young people who incur debt for their education are becoming less able (and/or willing) to take on home mortgages than their counterparts with no such debt. This does not bode well for the market for first-time buyers. Indeed, the results from publicly-traded home builders continue to demonstrate that first-timers are yet to contribute much to the heavy lifting for the housing recovery.
This confluence of signals provides interesting challenges for investors in home builders. If I am correct that the balance of risk is to the upside, it makes sense to wait out the current churn and growing stalemate. Home builders are generally still reporting strong results, but it is not possible to tell when the market will care again. The looming headwinds are rooted in demographic shifts that could still take many more years to resolve. IF they turn out to be shock waves from the recession, resolution could deliver significant upside to the housing market.
The iShares U.S. Home Construction ETF (NYSEARCA:ITB) is a good place to "sit and wait." I still like the home builders I have covered in previous posts, but ITB should at least buffer investors from any company-specific missteps as the builders negotiate the sluggish housing recovery. ITB underperformed the S&P 500 (NYSEARCA:SPY), with "only" a 17% gain. This year, it is underperforming again, trading down 6.5%. This performance divergence should close quickly in a scenario with upside resolution for the housing market.
ITB has churned in a tight range for about a month around its 200-day moving average (DMA) and just under its 50-DMA. I am watching closely for the direction of a breakout.
iShares U.S. Home Construction ETF is still in a holding pattern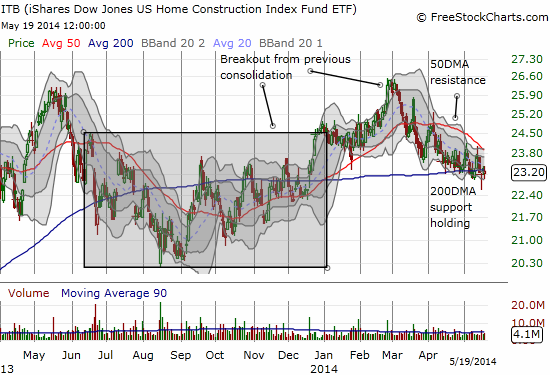 Source: FreeStockCharts.com
Be careful out there!
Disclosure: I am long ITB. I wrote this article myself, and it expresses my own opinions. I am not receiving compensation for it (other than from Seeking Alpha). I have no business relationship with any company whose stock is mentioned in this article.