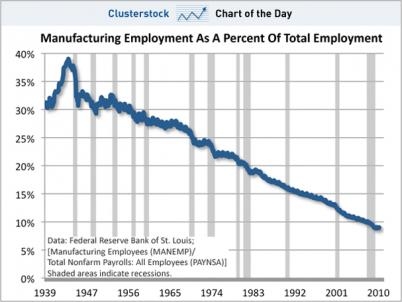 Happy Monday to all. I hope you all are ready for a busy economic data week, which could mean a lot of down days, but I am hoping for some surprise data. This morning we got some news that personal spending rose 0.4%, which was better than the 0.3% expected. That data helped pare earlier future losses, but the market still appears to be opening lower. I would venture to guess we will probably see a rather neutral day today with losses and gains overall being minimal. On Friday, we finished up the week with a long-term position in ManPower Inc. (NYSE:MAN). The company looks poised to grow as the employment market continues to grow.
Let's get into today's positions…
Buy Pick of the Day: Donaldson Company Inc. (NYSE:DCI)
Analysis: Monday does not appear to be a high flying day in either direction particularly. The stock market got some news on personal income and spending that was mostly as expected, and the market's futures all point for a slight downwards open. If anything, I would expect an open in the red with a small pop and a back and forth neutral day. For the most part, things will only move on company specific information. One such company that has a lot of reason to move to the upside is Donaldson Company. The filtration system company is expected to report earnings in after hours that are significantly better than one year ago.
DCI is looking to report an EPS of 0.64 versus one year ago's 0.30. This is an over 100% improvement on profits from one year ago, and it should be reflected on some stock movement. The company got about a 3% boost on Friday, but that came after a month long drop of just under 15%. Therefore, the stock drop and bearish market of late has pushed the stock value down significantly, and it should recover nicely prior to earnings and after if earnings are as good as expected.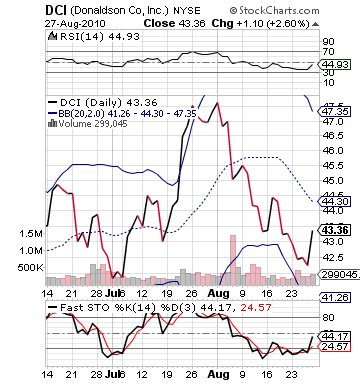 Investors should feel somewhat confident about DCI from its industry - pollution and treatment controls. In the sector, since the beginning of August, four out of five reporting companies have reported surprise earnings of more than 25%. The company's biggest competitor, Cummins (NYSE:CMI), reported a surprise profit of more than 35%.
Technically, the stock is slightly undervalued on RSI below 50. The stock is below its 50 day moving average. It has around 10% movement to its upper bollinger band and only about 4% to the bottom. The stock is still slightly oversold, but the K & D lines are pointing upwards, moving towards oversold, and separating, which is all a good sign that buyers are entering the stock.
Everything appears to be lining up for a nice day for DCI into earnings.
Entry: We are looking to get involved from 43.00 - 43.30
Exit: We are looking to exit for a 2-3% gain
Stop Loss: 3% on bottom
Short Sale of the Day: CSG Systems Inc. (NASDAQ:CSGS)
Analysis: CSG Systems got a very positive upgrade this morning from Oppenheimer that rated the company as a Buy with a price target at 23. CSGS provides customer care and billing solutions to cable and satellite companies throughout the USA and Canada. Comcast (NASDAQ:CMCSA), DISH (NASDAQ:DISH), and Time Warner (TWC) all use them for customer care solutions and billing solutions. The company is definitely a growing company that was founded just fifteen years ago, and they may be a nice candidate for a long-term position.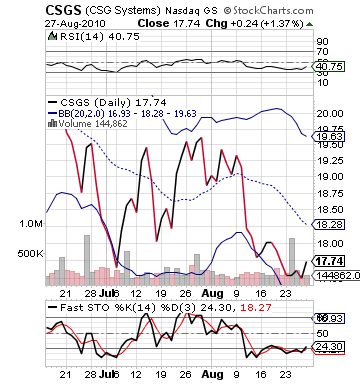 Despite the good news, I think the stock will give up some gains as it has made a major move in pre-market of over 4.5%, and it is moving very close to its moving average. The stock has a lot of upside to its upper bollinger band, but is a low volume trader. A lot of these traders will be wanting to get out, and I do not see demand being high for such low volume. For that reason, I think that it will have a nice small pop, but the demand will wane. Then, the price will fall.
We are looking for it to move up another 1-2% from the open before making its drop. That will put it right at that 50 day moving average, moved into fair valuation, and brought fast stochastics into an overbought area.
Good luck here!
Entry: We are looking to enter at 18.80 - 19.00
Exit: We are looking to exit for a 2-3% gain
Stop Loss: 2-3% on bottom

Disclosure: No positions