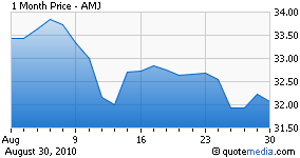 MLPs had a tough time in August, like the rest of the markets. The Alerian MLP Index began the month at 329 and reached its highest yearly close of 334 a few days later (needing just another 9 to set a new record). Since then, it pulled back to 322, still up 37 (13%) YTD with a yield of 6.8%. But a new record for the base index will have to wait. The comparable index with reinvested income was down only 1% in August and has risen 140 to 895 (19%) YTD into record territory.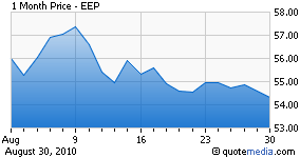 One major development for MLPs was the oil spill from an Enbridge Energy (NYSE:EEP) pipeline in late July near Marshall, Michigan (built in 1969). From its yearly high of 60, EEP sold off to 51, and then rebounded to the 54s at a time stock markets have been weak. Clean-up efforts are going well because the company has better management than BP (NYSE:BP) and learned from mistakes made in the Gulf. EEP set up a website to report progress on the clean up.
MLPs have been benefiting from increased publicity and awareness, especially this year. New funds were started to invest in MLPs, creating more demand for units. But that activity has dropped off in H2, which could be partially responsible for the decline in August (along with a falling stock market).
The sharp decline in Treasury yields has affected MLP prices but it's difficult to assess. Treasury yields have plunged since the start of April. The yield on the 10-year Treasury bond dropped from 4% to 2.6% by Friday (just above its lows under 2.5% last week).
In that same period, the Alerian MLP Index is up 19 while popular averages are lower. MLP yields are more than 400 basis points above the yield on the Treasury bond, a respectable premium for extra risk on MLPs. However, when risk averse thoughts moderate, yields will rise and MLP yields could tag along and bring falling prices.
MLPs have already had one of their best years, which is more impressive following the best year in history, so good it will be virtually impossible to replicate. MLPs are yield plays and the sudden plunge in yields by Treasuries is driven by the return of risk averse thinking.
Even if the index remains at its present level by year end, MLP unit holders (generally) have one more distribution in Q4 and some will be increased. At present levels, the index is only 5% below a new record, many stocks would envy such a position.
Disclosure: No positions