The miners of iron ore spent the last few years ramping up production capacity, and now they are ramping up production. The price of iron ore has steadily fallen in 2014 as inventories in China have steadily risen. Bloomberg quoted figures from Shanghai Steelhome Information Technology Co. indicating that China is now sitting on a record 112.55M metric tons of iron ore. Iron ore producers have thrived during this period as volume has made up for price on top of very low production costs. Rio Tinto (NYSE:RIO) starts losing money at a mere $44/metric ton; BHP Billiton Limited (NYSE:BHP) at $56/tonne (data from "Miners in spotlight as iron ore drops below $US100 per metric tonne"). On Monday, iron ore finally slipped under the psychologically important $100/tonne level. The weekly chart of RIO shows how the company's stock rebounded nicely from last summer's lows but has mainly churned this year. The references to iron ore prices point how the different net impact of price moves. Most notably, the stock has generally not fallen with iron ore prices this year.
(I pulled price points from related articles I wrote last year: "Don't Overplay the Recovery in Iron Ore Prices" and "Plunging Iron Ore Underlines Coming Monetary Policy From The Reserve Bank Of Australia")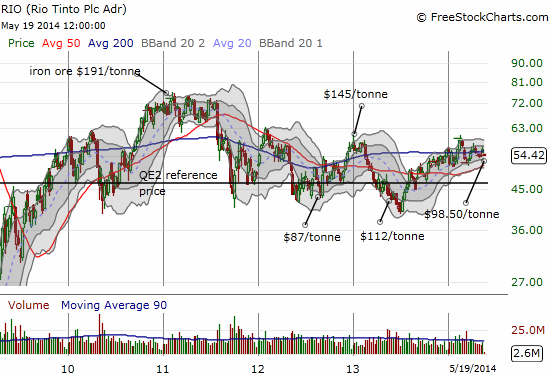 Rio Tinto has easily remained aloft even as iron prices have fallen this year
This relative comfort with falling iron prices may get a shakeup with prices falling below $100. The signal may be the Australian dollar (NYSEARCA:FXA).
Against the U.S. dollar, the Australian dollar's big move down has dragged it close to the lows of a range loosely in place for almost three months. Note how AUD/USD has maintained an overall uptrend since the February lows. This uptrend is likely ending with the crack below the 50-day moving average (DMA) and a double-top pattern.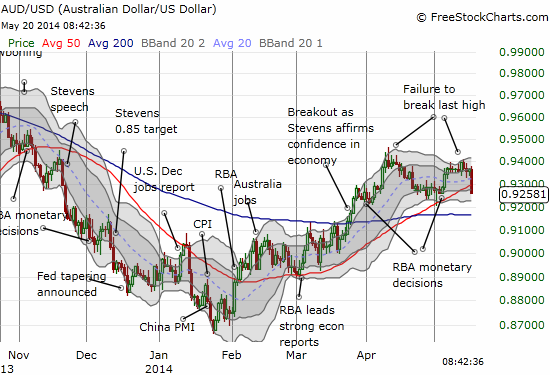 Upward momentum seems to be ending for the Australian dollar against the U.S. dollar
Most notably, the Australian dollar is finally tumbling against the Japanese yen (AUD/JPY). This move ends the breakout from late March and has likely confirmed a top. As I have noted in earlier posts, the moves in AUD/JPY could provide a larger signal for financial markets, in this case a bearish one.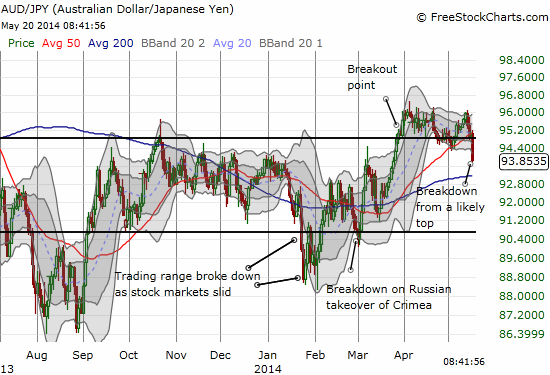 The beginning of a breakdown for the Australian dollar against the Japanese yen
The Australian dollar is important in this context as a barometer for the market's general sentiment toward economic conditions in China. I can only assume that the upward bias in the currency was a reflection of the market's comfort with economic conditions. For example, the Reserve Bank of Australian maintains a generally optimistic interpretation of China's economic performance as reflected most recently in the minutes from the May monetary policy meeting:
"In China, GDP growth and other indicators of activity eased a little in early 2014; however, in year-ended terms, growth was still consistent with the government's annual target of 7½ per cent. There were some signs that the recent slowing could be temporary, with real fixed asset investment growing at a similar pace to recent quarters and the authorities indicating a willingness to support investment growth, if needed, to achieve the target for output growth. Members also noted that the flow of new total social financing had remained lower than over most of 2013, consistent with the authorities' efforts to place financing on a more sustainable footing.

Chinese steel prices remained below the average of recent years, notwithstanding a slight increase over the past month. Lower steel prices were consistent with some easing in Chinese steel demand, as well as some apparent tightening in credit conditions for steel production and the use of iron ore as collateral for borrowing."
With stock market volatility trading at the bottom of its range, conditions are ripe for a sudden pullback. Since the beginning of 2013, volatility has tended to spend very little time at current levels. In other words, there is little tolerance for something going wrong - a continued drop in iron ore prices and a sliding Australia represent "something going wrong" in the current context.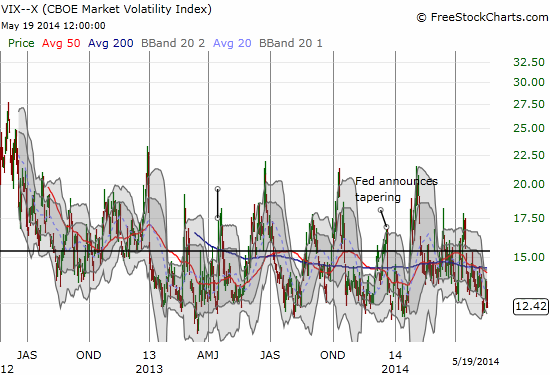 Volatility is trading at levels that typically do not last long
Source for charts: FreeStockCharts.com
I believe the following commentary from the opening remarks of the Bank of England's Governor Mark Carney in last week's Inflation Report should prove prescient:
"While risks around the euro area are now two-sided around a modest growth rate, there are downside risks from the consequences of the rapid growth of shadow banking in China. More broadly the MPC is alert to vulnerabilities from a reassessment of risk in financial markets, perhaps prompted by geopolitical developments or uncertainties about the normalisation of monetary policy. Despite a more complex global environment, implied volatilities in many markets are well below their long-term averages.

Heading back to normal will likely be accompanied by more normal, that is higher, levels of volatility."
Be careful out there!
Disclosure: I have no positions in any stocks mentioned, and no plans to initiate any positions within the next 72 hours. I wrote this article myself, and it expresses my own opinions. I am not receiving compensation for it (other than from Seeking Alpha). I have no business relationship with any company whose stock is mentioned in this article.
Additional disclosure: In forex, I am net short the Australian dollar