I initiated a short position in InvenSense Inc. (NYSE:INVN) this week. The recent action in the stock together with the latest earnings report lead me to believe that lower prices are ahead. This article will give more information on the company, why I am short and also presents a technical view of the chart.
Let's talk a bit about the market first. The US market had a massive few years and the strong bull run has been going since 2009, a total of around 5 years.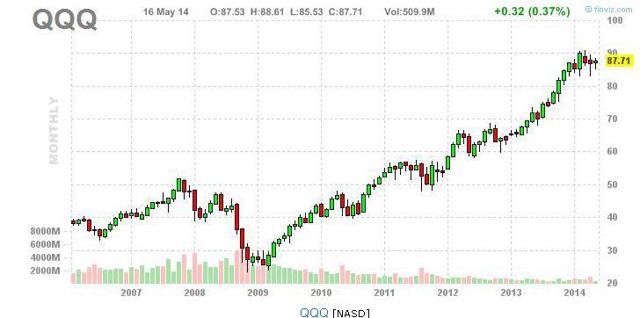 (Adapted from finviz.com)
I am seeing some action that suggests a trader/investor should be cautious. Furthermore, a lot of charts are showing signs of weakness.
The company
INVN is the global market leader in devices for the motion interface market. Their products detect and track an object's motion in three-dimensional space. INVN's motion tracking devices combine micro-electro-mechanical system, or (MEMS) motion sensors, such as accelerometers, gyroscopes and compasses, with mixed-signal integrated circuits (ICS) and proprietary algorithms and firmware that intelligently process, synthesize and calibrate the output of sensors for use by software applications via an application programming interface (API).
The company's products target consumer electronics applications such as smartphones and tablets, console and portable video gaming devices, digital still and video cameras, smart TVs (including digital set-top boxes, televisions and multi-media HDDs), 3D mice, navigation devices, toys, and health and fitness accessories.
The company works on 4 main motion sensors:
Accelerometers (G-sensors) which measure linear acceleration and tilt angle. Single and multi-axis accelerometers detect the combined magnitude and direction of linear, rotational and gravitational acceleration.
Gyroscopes (Gyros) which measure the angular rate of rotational movement about one or more axes. Gyroscopes can measure complex motion accurately in free space, tracking the position and rotation of a moving object.
Magnetic Sensors (Compasses) which detect magnetic fields and measure their absolute position relative to Earth's magnetic north and nearby magnetic materials. Information from magnetic sensors can also be used to correct errors from other motion sensors, such as gyroscopes.
Pressure sensors (Barometers) which measure relative and absolute altitude with the analysis of changing atmospheric pressure. Pressure sensors are usually used in sports and fitness-related instruments where information can be used for elevation or floor activities.
Earnings report
The latest earnings report was good. Some impressive numbers were as follows:
Net revenue was $59 million, an increase of 7% from the fourth quarter of fiscal 2013, down 12% sequentially from the seasonally-high third quarter of fiscal 2014.
Net income for the fourth quarter of fiscal year 2014 was a net loss of $5.6 million, compared with a net loss of $12.2 million in the third quarter of 2014.
However, some red flags caught my eyes.
The cash and investments balance decreased to $246 million in the fourth quarter of fiscal year 2014.
For fiscal year 2014, non-GAAP EPS was $0.58 and fully-diluted EPS on a GAAP basis was $0.07, based on fully-diluted shares of 89.9 million, as compared to the fiscal year 2013 non-GAAP EPS of $0.65 and GAAP EPS of $0.59.
For fiscal year 2014, non-GAAP basis net income was $52.3 million, compared with $56.4 million for fiscal year '13.
This was also expressed by some questions from analysts:

"Got it. One last one for me, and I'll turn it over. On the gross margin, I understand that the product mix was a headwind this quarter and pricing is always challenging. Was there anything unusual with the pricing environment and anything that would make you think there is a change to the long-term gross margin potential of the company? Or is it just some nearer-term impacts that were headwinds?"
Mark Trevor Delaney - Goldman Sachs Group Inc., Research Division
When I see numbers decreasing with earnings, I get worried. If we look into further detail, the numbers show the same story.

(Adapted from finance.yahoo.com)
Furthermore, if we look at the last 2 earnings report, we can observe that the company did not beat estimates.

(Adapted from finance.yahoo.com)
Technical analysis
If we look at the moving averages on a daily chart, one can observe that the 10 day, 20 day and 50 day moving average are now moving down. This means the stock is in a bearish trend, and all rallies should be shorted.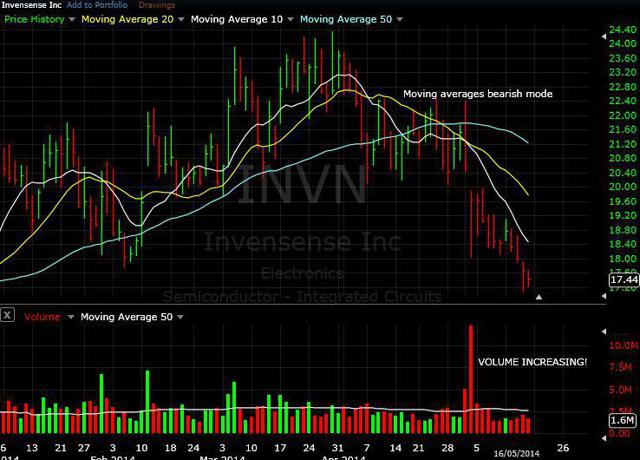 (Adapted from freestockcharts.com)
The weekly chart shows more of the same bearish action. The stock price is now below the 50 day moving average which has acted as support in the past.
(Adapted from freestockcharts.com)
Conclusion
I have been bullish on INVN in the past but the recent information that I am observing leads me to believe that the tide is about to turn. I have initiated a short position this week. I only invest 1% of my portfolio on every position, which decreases the risk on the trade. Risk management is key in every trade I do.
Disclosure: I am short INVN. I wrote this article myself, and it expresses my own opinions. I am not receiving compensation for it (other than from Seeking Alpha). I have no business relationship with any company whose stock is mentioned in this article.